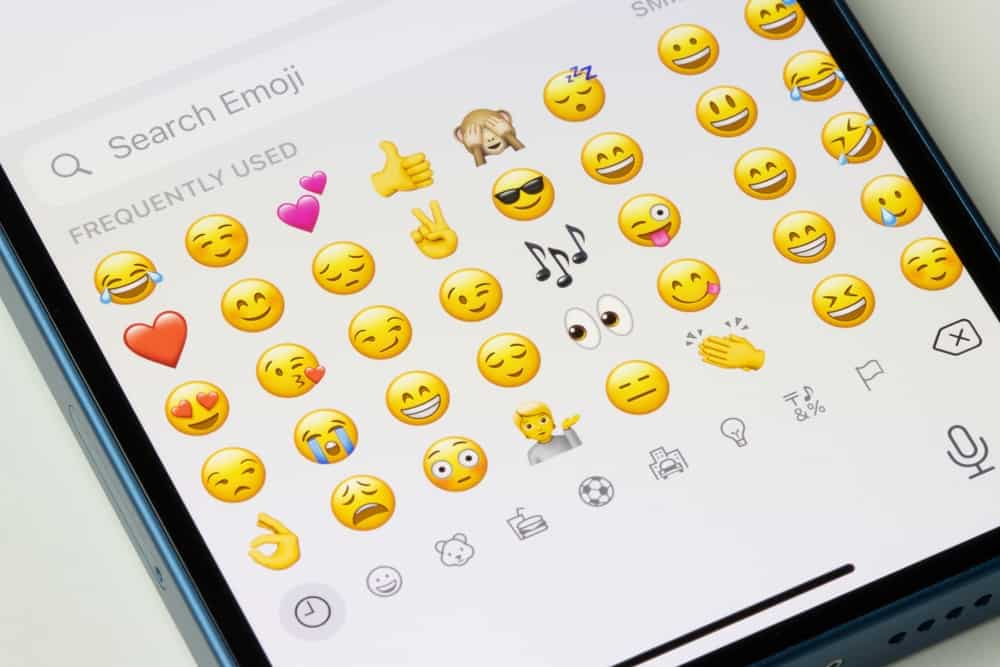 Is there anything better than sending a perfectly timed emoji to your friends? No, there isn't. But what if you're an Android user and all your friends are iPhone users and have all the cool new emojis? Well, that's where this post comes in.
To get iOS emojis on an Android device without rooting, install an iOS emoji keyboard or font application from the Google Play Store. However, if you can afford to root your device, then for a complete iOS experience, download and install Magisk Manager after rooting.
Further in this post, I will explain how you can utilize these three methods to get iOS emojis. Read on for detailed instructions!
Method #1: Using Emoji Keyboards
The easiest way to get iOS Emojis on an Android device is to install one of the emoji keyboards available on the Google Play Store.
You can install any app from the Play Store. Try searching "OS Emojis Keyboard" or "iPhone Emojis Keyboard". You will get to see multiple apps. One of the notable apps is Phone X Keyboard; it has more than 1M downloads. Other famous names include Kika Emoji Keyboard, Facemoji Emoji Keyboard, etc.
After installing the desired Emoji Keyboard, follow the steps to use this third-party keyboard to send desired iPhone emojis.
Go to the Settings app, and then select "General Management". On some Android phones, it may be named "General" or "System".
Tap the "On-Keyboard" or similar options. Select "Manage Keyboard".
You will see the list of all keyboards. Find the name of the newly installed keyboard. Turn on the toggle switch next to it.
If you want this emoji keyboard to appear every time you use your on-screen keyboard, you can make it your default keyboard by following the same pattern mentioned in the above steps.
In most Android phones (Android 11 and above), you don't need to make the emoji keyboard as default. You can easily switch between keyboards. Whenever the on-screen keyboard opens, you will notice a keyboard icon in the bottom-left corner; tap it and switch to the emoji keyboard.
Method #2: Downloading Font Apps
Another way is to download the custom font apps. They will also let you send emojis to your friends.
Like the iOS emoji keyboards, multiple font apps are available on the Google Play Store. The most downloaded font app is zFont 3, with 10M+ downloads.
Download and Install the zFont 3 app from the Google Play store.
Open the Settings app, and find the "Display" tab.
In the "Display" section, find "Font Size and Style".
Tap "Font Style" and choose zFont 3 from the list of fonts.
With this method, you can use and send emojis similar to the ones available on iOS devices. They will likely resemble iOS emojis but are not exactly similar to them.
Method #3: Rooting Your Android Device
If you're not satisfied with the first two options, rooting is the last method to get the whole experience of an iOS device.
Rooting will aid you in fully customizing your Android phone.; you can change the existing system software and add iOS emojis. However, there are multiple downsides to rooting.
The device loses all its data if things go south while rooting. Secondly, a rooted is vulnerable to malware since you lose access to the security apps. Lastly, rooting a new device will void the manufacturer's warranty.
However, if you decide to root your device despite the risks mentioned, here's a step-wise to fully enjoy the iOS experience on your Android gadget.
Download and install the Magisk Manager. It is not available on the Play Store; you will have to download it using the third-party downloader or your browser.
Before installing the app, go to Settings > "Security" > "Install unknown Apps".
Activate the toggle next to the app/browser you will use to install Magisk Manager. Now, you can easily install the app with this browser.
Download the iOS Magisk Module from the link.
Launch the Magisk Manager app. Select the plus (+) button you see at the bottom and navigate it to the directory where the Magisk Module .zip file is located.
You will see a pop-up screen when font installation is finished. 
Restart your phone and enjoy the iOS emoji experience on your Android device.
Wrapping Up
Emojis are a great way to communicate without using many words. They help you express your feeling in a better way. Although Android and iOS use different emojis, you can easily find third-party keyboards or apps to get the iOS experience on your Android device. You can also root your gadget, but it is not usually not recommended as it has multiple downsides.
Try one of these methods, and let us know which one worked for you in the comments.