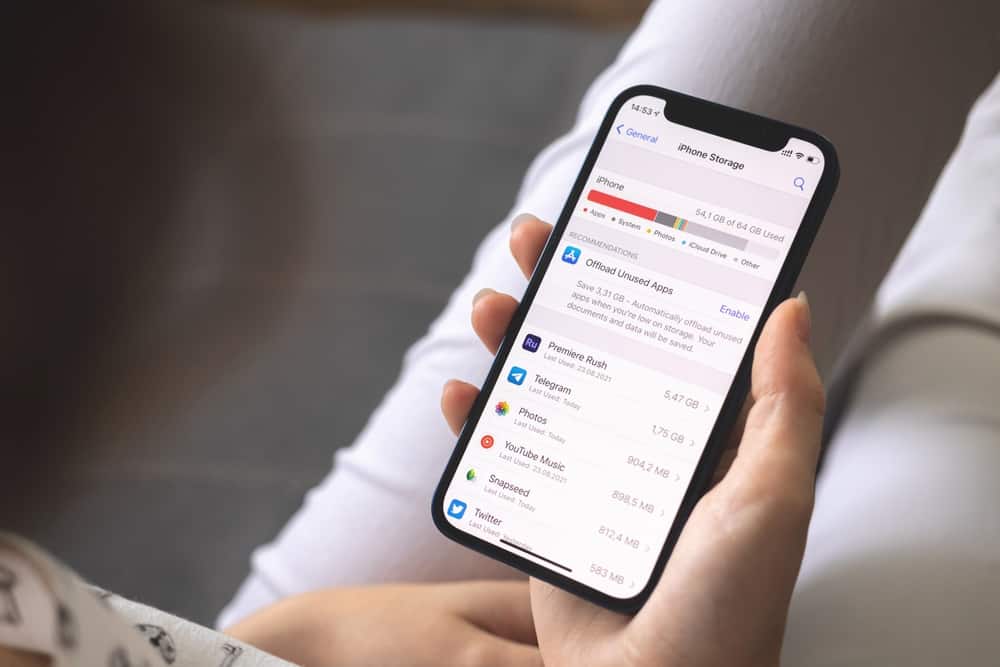 Have you ever been in this situation before? You download a document or photo that a friend sent you, and you get that little message popping up that your iPhone storage is completely full. As human beings become more cyborg-like, a fully-functioning smartphone is equivalent to a happy human existence in the modern world.
The iPhone is one of the most popular smartphones in the world. Data storage is tantamount as we become more reliant on smartphones to handle our lives.
If you are like most of us, running around with no time to sort something as simple as phone storage, you need some easy information and steps to help you.
Luckily, you have come to the right place. With these easy solutions, you will never have to worry about scouring the internet for different options to unclutter your iPhone. Instead, these easy steps will help you seamlessly unclutter your phone with ease.
Find Out What's Taking up All the Space
In order to start uncluttering your iPhone, you must find what is taking up the most space. We download loads of images, videos, and files that we don't remember in this day and age. So that 10-minute video of your friend's dog you downloaded while you were drunk last Friday isn't exactly first and foremost in your memory.
To do check out your storage breakdown,  do the following:
Go to the Main Menu of your iPhone and click on Settings.
Once you are in the "Settings" menu, tap on General.
Once in "General," tap on iPhone Storage.
You will now see a breakdown of your storage. First, find out what is taking up the most space, and delete them as you see fit. You will be surprised to find the amount of clutter you forgot about inside.
Optimize your Photo Storage
How many photos have you taken on your iPhone? Do you remember? How many screenshots have you taken? Unfortunately, many of us take way too many photos and screenshots we never use. Luckily there is a way to manage this and clear up some space.
To optimize your photo storage, do the following:
Go to the Main Menu of your iPhone and click on Settings.
Once you are in the Settings menu, scroll down to Photos.
Make sure under iCloud Photos; you have a checkmark next to "Optimize your Storage."
This is a great way to optimize your storage by shrinking the resolution of the photo menu. All of the photos on your photo menu will be low resolution. However, you will be able to see the images.
This obviously requires you to have enough space in your iCloud. This brings us to our next method for freeing up space.
Buy More Space on your iCloud
Apple gives a limited number of GB on your iCloud when you first purchase an iPhone. However, as most of us realize at some point, this iCloud storage isn't really enough to cover all of the data we have on our iPhones.
Don't worry; Apple has a solution, of course. Buy more space on your iCloud. Actually, for the price they charge, and the service they offer, this really isn't a bad choice at all.
To Buy more space on your iCloud, do the following:
Go to the Main Menu of your iPhone and click on Settings.
Once you see the Main Menu, click on the part at the top that has your name.
Tap on the iCloud icon.
Once you are inside the iCloud menu, tap on either Manage Storage or iCloud Storage.
Tap on Buy More Storage.
Now you will have a selection of different options to choose from in terms of payment and plans. Choose the one that suits your needs, and you are good to go! You can now keep all of your data from your phone on iCloud.
Now you have learned the primary ways to ensure that you always have storage on your iPhone. If you want your iPhone to run correctly without worrying about storage messages and alerts, this is your best bet.
There are other ways of freeing up space on your iPhone, but these are the easiest and most used methods. 3rd Party storage apps like Dropbox are another option, but this can sometimes be complicated to do.
Frequently Asked Questions
Can I transfer absolutely everything on my iPhone to iCloud?
As long as the files are commonly used, you should be able to transfer absolutely everything from your iPhone onto your iCloud. Make sure if there are certain settings on apps you need to use, use them.
Does this method work for other operating systems and other phones?
No, these methods are specific to the iPhone only. If you have another operating system, you should look up the particular techniques on how to free up space.
What if I lose my iPhone? Will I lose everything? Can I call Apple and get it back?
Unless you have stored items in your iCloud or a 3rd party application, you have lost everything! That's why it's important to make sure you back everything up.