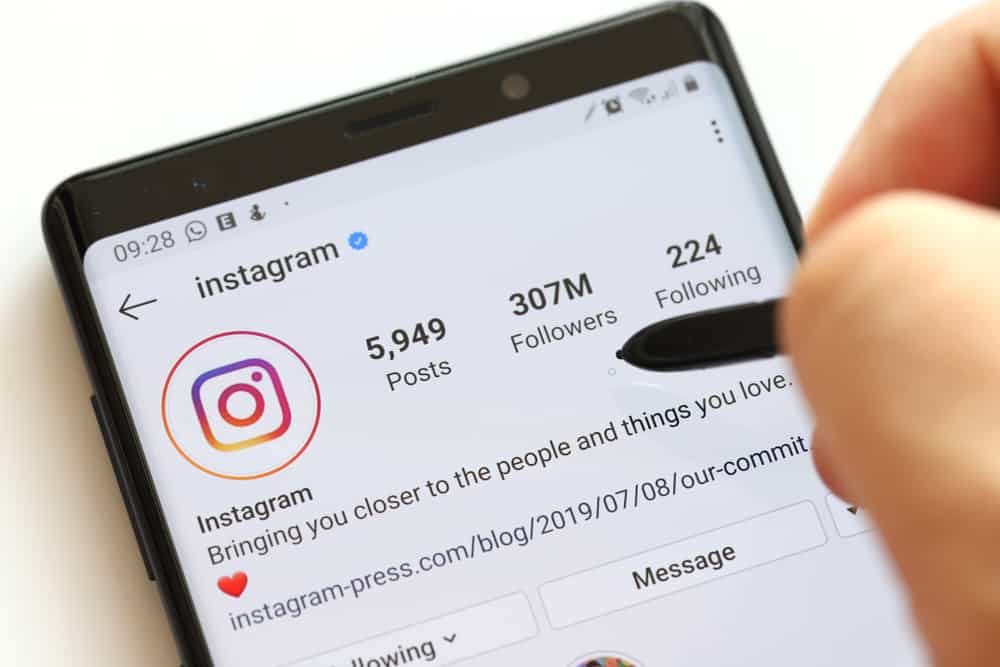 Copying someone else's profile URL on Instagram is simpler than copying yours. This is expected, considering Instagram doesn't offer you a straightforward way of copying your profile link from the app. Because of this, it's a challenge to share your profile link to other social media platforms such as Twitter or Facebook. 
Read on below as we look at some practical ways to get your Instagram profile link from the app and share it with others. 
You'll also be taken through some of the most frequently asked questions related to Instagram. Without further ado, let's get started. 
Method #1: Copy Instagram Profile Link on iOS and Android Smartphones   
When logging in to your Instagram account using your iPhone or Android smartphone, it isn't easily visible where you can share your profile link. However, you can quickly find this profile link in the mobile app and share it with others by following these steps: 
Launch the Instagram app on your smartphone. 
Enter your username and password to log in to your account. 
Click on the "Profile" icon located in the lower-right corner, and this will take you to your profile. 
Once on your profile, look at the top left corner, where you'll see your Instagram username.
Your Instagram profile link will be a combination of the Instagram site address and your profile URL, and it'll appear something like htttps://www.instagram.com.your_username. 
Method #2: Use A PC Or Mac 
You can also get your Instagram profile link by browsing your app, and here are the simple steps to follow: 
Go to www.instagram.com on your Mac/PC browser. 
Enter your username and password to log in to your account, after which you'll be directed to the homepage. 
Tap on the profile picture on this page's top right corner to open your profile. 
 If you're using a Windows PC, press Ctrl + C on your keyboard, but for the Mac, click Command + C to copy your Instagram profile link.   
You can now paste your Instagram URL by pressing Command + V or Ctrl + V on your preferred text editor, the notepad, for easy reference in the future. 
Summary 
Instagram is among the most popular social media platforms because of its general ease of use. However, one aspect of Instagram that proves to be a challenge for most people, and you might also have experienced it yourself, is finding and sharing your Instagram profile URL. 
If you're confused about ways to get this done, this guide has outlined everything you need to know on different ways you can get your Instagram profile link. With this knowledge, you can now easily share your Instagram profile for different reasons, such as showing people your new social media logo design or adding the link to your website. 
Frequently Asked Questions 
If you don't know, the term URL means Universal Resource Locator, and it's a web link that shows your browser's address bar when navigating to a site or using the internet. With this in mind, Instagram URLs refer to links assigned to different profiles and posts and are typically a combination of your username and Instagram's official website link. 
Although the Instagram URLs generally are of no use when browsing through the app, they're vital when adding the link to another social media platform, for instance, Twitter. These URLs also come in handy when sharing your account or posts with individuals outside of Instagram. 
How can you add links to your Instagram Stories?
You can add links to your Instagram Stories by using the sticker feature. But you first should start by going to the navigation bar and selecting a sticker tool. Consequently, select the Link sticker, and after that, add the link you want. Once you're through with that, click on Done and add the sticker on your Instagram Stories before you publish it. 
Can you change your Instagram URL?
Yes, you can alter your Instagram URL, and the only way to do this is by changing your username. If you wish to do this, here are the steps to follow;
1) Launch the Instagram app on your smartphone. 
2) Click on the profile icon found on your screen's bottom right corner. 
3) Press the Edit Profile option under your profile picture.
4) Your username and name will appear on the screen. Therefore, you can make the necessary changes to your username. 
5) Once you're through, click the blue tick sign located on the screen's top right corner to confirm this change. 
Subsequently, your Instagram URL will change and will now incorporate your new username instead of the old one.