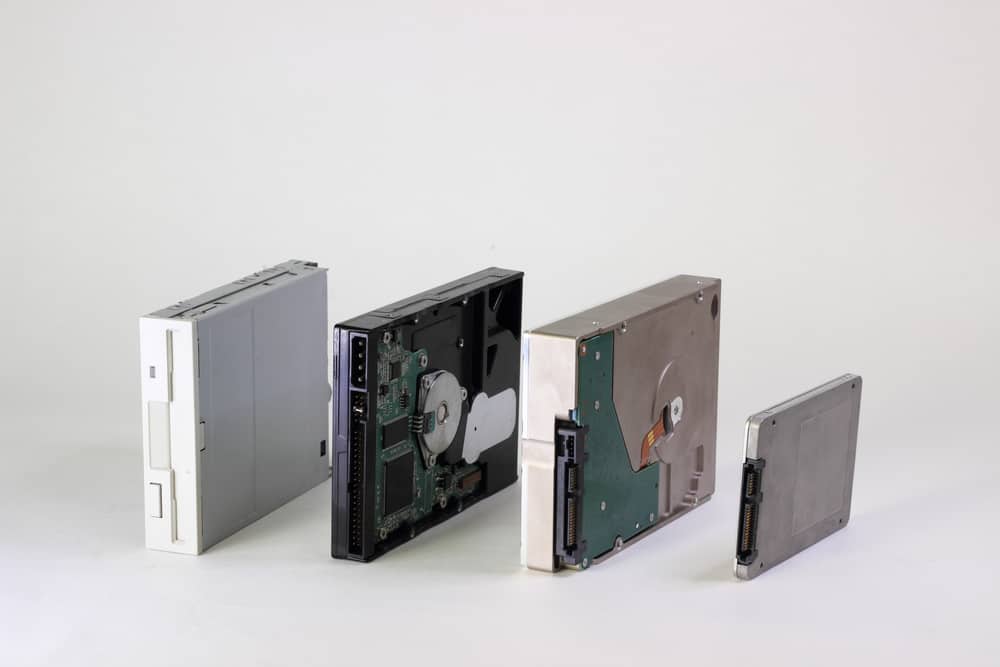 When your PC is short on storage space, you can face a lot of performance issues, and your computer can start to lag. Plus, if you have too many files – photos, PDFs, word documents, videos, or movies – you can often lose your important documents in the clutter. Not to mention, your PC continues to remind you that you're short on storage space. Luckily, increasing storage on your PC isn't a difficult task.
To increase storage on a PC, you can either add more storage by installing an internal or external hard drive, connecting a USB or SD card, or turning to cloud storage. Alternatively, you can optimize existing storage by uninstalling unnecessary programs, getting rid of monster files, and using the disk cleanup tool.
Read on as we discuss all of these methods of increasing storage on your PC in detail.
How To Increase Storage on a PC
There are two ways to increase storage on your PC. You can either add more storage or clean up your existing storage. We discuss both of these in detail below.
Add More Storage
There are many ways you can add more storage to your PC. You can get one of the following.
USB Drive or SD Card
This is perhaps the cheapest way of increasing the amount of storage available on your PC. And given the portability of USB drives and the small size of SD cards, you can easily carry them around. And you just have to plug them into the computer (the USB port for the USB drive and the SD card reader for the SD card) to use them.
Today, you can find USB and SD cards with a lot of space; you can even get SD cards up to 1 TB!
Internal Hard Drive
Most computers have some empty space within the case, especially for expanding hardware, including the hard drive. You can just add a hard drive internally and instantly increase the storage option. Some laptops also allow you to do the same.
Installing an internal hard drive requires some technical know-how, but you can also delegate the task to professionals.
Internal Hard Drive
If you find the storage capacity of USB drives limiting, you can get an external hard drive. These have more space, but they are also much bigger, making them tedious to carry around. You can connect an external hard drive to your computer by using a FireWire cable or a USB cable.
Cloud Storage
If a USB doesn't have enough space for you, your PC doesn't have space for an internal drive, and if carrying around an external drive is a hassle, then the only remaining option is cloud storage.
Both Microsoft OneDrive and Google Drive provide free storage plans, which are more than enough if you just want to back up your most important files. However, if you want more, you can go for paid plans that offer as much as 10 TB of storage.
Optimize Existing Storage
You can also efficiently optimize the available resources to increase available storage on your PC without adding more storage. In fact, you can get a good amount of space just by cleaning out your system, so we recommend you try that out first before spending money on additional storage.
Delete Unnecessary Apps and Files
Before you do anything, first get rid of all the unnecessary things like old files and temp files that you no longer need. Also, make sure you clear out the recycle bin.
In addition to files, you should also uninstall the outdated app you no longer use. It just takes up unnecessary space. But you can have more control over the storage space by following these steps:
Go to "Start."
Search for "Add or remove programs." This will open the "Apps & Features" with a list of all the problems installed on your computer.
Sort them out according to size to see which program takes up the most space.
Click on the application you no longer use. This will bring up the "Uninstall" button. Just click on it to get rid of the program.
Disk Cleanup
The disk cleanup tool on your laptop can help you free up space by getting rid of unnecessary program files, thumbnails, and temporary files. The utility is standard in Windows 10 and is basically a one-click solution for removing useless files.
To use the tool:
Open the app by searching for "Disk cleanup" in the Start menu and launching the app.
Select the disk drive you want to clean (like Drive :C) along with the types of files you want to remove and click on "Ok."
The process will take a few minutes to complete. It might take even longer if you're using the cleanup tool for the first time.
If you want to remove system files like old updates too, click on "Cleanup System Files."
Remove Downloads You No Longer Need
Another easy way to free up space on your PC is to get rid of downloads you no longer need. There's a high chance that you have books, PDF documents, photos, videos, and music files downloaded on your laptop that you no longer need. Videos, in particular, can take up a lot of space.
But make sure you take your time to go through the downloads. Otherwise, you might end up deleting something important in haste. Move all the important downloads to another folder and then delete the remaining files by choosing all of them and then clicking on "Delete."
Summary
Lack of storage space on the PC can be a nuisance, particularly since it slows down the system exponentially and starts to lag.
However, there are many ways to increase storage on your PC. You can either add devices like USB drives and external hard drives to add more storage or clean up large files that you no longer need to free up existing storage. It will take some time to filter out everything, but you'll notice a big improvement in performance once you do.