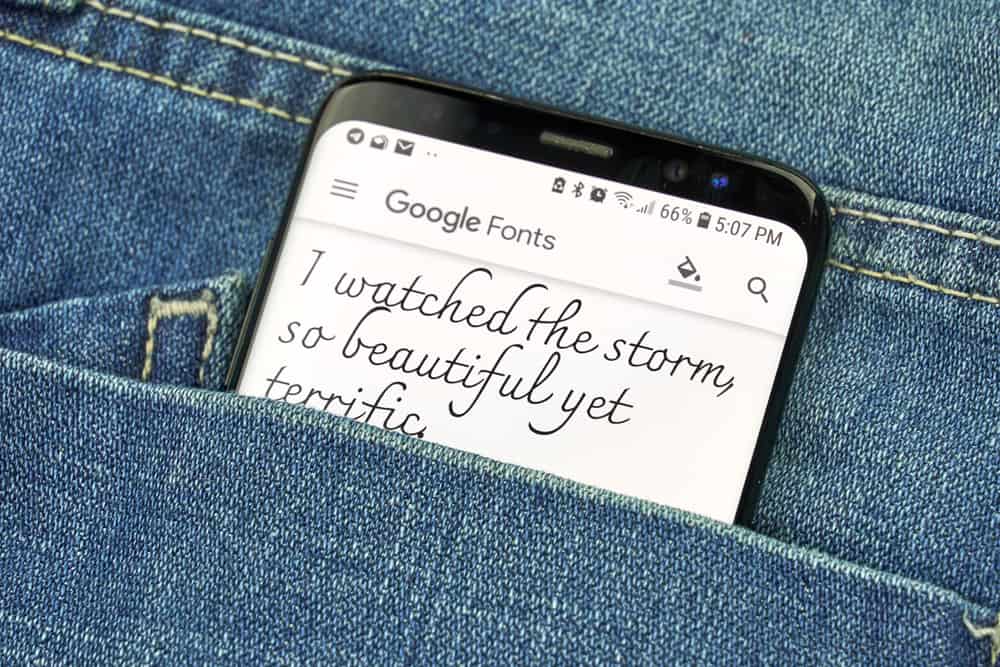 Fonts can help spice up your Android experience and bring a fresh coat of paint to your entire UI. Unlike iOS, changing fonts is a normal and relatively simple part of Android. 
Here's how you can install and change fonts on your Android.
• Using iFont (unrooted and rooted).
• Using a third-party launcher.
In this article, we'll be discussing how you can install fonts on your Android device and whether you should root your Android or not when installing fonts.
Method #1: Using iFont (Unrooted)
The easiest way to install fonts on Android, with a surprising amount of versatility, is by using iFont. Here's how you can use it.
Install the iFont application.
Open the Settings application.
Head to "Security".

Use the search bar to search for "Unknown Sources".
Tap on "Install unknown apps" and locate "iFont".
Press the toggle button to "Allow from this source".
Open the application.
Find and tap the font you want to install.

Tap "Download" on the front page.
Tap "Set" and follow the on-screen instructions to install the font.
After installation is complete, open Settings on your Android.

Head to "Display" and go to "Font" > "Font Style" to apply your new font.

Method #2: Using iFont (Rooted)
A rooted device lets you install any .TTF file as a font on your Android device and use it for the entirety of your operating system. So, you aren't limited to what an application can offer. Thankfully, you can still use the iFont application to install these fonts. Here's how.
Open iFont.
Locate the "MY" window and tap on "My Font".
On the top will appear a "Click this" option; press that.
Locate any downloaded TTF file you have installed and tap "Set".

If you aren't sure of where you can find .TTF files after you've rooted your phone, we recommend opting for websites like Font Squirrel or Free Fonts Download. Once you've downloaded a font you like from there, use the method mentioned above on your rooted Android, and you should be good to go.
Should I Root My Android To Install Fonts?
No, you should not root your Android to install fonts. This is because rooting your Android device can result in multiple problems.
• Your phone warranty will be void.
• Your phone may be exposed to vulnerabilities like spyware and malware.
Rooting your Android device does allow you to choose from a larger variety of custom fonts. This is because you can install .TTF files of your choice. On the other hand, while using an unrooted phone, you are restricted to selecting a font that is available in the application you are using. 
Even though rooting your Android allows you to download more fonts for your Android phone. It is not recommended that you root your Android to install fonts. This is because rooting your phone comes with a security risk, a trade-off we don't recommend.  
Method #3: Using a Launcher (Unrooted)
Using a third-party launcher also lets you change your Android phone's fonts and install new ones. Note that this method does not alter your entire phone's font settings. Instead, the font adjustments are only limited to the launcher.
We'll be using GO Launcher for this particular demonstration. However, almost every launcher, such as Nova Launcher and Microsoft Launcher, allows for custom fonts.
Open the launcher's settings on your Android.
Press and hold anywhere on the home screen to access GO Settings.
Tap "Font" and choose "Select Font".
Pick a font of your choice or press scan to add a font pre-installed on your device.
Tap the chosen font to save changes. You should now have a different font within your launcher.
Conclusion
Changing your font is relatively easy on Android. However, the amount of customization and variety you have when it comes to these fonts is dependent on your original Android skin and whether you are willing to root your phone or not. For most, we feel like iFont is more than enough to satisfy their craving for change.
However, if you truly understand the risk of rooting your phone and are okay with the repercussions, by all means, go for it!
Frequently Asked Questions
Do I need to root the phone to change the font?
No, rooting your Android device is not the only solution to installing new fonts. Third-party applications like iFont allow you to change fonts on unrooted phones. 
Can I install TTF fonts on an unrooted Android phone?
No, you cannot install TTF fonts on an unrooted Android phone. You can only opt for downloading and changing fonts on your phone. You need to root your phone to install TTF fonts from any source.