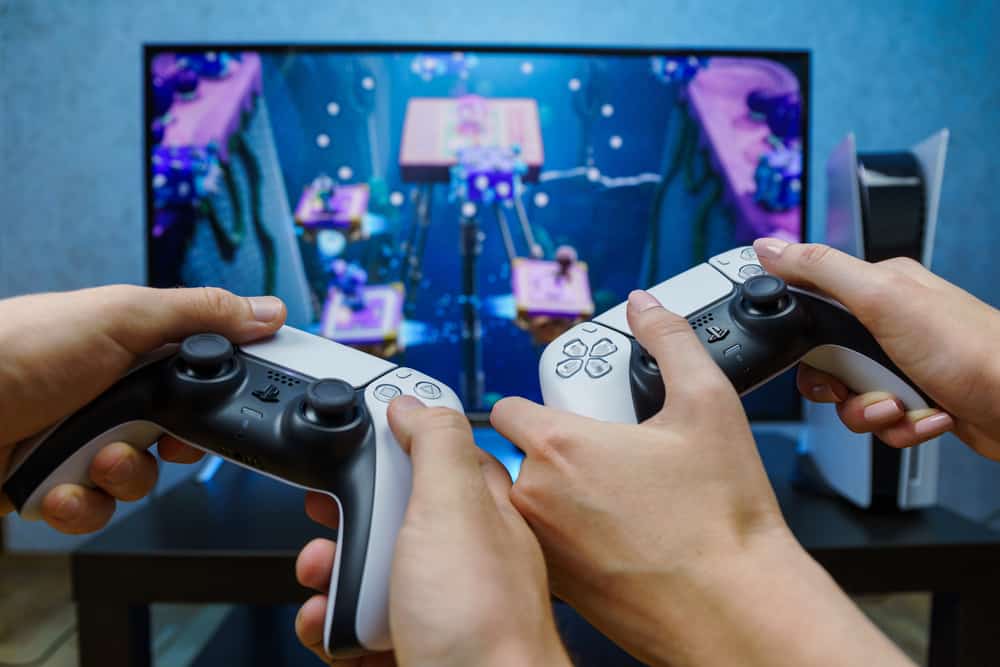 Do you like playing games with others? Who doesn't! Of course, when your friends are not around, you can always join a PS4 party chat. But what if you want to play with your friends, but they're not on their PS4? Or maybe you want to join a random game with others without having to leave your current game. You can do all of that by joining a PS4 party chat on your PC!
This article will show you how.
What is a PS4 Party Chat?
If you're reading this, you're probably a PC enthusiast. In that case, you probably use specific platforms like Discord daily. If you use these platforms, you already know what a PS4 party chat is.
It allows the players to connect, communicate, and have fun with people, no matter their physical location. It's like playing with friends in the same room, except you're not! Since the PS4 party line is essentially a voice chat, it allows you to play without going to the chatbox or typing endlessly on your Bluetooth keyboard.
For PS players, the party line is the most effective means of communication. You can use it in any game mode, online multiplayer or co-op. In addition, the PS4 party chat feature is very versatile and easy to use.
Now that you know what a PS4 party chat is, how about joining one on your PC?
Downloading the PS4 Remote Play Party Chat
What's the first step the entire process starts with? First, download the PS4 Remote Play app on your PC. You can find it easily by typing "PS4 Remote Play" in your favorite search engine.
Alternatively, you can instantly download PlayStation's remote play app. Never did it before? No worries, you can do it in three easy steps:
First, visit the website and click "Download Remote Play".
Second, click on the device logo to open the installation file and follow the on-screen instructions.
Third, launch the app and log in with your PlayStation account credentials.
Now that you have installed PS4 Remote Play, it's time to join a Party Chat on your PC!
Whether you're a Microsoft or an Apple user, we should point out that there's a solution for you. The PlayStation remote play website has Windows 10 and macOS applications that you can select.
With that out of the way, let's move on.
How To Join the PS4 Party Chat on Your PC
Now that you have PS4 Remote Play joining a party chat is as easy as pie. All you need to do is launch the app and follow these simple steps:
First, make sure your PS4 console and PC are on the same Wi-Fi network.
Second, connect your DualShock 4 controller to your PC using a USB cable or Bluetooth.
Third, click on the PS4 Remote Play icon to launch the app and click "Start" to connect to your PS4 console.
Fourth, click on the "Party" icon in the Quick Menu once you're connected. If you don't see it, press the "Options" button on your controller and go to "Party."
Fifth, in the Party menu, select "Create a New Party" or "Join an Existing Party". Knowing the PIN or invite code if you want to join an existing party.
And that's it! You have successfully joined a PS4 party chat on your PC. So now you can play with your friends and have fun without even being in the same room!
Of course, there are certain things you should keep in mind when using this method. First, the quality of your experience will depend on your Wi-Fi connection. Second, some games may not work with this method due to their design.
Why Select PS4 Party Chat Over Other Platforms
As we explained initially, party chat isn't a mind-blowing app; it's quite similar to Discord. So, what's the point of using it?
Well, the answer is simple. While Discord may be a great platform, it doesn't have an official relationship with PlayStation. In other words, you're not using an app developed by Sony when you're using Discord.
With PS4 Party Chat, on the other hand, you're using an app developed by Sony specifically for their consoles. Therefore, you can rest assured that it will work flawlessly and that any technical issues won't disrupt your experience.
In addition to that, PS4 Party Chat has some features that other platforms don't have. For example, you can use "Party Finder" to join public parties or create your party and invite friends.
If you're a PlayStation Plus member, you can also use "Party Share Play." This feature lets you share your PS4 games with seven other people.
Last but not least, PS4 Party Chat is integrated with the PlayStation Network. That means you can see which of your friends are online and join their party without leaving the PSN interface.
Conclusion
Joining a PS4 party chat on your PC is easy and only takes minutes. You need the PlayStation Remote Play app and a stable Wi-Fi connection. Keep in mind that some games may not work with this method due to their design.
If you have any questions, feel free to leave a comment below.
Frequently Asked Questions
Is PS4 Party Chat a standalone app?
No, PS4 Party Chat is not a standalone app. Instead, it's a feature of the PS4 console that allows you to talk with friends while playing games.
PS Remote Play is a Sony-approved app that helps players play their PlayStation games on their PC or Mac.
Can you join PS4 Party Chat on PC?
You can join a PS4 party chat on your PC using the PlayStation Remote Play app.
What other devices support PS4 Party Chat?
In addition to PCs and Macs, you can also use the PS4 Party Chat feature on iOS and Android devices.