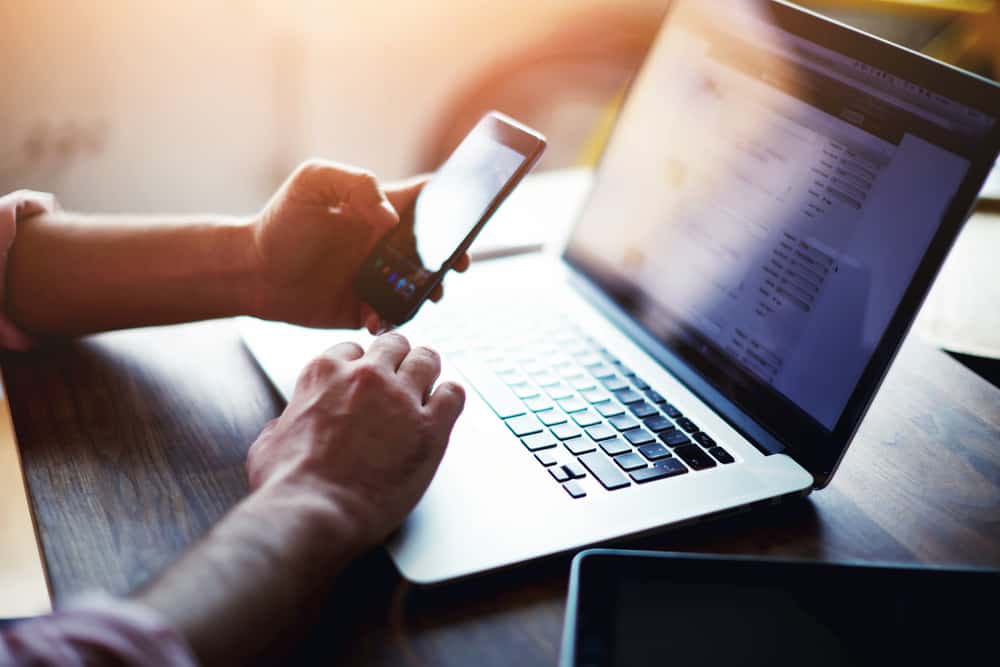 Group text can be handy to stay connected with everyone at a time, such as planning a meetup or informing a friend or family about a happening in your life. However, these conversations on your Android phone can often become annoying, and you might want to leave them.
It is impossible to leave group texts in the Android Messages app as it is a built-in feature. However, you can mute group conversations in the Messages app. Meanwhile, you can leave and mute group text on WhatsApp and other similar apps supported by Android. 
We'll discuss why you might want to leave group text on Android and how it is with our step-by-step instructions.
Why Leave Group Text in Android
You may want to leave group texts on Android due to multiple reasons. Here are a few of them.
Group text notifications are bothering you.
Group text conversations have become annoying or boring.
The conversation subject has changed, and you are no more interested in it.
Leaving or Muting Group Texts in Android
If you are wondering how to leave or mute group text on Android, our 2 step-by-step methods will help you do this task without much effort.
Method #1: Mute Group Text in Android Messages 
Android users cannot leave group text messages; however, chat does allow them to mute their conversations.
By muting group texts, you will still receive messages sent to the group; however, your phone will stop ringing or vibrating whenever someone sends a text in a particular group. 
Here is how to mute group text in Android.
Open the Messages app on Android. 
Tap on the group conversation you want to mute and tap the menu (three vertical dots) icon at the top.
Tap "People and Options" on the drop-down menu.
Swipe the "Notifications" toggle to "Off".
If just one person is causing havoc in a group text, you cannot hide messages just from that person; you will have to completely mute group conversation. However, you can block the person so they cannot send messages to you directly. 
Method #2: Leave or Mute Group Texts on WhatsApp
Nowadays, WhatsApp is used more than the Android Messages app for conversations. Thankfully, you can both leave and mute a group conversation on WhatsApp.
Here's how to leave conversations.
Launch WhatsApp and tap the Chats icon to browse active chats.
Select the group chat you want to leave or mute.
Tap the group's name to open "Group Info".
Scroll down to the bottom and select "Exit Group".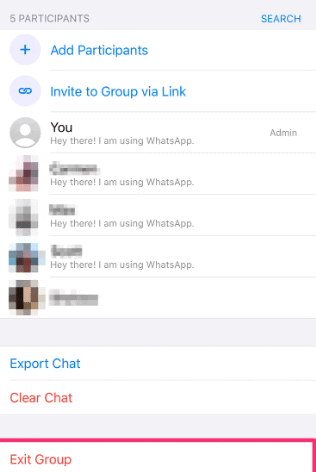 Here are the steps if you only wish to mute the group chat.
Perform steps 1 and 2 in the previous instructions.
Tap the menu (three vertical dots) icon.
Select "Mute" in the drop-down menu.
Choose the duration for muting (i.e., 8 hours, 1 week, or 1 year).
Uncheck the box next to "Show Notifications".
Tap "OK" to confirm the action.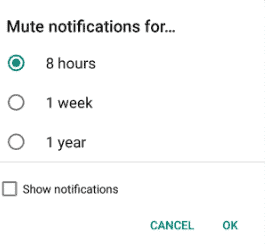 You can easily unmute the group chat by clicking on the menu icon. A drop-down menu will open. Select "Unmute". 
Leaving or Muting Group Texts on Other Android Apps
Several Android apps allow users to leave or mute group texts, like Telegram, Textra, etc.
Users can quickly leave group text on Telegram by going to the group conversation they want to leave and tapping on "Delete and Leave Chat" or "Mute Notifications".
On Textra, users can open the group chat, tap on the icon in the upper-right corner of the conversation, and tap the bell icon to mute the discussion.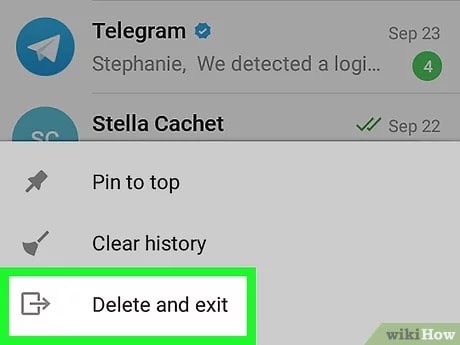 Summary
In this guide about leaving group text on Android, we have discussed the reasons for exiting or muting group conversations and how it is possible to use multiple methods. 
 Hopefully, one of these methods has worked for you, and now you can mute group text on Android and leave group conversations on WhatsApp and other apps. 
Frequently Asked Questions
How do I leave group texts on my iPhone?
It is possible to leave group text on your iPhone. To do this, tap on the group text message you want to leave, select the top header of the conversation, scroll down, and tap "Leave This Conversation". 
Every member in group chat must have an Apple device for you to leave that group. 
How do I delete a group on WhatsApp?
You can delete a group on WhatsApp if you are the group admin. First, remove all participants from the group, open the group chat, tap the group subject and click on "Exit Group" > "Exit". After that, open the WhatsApp Group chat to delete the group.