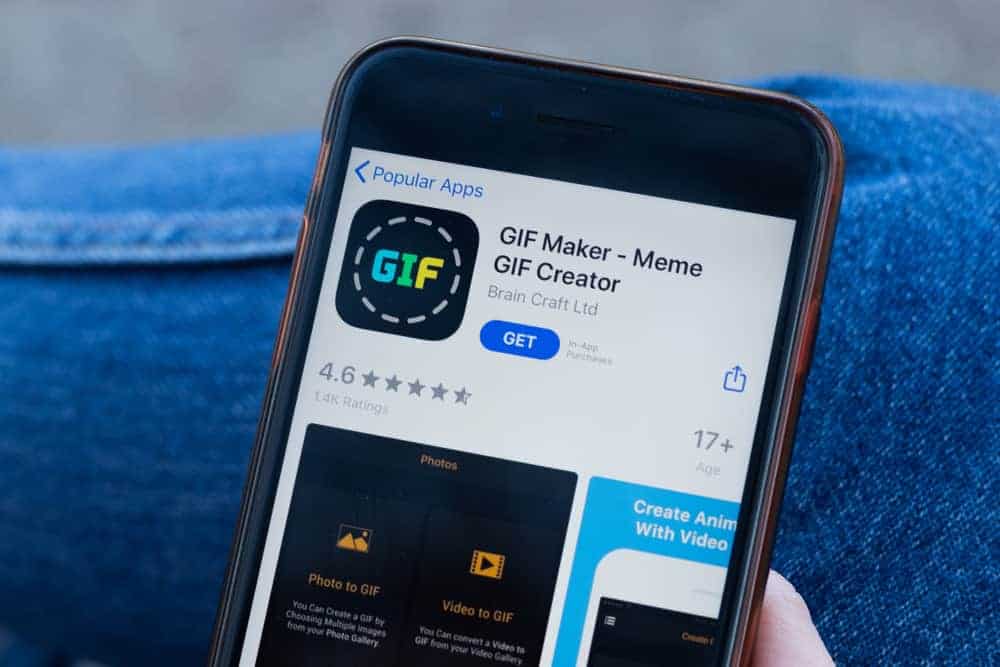 Everyone is familiar with sending photos, screenshots, or text messages nowadays. Even the "baby boomer generation" can now send texts, and they do!
A GIF is an image file that you can send, receive or post somewhere. However, the GIF has one main difference. A GIF can be animated, leading to much more humor and fun in your texts.
Many people send and use GIFs, but they have no idea how to make them. However, making GIFs is pretty simple if you know how to do it. This guide gives you some easy ways to create GIFs on your phone. You can now send silly GIFs and animations to your father because you know he will laugh at them.
Here are some of the best ways to make GIFs on your iPhone. 
How to make a GIF on your iPhone without using a 3rd party app
Your iPhone has the ability to create GIFs by itself quite easily. So if you don't want to download anything or have limited space, this is the easiest way to do it. Use these steps to create your own homemade GIF on your iPhone.
Please note that these GIFs only work with other iPhones, and you might have trouble with the animation on other systems such as Android.
Go to the Home Screen of your phone and tap on the Photos icon.
Once you are in the Photos section, remember you are looking for Live Photos. Once you find the one you like, tap on it.
Swipe up on the photo, and that should produce a drop-down menu. Live, Bounce, Loop, etc., are all selection possibilities that you will see on this menu.
Tap on Loop. This will turn the live picture into a repeating GIF. Now the image will repeatedly play, just like a GIF does.
Remember: You can also use Bounce to have the picture go both forward in reverse rather than stopping at the beginning.
Using 3rd Party Apps to create GIFs on your iPhone
Although iPhones make cool GIFs without apps, you will need to use a 3rd part app to make GIFs that every operating system can enjoy. Luckily there are a host of 3rd party apps available for the iPhone.
Here are our favorites.
GIPHY
GIPHY is probably the most widely used GIF creation application available. It can be used on multiple operating systems and has a host of different features. If you are looking for a GIF app that will give you the most diverse experience, then GIPHY is probably right for you.
Here is how to use GIPHY:
Search for the GIPHY app in the Apple Store. Once you find it, download it.
Open the newly downloaded GIPHY app on your phone.
If you would like to start creating right away, select the create button on the iPhone. Word to the wise, you may never leave the GIPHY app now for hours!
You can either make a GIF out of your existing photos or create a GIF using your camera. Choose which option best suits you.
Once you have selected your GIF, you can now edit it with all the custom GIF bells and whistles. Different filters give you additional options. You can also add text to the GIF now.
Once you have made it absolutely perfect and to your liking, tap the purple arrow.
Select "Upload to GIPHY, and you are good to go! Now you can send these GIFs to anyone you would like to
Quick Note: You can also save GIFs that other people have created to GIPHY. This way, you can both generate AND build a library of other people's GIF genius.
VSCO
VSCO is an all-in-one image enhancement app that allows you to create various things. For example, you can edit your photos with a cool filter, add texts and different angles of looking at the photo, and create GIFs. This "sister app" that they have created is called DSCO.
Here are the instructions to create cool GIFs with DSCO.
Download the VSCO app, available from the App Store on your phone.
Once you have downloaded it, open the app.
You will now see the VSCO's home screen.
Go to the Studio section of the app on the Main Menu.
Tap the "Camera" icon on the upper left-hand corner.
Once the camera function opens, you will see DSCO right beneath the camera. Tap the DSCO button.
Hold the camera's capture button, and you will immediately begin shooting video for your GIF.
Once done, you now have a file you can use as a GIF.
Use different filters and editing tools to mess around with it until it's something you like.
Once done, tap the SAVE icon on the bottom right-hand side. You now have a saved GIF.
We recommend that you have a look at what else VSCO can do in regards to image editing. It is one of the best all-around photo apps we know of.
Make a Gif Make A Friend
And there you have it. Here are three different methods for being able to create GIFs on your iPhone. Some of these will translate to those who use an Android system, and some are just for iPhones.