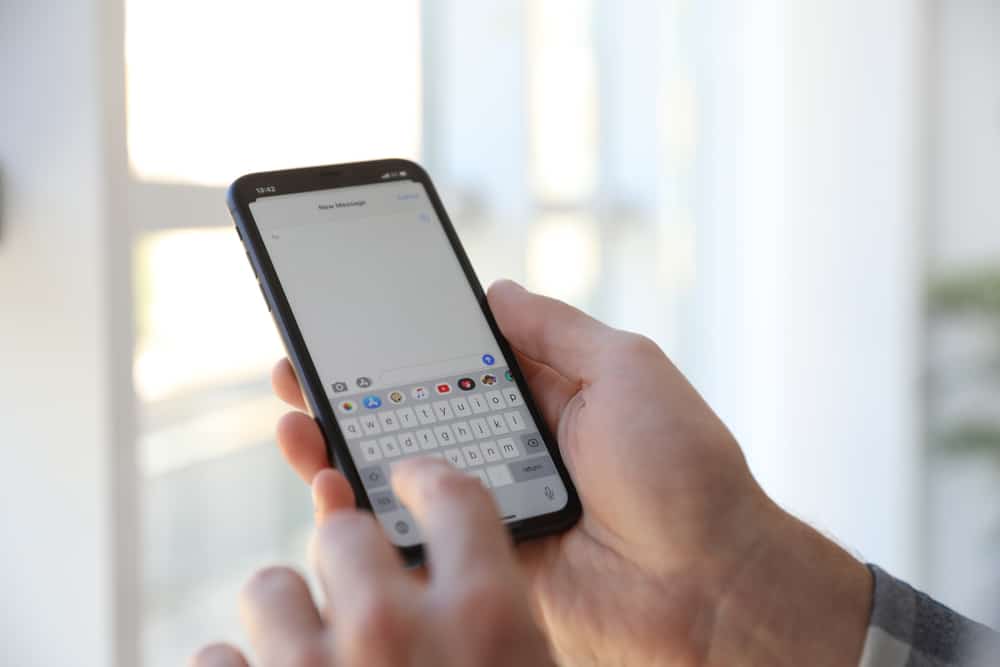 Apple is a renowned electronics manufacturer. The iPhone is considered the most innovative technology. Apple launches new iPhone features, versions, and updates regularly to amuse its customer base. The new iPhone models have new and exciting features, but the keyboard is too small. This poses a challenge for people with poor eyesight and large hands. They spend more time correcting what they have typed, which can be time-consuming and hectic.
To combat this keyboard issue: most iPhones have built-in features that allow users to resize the iPhone keyboard to suit their preferences. You can resize the keyboard to smaller or larger fonts. To resize your keyboard, you can change the iPhone display setting to make everything bold and easier to navigate.
We will provide a step-by-step guide to help you make your iPhone keyboard bigger in this post. 
Resize Your iPhone Keyboard
There are two ways to increase the size of the iPhone keyboard.
Use the "Display" zoom settings on iPhone.
Switch to a third-party keyboard app.
Method #1: Display Zoom Settings
The iPhone lacks a specific keyboard setting that allows the user to increase keyboard size. However, it offers an accessibility feature to make everything appear large. This feature is called the "Display Zoom". This accessibility feature allows you to increase the size of everything in the iPhone, including the keyboard. To enable the zoom feature, we can do the following:
On the iPhone Home screen, click on the "Settings" app on your iPhone.
Scroll down, and click on "Display and Brightness".
Scroll down and tap on "View".
Tap on the "Zoom" tab on the next screen and change it to "Zoomed".
Slide from "Off" to "On" to activate the zoom feature.
Once the display zoom feature has been activated, your iPhone will restart to display the new zoom setting. All the elements on your iPhone will appear bold, including your keyboard. 
Method #2: Switch to a Third-Party Keyboard App
Apple IOS now allows for third-party apps to be installed. These third-party keyboard apps can help with the functionality of your keyboard. There are plenty of keyboard apps, such as Big Keys and TuneKey. Use these keyboard apps to increase your keyboard size. When you use one of these, you do not require Display zoom to resize your keyboard. 
Big Keys Keyboard
This keyboard was designed for people who have difficulty using the standard keyboards. The app can make the keyboard up to 40% larger. 
To resize your keyboard with this third-party app, you can:
Download the Big Keys app from the App Store.
Go to "Settings".
Select "Keyboards". 
Add the app as a new keyboard. 
Activate the keyboard downloads by selecting "Big keys". 
The Big keys keyboard has large keys for people with visual impairment, mobility challenges, and large hands. The Big Keys app is best used in landscape mode.
TuneKey Keyboard App
This app allows for easier typing with the tiny iPhone keys. TuneKey can enlarge the finger scope between keys to allow for easier typing. With TuneKey, the touch surfaces of these keys do not lie against each other. TuneKey does not collect or save personal information, unlike other keyboard apps. 
Download TuneKey.
Open "Settings" on your iPhone.
Scroll down and tap TuneKey.
Select "Keyboards". 
A new page will pop up. You will see a toggle switch next to TuneKey. Tap the toggle key. 
Return to the home screen.
Open TuneKey. 
Select "Adjust Key Size".
It is time to do the magic. A new window will pop up. You will be required to set and adjust the key size. As you change the size, you will see a preview of your keyboard at the bottom of your screen.
Summary
Despite introducing iPhones with distinct features and larger screens, the keyboards have remained the same. This default keyboard can pose a challenge to navigate for the visually impaired, those with larger hands and motility challenges. You can make your keyboard bigger by enabling the Display zoom settings.
Alternatively, you can resize your keyboard by installing a third-party app from the app store. The iPhone app store has plenty of third-party apps you can use to increase the keyboard size. 
Frequently Asked Questions
Can I resize my keyboard without aid?
No, you cannot resize your iPhone keyboard alone. You can, however, change your iPhone display settings to enable keyboard resizing via Display zoom. You can perform this action by clicking on Settings > click Display and Brightness > tap on View > Tap on zoom.
Alternatively, you can download a third-party keyboard app such as the Big Keys app and TuneKeys and configure the settings to increase keyboard size.
How can I revert my keyboard size to normal?
If you accidentally change your keyboard default settings to either enlarge or reduce the key size, you can: 
Go to "Settings" > click on "General" > click "Keyboard" > click "Default Keyboard." 
This action should revert your keyboard size to its initial size.