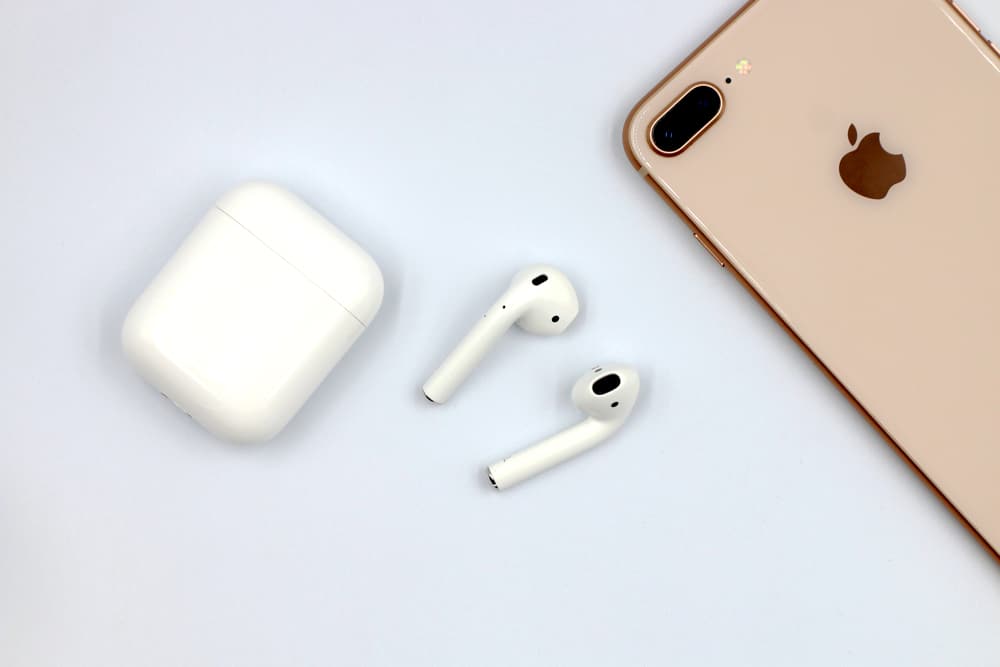 While Apple AirPods don't have a button specifically for muting, in this article we'll discuss several different ways to make sure your microphone is turned off so that anyone on the other side of the conversation can't hear you.
These instructions apply to first, second, and third-generation Apple AirPods, as well as AirPods Pro.
How to Mute AirPods
According to Apple's own Communities Forum, muting your AirPods must be done on the device that they are paired with. There is no built-in mute function on the AirPods themselves.
To mute your main microphone, which is located at the end of the stem of each AirPod, you can either remove the AirPods from your ears or power them off. Depending on your device, you can also use the screen's mute command as we'll discuss below.
How to Mute AirPods by Tapping
There is currently no way to mute your AirPods by tapping them. Tapping gestures can be set up to play and pause, skip forward, go back, and use Siri for voice commands.
AirPods can only be muted by using the device to which they are paired.
How to Mute AirPods on Teams, Zoom, or Other Conferencing Apps
There are specific ways to mute your AirPods if you're using your AirPods as your microphone on conferencing apps such as Teams and Zoom.
Microsoft Teams
AirPods, no matter the generation, are not fully supported by Microsoft Teams, so you'll have to make some adjustments to your settings to get them to work as both your microphone and headphones.
First, make sure your AirPods are disconnected from any other devices. Then, manually select the microphone and audio device you wish to use before you join the Teams meeting.
If this does not work, Microsoft Forums outlines a fix for audio issues that should allow you to seamlessly use the microphone and audio settings in Teams to control your AirPods from your computer or phone.
In Microsoft Teams, open settings.
Open devices, then change your output device to AirPods (Hands-Free).
Switch your output devices on Windows 10.
During a meeting, when you want to mute yourself, simply click on the microphone icon within the Teams window. If you're muted, a diagonal line will appear through the microphone.
To briefly unmute yourself, press and hold Ctrl+Spacebar on a PC, or Option+Spacebar on a Mac. When you release these buttons, your AirPods will mute again.
Zoom
AirPods can be paired as a Bluetooth device with your computer for Zoom video conferencing calls. When setting up the pairing, be sure that your device is set to "Use AirPods (Hands-Free)" in your playback settings in Zoom.
Once connected, simply mute and unmute your AirPods using the microphone icon on the Zoom app. This is located on the toolbar which stretches across the bottom of the screen on smartphones, Macs, and PCs. If you're on a tablet, it will appear on the top of the screen.
If you're muted, the microphone will have a red diagonal line through it. To unmute the microphone on your AirPods, simply click the icon again.
How to Mute AirPods During a Call
To mute your AirPods during a phone call, tap on the active call on your lock screen of your smartphone – where it lists the phone number and duration of the call – and the phone will bring up a screen that shows phone call controls. Tap the microphone icon to mute and unmute yourself.
There's no need to unlock your smartphone to mute or unmute your Apple AirPods.
If you have an Apple Watch, you can use the controls on your watch face while you're in a phone call to mute your AirPods as well, so you don't need to carry your phone around to access phone controls.
How to Mute AirPod Notifications
If you no longer want to hear notifications through your AirPods, such as calendar notifications, messages, reminders, and other pings from third-party apps, you can simply turn off Siri to prevent receiving notifications.
In addition, you can specifically choose which notifications from which apps you want to be muted.
To mute notifications on an iPhone or iPad:
Go to "Settings".
Go to "Notifications".
Click "Announce Notifications".
Tap the app you want to control.
Select that you want to turn off all notifications, or choose to be alerted of time-sensitive notifications or direct messages.
If Siri begins reading off multiple notifications in a row, you can mute her by simply removing your AirPods from your ears.
In Conclusion
AirPods can be muted using the device that they are paired with, or by removing them from your ears entirely. As of writing this article, Apple has not yet added a feature to physically tap your AirPods or gesture towards them to mute or unmute your microphone.