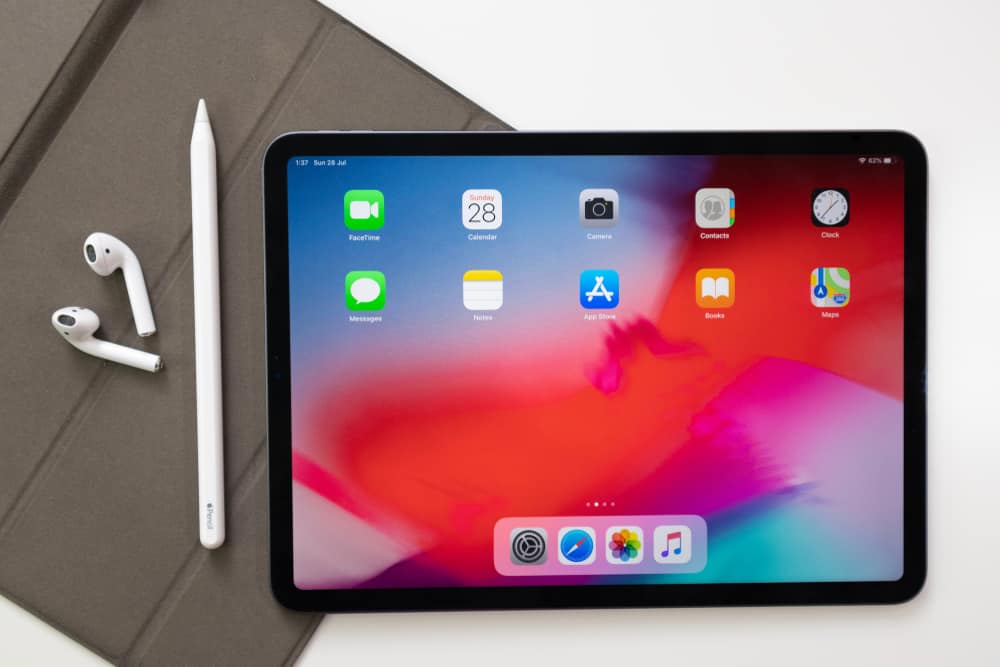 Apple AirPods are powerful wireless earbuds designed to work with iPhones and iPads. These Bluetooth audio devices will let you perform several activities on your iPad. If you own an iPad, you might be facing difficulties in pairing AirPods to the iPad. So, how can you do this?
Connecting the AirPods to an iPad is extremely simple and fast. First, you need to ensure Bluetooth is enabled on your iPad. With your AirPods in the charging case, open the lid and place it close to your iPad. Then, follow the onscreen instruction to pair the devices. 
AirPods are automatically configured to work with Apple devices like iPad. We have decided to show you how to best connect your Apple AirPods to your iPad within a few seconds.
Using AirPods With an iPad
You can use AirPods to listen to music or any audio playing on your iPad. This is a must-have accessory if you own an iPad. You can even use them to make and receive calls on FaceTime.
Also, you can use them to listen to voice recordings while chatting. AirPods will allow you to listen to voice conversations without interference if you find yourself in a noisy environment.
To use AirPods with an iPad, you must connect both devices via Bluetooth.
But before then, there are certain measures you need to put in place. These measures include:
You have to confirm if the Bluetooth is "ON".
Make sure your iPad has the latest iOS version installed.
Ensure your iPad is unlocked and you can access the home screen.
Put both AirPods in the smart case and ensure they are fully charged.
Make sure your AirPods are selected as your preferred audio device.
The charging case with AirPods inside must be properly closed when charging.
How To Pair AirPods to iPad
You can pair AirPods to an iPad by following the necessary steps. Once you understand and follow the steps, you can connect your AirPods to your iPad device.
Here's a step-by-step guide on how to pair AirPods to iPad:
Step #1: Turn On Bluetooth on Your iPad
The first step involves turning on Bluetooth on your iPad. Go to "Settings", scroll down to "Bluetooth", select the icon, and toggle "ON" the button to enable the Bluetooth option.
Alternatively, you can simply scroll down from the top of the home screen to turn on Bluetooth.
Step #2: Get Your AirPods Case and Hold it Next to Your iPad
Whether using AirPods Pro or AirPods Max, you can connect it to your iPad by holding it next to it. This process works for all generations of AirPods.
If you're using AirPods Pro, open the case with the AirPods inside, then hold it next to your iPad. If you're using AirPods Max, take the AirPods out of the case, then hold them next to your iPad.
Step #3: Follow the Onscreen Instructions
Next, you need to follow the instructions that pop up on your iPad screen. If the onscreen instruction doesn't appear, go to "Settings" and then "Bluetooth" to select your AirPods.
Once the onscreen instruction appears, tap "Done" to complete the pairing.
Step #4: Reset Your AirPods
If your AirPods still won't connect to your iPad, you need to reset the AirPods. The process of resetting the AirPods involves putting your AirPods in the charging case and closing the lid for a few seconds. Wait for 30 seconds before opening the lid of the charging case.
Now, go to "Settings", and then "Bluetooth" on your iPad. Tap the "More" button next to your AirPods and tap "Forget This Device". Tap "Confirm" to approve your selection. This will disconnect any previous Bluetooth connection.
Step #5: Reconnect Your AirPods
To reconnect your AirPods, open the charging case lid and place your AirPods close to your iPad. Follow the instruction by tapping "Connect" on the setup screen. Then, tap "Done".
At this stage, your AirPods will connect successfully with your iPad. It is easy and quick.
You need to install the latest version of iOS before you start. Also, make sure your AirPods is selected as the device to connect to via Bluetooth. This will enable the connection. 
If the Status Light does not flash white light, press and hold the setup button until it does.
Visit https://support.apple.com/en-us/HT207974 if your AirPods won't connect.
Conclusion
You can learn how to quickly pair your new AirPods to your iPad by following the steps highlighted in this guide. It will show you all you need to do to pair your AirPods to an iPad.
Once you activate Bluetooth on your iPad, proceed to connect it with your AirPods. The process involves placing the AirPods close to the iPad and ensuring the connection is activated through wireless Bluetooth. You can learn more about how to put your AirPods to maximum use.
Frequently Asked Questions
How can I charge my Apple AirPods?
You can charge your Apple AirPods by placing them in the AirPods charging case. Then, connect the AirPods charging case to a power source. The process is simple and fast. 
How do I connect my AirPods to a Mac?
To connect your AirPods to a Mac device, you need to turn ON your Mac and navigate to System Preferences. From the System Preferences page, scroll to Bluetooth, then turn ON the Bluetooth. Open the lid of your AirPods case and press the button on the case until the status light blinks. Wait a few seconds and click Connect to pair AirPods and Mac. 
How do I repair my faulty AirPods?
There are a few ways to repair your AirPods. If you're still within the return window, you can take your AirPods back to the store where you purchased them to exchange them for new ones. If you're outside the return window, you can repair your AirPods through Apple's online Support.