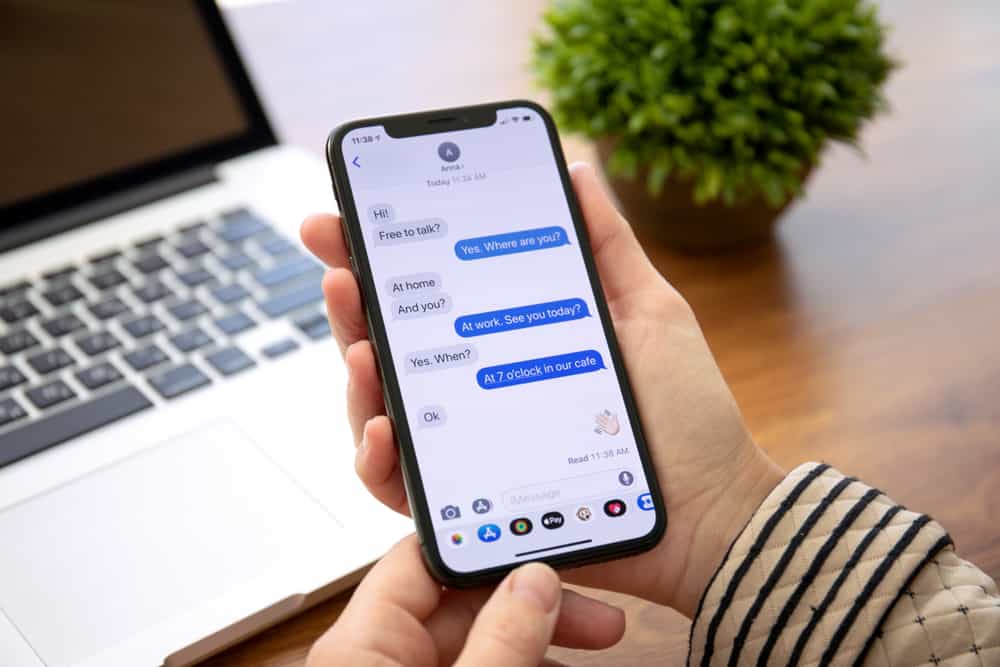 Boredom is nothing anyone likes to experience. It keeps you wondering if all is well, but the companionship of an iPhone or iPad, or Mac cannot be overstated. It's designed and built to banish boredom. One of the ways it does this is through the 8 Ball Pool on iMessage.
But the game doesn't come with the iPhone, yet it is one of the most enjoyable games.
You need to install the GamePigeon App. This app comes with 14 different games, and the 8 Ball Pool is one of them. 
The game needs a lot of strategy and understanding, and it may give you bragging rights amongst family and friends.
How Do You Install 8 Ball Pool on iMessage?
You need to get the GamePigeon App. It's an iMessage app with loads of games on there, and 8 Ball Pool is just one of them, albeit arguably the most played on it.
Download the GamePigeon App
Open a thread on iMessage.
By the side of your keyboard, click on the ">" icon.
There's an App Store icon that pops up for typing a message.
Click on that icon.
The app drawer is a menu with four dots. Open the app.
Every Message app you have downloaded will pop up.
Click on "Store".
Click on the Search bar.
Input "GamePigeon" there.
And click on "Get". You aren't paying to get it.
Playing the Game
Open a message thread.
Type on the space you'll typically input your message.
You'll see something like "Apple App Store".
Tap on that icon.
Search for "GamePigeon" on the app store.
Click on "Get" to install it.
Access 8 Ball Pool on iMessage
To access 8 Ball Pool on Game Pigeon, you can follow the following processes to get it on your iMessage.
Open the iMessage app.
There's an icon found on the top corner of the screen on the right. Select the new message icon there.
Find your friends, family members, or strangers to play with. Ensure you and any user you'll like to play with are operating on the iOS 10.
Swipe left on the bottom icons.
There you'll find the Game Pigeon icon.
Select 8 Ball and if you want another of the iMessage games, select it.
Tap on "Send" to select a partner to play with.
Now we've established and shown how you can access the 8 Ball Pool, and it's time to let you know how it runs and how you can play it.
How To Play 8 Ball Pool on iMessage
Tap the "Play" icon on the game to begin. It's usually triangular.
If you sent the request, your friend (opponent), in this case, gets to make the first move. After they take their turn, you take yours, and on and on, like in a regular pool.
To move the cue stick, toss your finger over it.
Shoot one of the 8 balls by pulling the stick back (when you pull back the stick, there's a power meter to reveal how much power you've generated to hit the balls).
Every game has its techniques, and to emerge a winner, you need to understand these methods and approaches to winning.
If you're playing it for the first time, it becomes more critical that you know essential tips to play.
Tips For 8 Ball Pool On iMessage
An indicator will tell you if you're stripes or solids on the screen. But when the game is ongoing, there are chances you mix them and forget which is yours and your opponent's. Here you need a mental note, or if you don't trust your memory, note the physical nature of the ball or write it somewhere.
One much-ignored thing is the choice of the balls. It's important what you choose between stripes and solids, and the options may determine your winning. Before selecting, take a note of the side with the best pottable 8 balls, and it will give you a good chance of clearing or finding the holes.
Check the rules well. Pros know always to do this. Usually, by default, most games start with the London table but if you want a better one, you could ask Pros.
Choose accuracy, finesse, and a credible playing style overpower. The Pros in the game hardly go for power, although many think power pots the balls.
Don't hit the White Ball, as earlier stated. A penalty will be awarded against you if it happens.
Like in anything, practice makes all the difference you want. To be a top 8 Balls Pool player on message, you need practice. So keep playing.
Conclusion
Enjoying 8 Ball Pool on iMessage is an interesting way to relax, and you can have great fun playing, especially with friends and family. Some bragging rights over dinner can start a good week.
Frequently Asked Questions
Can I chat as I play 8 Ball Pool?
There's a speech bubble above the user's name, and this may help you speak to whoever you're playing against. You can't chat per se but you'll be able to send texts that have been predetermined by the game.
Can I play with other smartphone users and not iPhone?
You need iPhone users to play with, and their devices must be on iOS 10 or above.