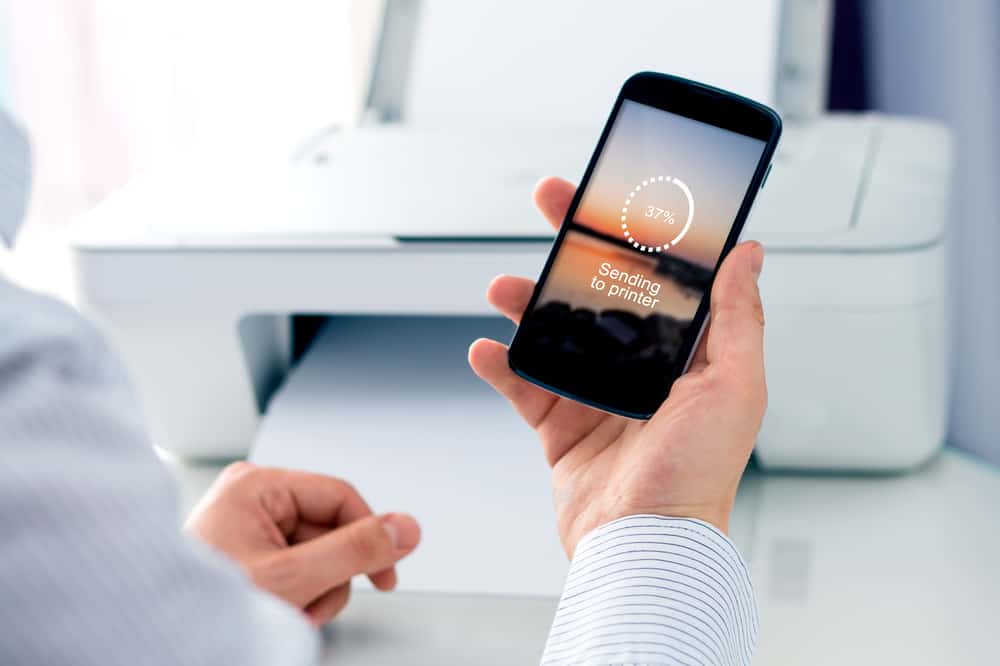 The iPhone boasts exceptional cameras, so it shouldn't be a surprise that you'd want to print a picture you've taken using this device. Printing the picture allows you to have a hands-on feel of the photo, which you can display at your office or home. With that, the question nagging your head is, how can you print photos from your iPhone? 
Well, it's pretty easy to print digital photos from your iPhone and share the printed pictures with your family or friends or carry them anywhere. The different methods to follow when printing photos from your iPhone include the following.
• Print pictures directly through AirPrint.
• Print photos using a printed-enabled app.
Continue reading for a more in-depth step-by-step guide on printing beautiful pictures from your iPhone. With these insights, you'll be able to print photos using your iPhone in today's paperless world.  
Method #1: Printing Pictures Directly Via AirPrint 
One way to print pictures from your iPhone is by using AirPrint. The AirPrint feature enables you to wirelessly connect your printer to your iPhone, iPad, or Mac. However, you must first confirm that you have an AirPrint-compatible printer. Fortunately, this today shouldn't be a challenge since most big manufacturers design AirPrint-compatible printers. 
Before printing photos via AirPrint, you must ensure that your iPhone and printer are linked to the same Wi-Fi network. If not, first do this, and after that, you can go ahead to follow these steps.
Go to the Photos app on your iPhone. 
Choose the picture you wish to print, and select as many pictures as you wish. 
Click on the share icon found in the bottom left corner.  
Scroll down and click on the "Print" option in the second row of sharing options. You can see this by swiping from right to left. 
Click on "Select Printer" and choose your printer from the list of options available if it's not currently selected. 
Click on "Presets" to set the paper size of the photos after printing. 
You can decrease or increase the number of copies by tapping the plus or minus sign. 
Click on the "Black & White" toggle when you don't want the printed pictures to have color but rather a grayscale. With the toggle switched on, the printer will print a black and white print. 
Tap on "Paper Size" to alter the paper size you want. 
Click "Media & Quality" to choose the picture's quality and media type. 
Click on "Print". 
Method #2: Printing Pictures Using Printed-Enabled Apps
Another way to print photos from your iPhone is by using the printer's app that can be found in the iOS App Store. This method is ideal if your printer doesn't incorporate the AirPrint feature. That said, your iPhone and printer must be connected to the same Wi-Fi network. 
Here's a look at the steps to follow when printing iPhone pictures using a non-AirPrint printer.
Connect both your iPhone and non-AirPrint printer to the same wireless network. 
Click on the App Store on your iPhone.  
Locate your non-AirPrint printer manufacturer; for instance, if you're using a Canon printer, key in "canon".
Download your printer's printer app that allows you to connect your iPhone and the non-AirPrint printer. Many printer manufacturers have such an app you can find on the iOS App Store. 
Click the "Get" button after finding the printer's manufacturer app to download and install on your iPhone. 
Click on your newly-installed printer app. 
Tap the button "Add Printer" to initiate the printer registration process, which differs from one app to another. However, you'll most likely need to click on the option "Add Printer" and search your network to find the available printers.
Select your printer, which should automatically appear from the options list if your iPhone and printer are on the same wireless network. 
Click the "Photo Print" option, and this differs depending on the app. You can browse the pictures on iCloud and your iPhone to select the photo to print.  
Scroll through your camera roll and click the pictures you want to print. 
Adjust the print settings, which are plenty on the printer apps. Likewise, you can select the paper type and size, among other options. 
Click on "Print", and the selected pictures will be printed as long as photo papers are inserted in the picture tray. 
Summary 
It shouldn't be complicated to convert the best pictures on your iPhone to print keepsakes. All you need to realize this dream is to have the proper resources with you and you can have printed photos taken using your iPhone. 
If you didn't think this was possible, this guide has proved you wrong by explaining how to print pictures from your iPhone. With this knowledge, you can print your favorite photos on holiday or with your friends and family without breaking a sweat.