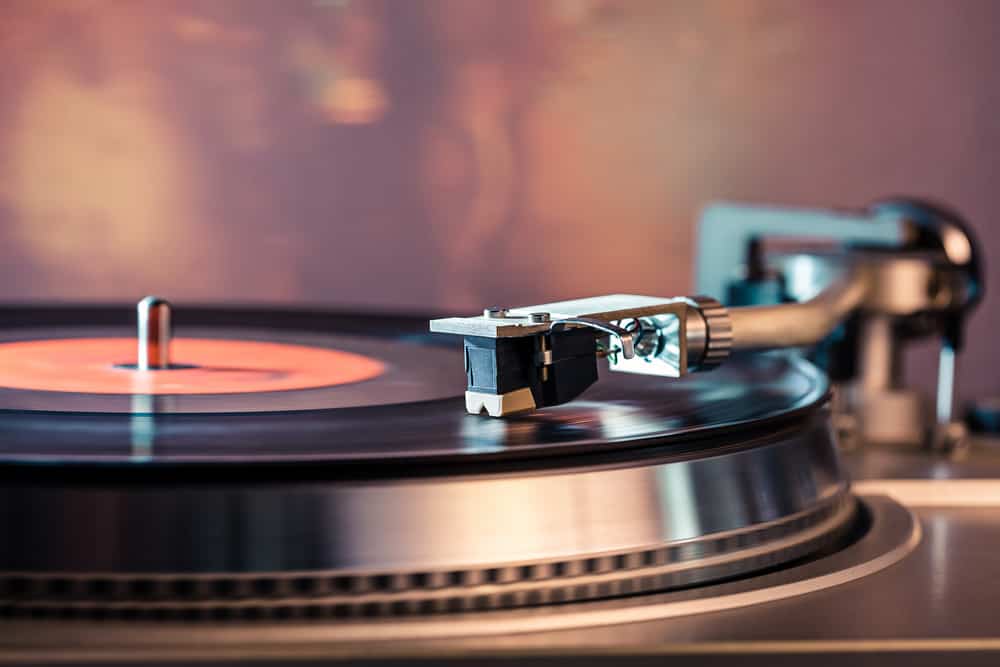 Did you grow up listening to records or recently develop a hobby for playing and collecting vinyl? Transferring your favorite vinyl records on your computer may have crossed your mind. But fret not; it's simple.
Follow these steps to record vinyl on your computer.
1. Install the Audacity software and connect your record player to your PC's USB port.
2. Ensure that your turntable is showing under Windows Control Panel or Mac's System Preferences.
3. Launch the Audacity software, hit the "Record" button on the main Audacity screen, and start playing your record. 
We took the time to write a comprehensive step-by-step guide on how to record vinyl on a computer. We will also explore methods for installing Audacity software, configuring settings, and recording.
Recording a Vinyl on a Computer
If you don't know how to record vinyl on a computer, our following step-by-step guide will help you do this task easily.
Step #1: Install Audacity
To record vinyl to your computer, you need a record player with a USB port and a free version of Audacity software that works on both PC and Mac.
Open the Audacity website and click the download link in the middle of the page.

Once downloaded, double-click the .exe or .dmg file to install the software.
Step #2: Configure the Audio Settings
Connect your record player to a USB port on your computer – it should identify you've plugged it in and, if lucky, automatically install the software driver to allow you to operate it.
For Windows, go to your Control Panel and select "Hardware and Sound". Next, select "Sound" (a new menu opens) and choose "Recording". Click "Advanced" from the top bar, and ensure that the 16-bit audio is picked from the drop-down menu. Also, make sure that both boxes below this option are ticked.
For Mac, go to System Preferences, select "Sound", and click on the "Input" tab. Check that the input works by playing a record on your turntable and ensure that the "level" meter is working. If this is not the case, go to the Finder window and select "Go" > "Utilities". Then, open "Audio MIDI Setup".
Click the "Audio Devices" tab, and ensure your USB turntable is in both the "Default Input" and "Properties" drop-down menus. Pick 44,100.0Hz and 2ch-16bit, respectively.
Step #3: Configure Audacity
Your computer is now ready to record your vinyl; there's a little tinkering for Audacity, and then you'll be good to go.
Open the Audacity software. Click "Edit", select "Preferences", and select "Devices" from the new menu.
Choose "MME" from the top-most drop-down menu. Next, select "Recording" from the left side and make sure both boxes are ticked. 
Step #4: Start Recording
The setup is done, so the fun part comes: hit the "Record" button on the main Audacity screen and start playing your record.
Ensure the screen fill with blue bars. The bars at the top of the screen represent your music's levels or volume. You'll hear your record playing if everything is set up right.
If volume bars are going red, the input volume is too loud, so lower it using the slider just below until the bars only show green.
Summary
In this guide, we've discussed how to record vinyl on a computer. We've also discussed methods for installing Audacity on Mac and Window PC, configuring the software to record vinyl, and adjusting volume settings.
Hopefully, your problem is resolved, and now you can listen to your vinyl record on your computer.
Frequently Asked Questions
How do I fix if the Audacity interface is slow to respond on Mac?
If the Audacity interface is slow to respond on Mac, this occurs when the system has a "30-bit" display. The point to note here is that not all Retina displays are 30-bit. So, if the "Framebuffer Depth:" says "30-Bit Color (ARGB2101010)", you have a 30-bit display. 
In this case, right-click on the Audacity software icon on your desktop and click "Get Info". Select "Open in Low Resolution".
Can I run Audacity on a Chromebook laptop?
Unfortunately, you cannot run Audacity on a Chromebook because Audacity does not support Chrome OS.
Chrome OS 69 or later support operating containerized Linux; refer to Google support for details regarding running Linux applications on Chrome OS.
How do I fix my exported MP3 low volume or no sound?
If your exported MP3 is playing because the timer on the media player is moving and there is no sound, make sure the sound device is not muted and a suitable playback device is used. 
If this is not the issue, go back to Audacity and make sure the "-….+ gain" slider on the "Track Control Panel" is placed centrally at "Gain: 0 dB". If you notice that the slider is displaying left, this will minimize the volume in your exported MP3.