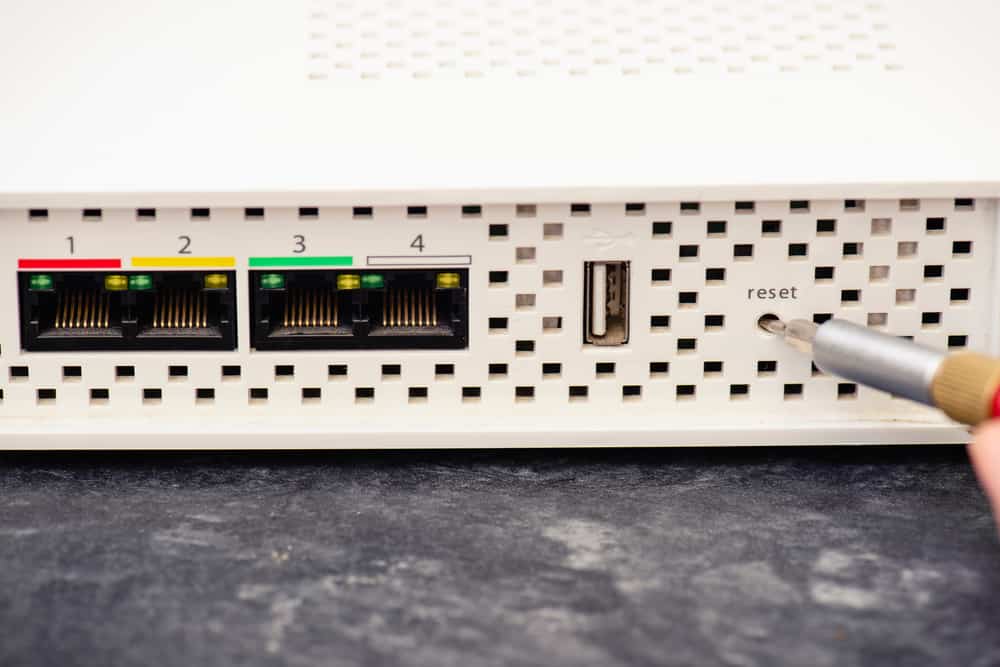 Many people use a Wi-Fi modem or router in their homes and offices. While using a Wi-Fi modem like the Cox modem comes with its fair shares of advantages, such as support for multiple devices connection, wider network single range, and strength, amongst others. But if you are experiencing issues on the Cox modem, you should reset it; however, how do you reset a Cox modem?
Essentially, there are two ways you can reset a Cox modem. The first method is to reset it manually, where you make use of the reset button on the Cox device. The second method is to use the Cox app, where you navigate to the "Reset" option. 
While resetting your Cox modem may fix certain issues, it will reset every saved configuration on the router. So, unless it is imperative, we recommend trying to resolve any issue you are having with your Cox modem another way.
Keep reading to learn more about resetting a Cox modem in this article.
Methods To Reset a Cox Modem
As we stated earlier, there are two ways to reset a Cox modem; however, they differ in steps and function. So, the reason you want to reset your Cox modem would determine the right method to use. 
Method #1: Using the Manual Method
When you reset your Cox modem using the manual method, you indirectly hard reset it. Hard resetting your modem will delete all the information stored on the modem. Essentially, a hard reset takes your modem back to factory default. Things like the SSID and password will reset to default. Hence, you will have to start reconfiguring the router as though you just bought it new. So, if you have made any changes to your router and don't know how to get it back, this feature comes in handy.
Here's how to manually reset a Cox modem.
Turn on your Cox modem if it is off, and ensure it is connected to a power source throughout the reset process.
Locate the "Reset" button, which is often at the back of the modem.
The reset is a small hole, so you need something like a pin or needle to insert in the hole to press the "Reset" button.
When you press the "Reset" button, you will hear a click sound; when you do, keep the reset button pressed down for 10 to 15 seconds.
The indicator LED on the modem will flash, and the modem will turn off and come back on.
Do not disrupt the modem during this period and allow it to reboot completely; this may take about 5 minutes or less.
You will have successfully reset your Cox modem when the modem completes its reboots.
Method #2: Using the Cox App
Another option to reset a Cox modem is with the Cox app. This method indirectly soft reset the modem. This reset does not delete any data on your modem, so it comes in handy in mild issues. So, things like your modem password, network name, and so on will not be deleted when you use the Cox app to reset your modem. Using the Cox app to reset your modem is another way to reboot your modem.
Here's how to reset a Cox modem using the Cox app.
If you don't have the Cox modem app, download it for your smartphone from the App Store or Play Store.
Sign in to the Cox app with your user ID and password.
From the home screen, tap "My Services" and click on the "My Internet" option.
Search for the modem you want to reset and tap on the "Reset" option beside it.
Tap on "Confirm" on the next page to access your modem.
Competing for the reset may take up to 10 minutes or less.
Once reset is complete, the router will reboot, and you can continue using the modem.
Cox modem provides users with high-speed cable broadband over a hybrid fiber-coaxial network. Cox Communications also offers users high-end gateway devices for an affordable rental price.
Conclusion
Most of the time, you can fix issues on your Cox modem by simply resetting it. You can try using the Cox app to reset your modem; if it doesn't fix the problem, you can use the manual method. If the problem persists after resetting both ways, you may need to contact Cox customer service. Perhaps all you need is a firmware upgrade, or there is a network downtime in your region. Whatever the case, when you reach out to customer support, you will be told what the issue is with your Cox router.
Frequently Asked Questions
Is a Cox Wi-Fi gateway any good? 
The Cox Wi-Fi gateway is a great device because it offers better Wi-Fi coverage and optimal performance. Using the Cox Wi-Fi comes with free advanced security that ensures your devices are protected, and you even get an alert in real-time in case of a threat. 
Can I purchase a Cox Wi-Fi gateway? 
Although owning a Cox gateway is excellent, you cannot buy it as Cox only offers it for rent. Through the rental service, Cox can upgrade the firmware and improve the device connected to the Cox network.