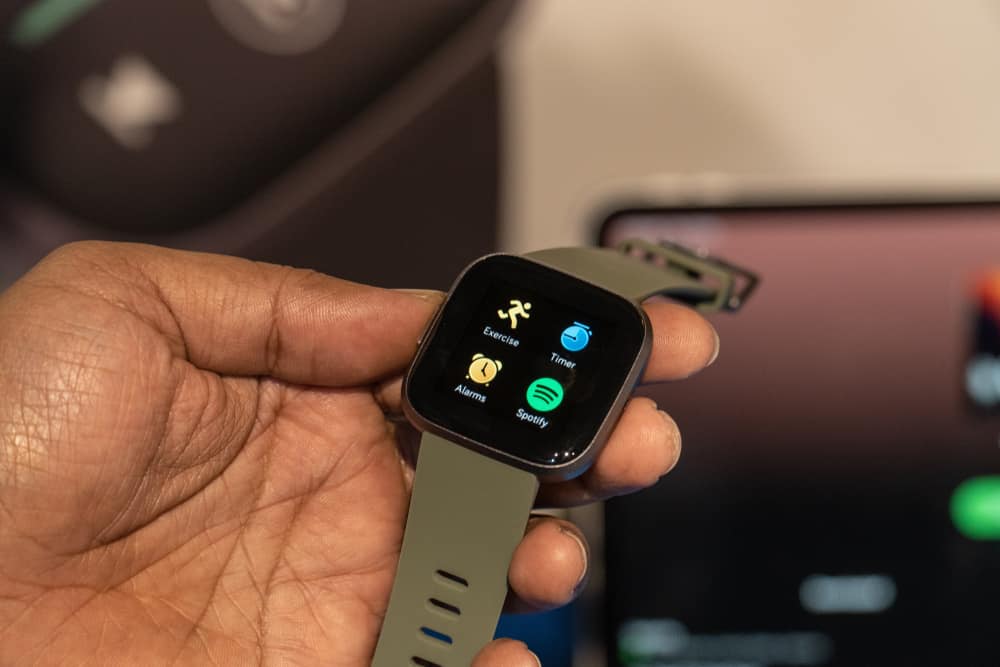 Fitbit Versa 2 is a highly advanced fitness & health smartwatch that tracks your all-day calorie burn and heart rate, monitors your sleep, counts your steps, etc. However, sometimes the smartwatch gets stuck and becomes unresponsive.
You can reset Fitbit Versa 2 with a soft reset using the Watch settings and the hardware key or by factory resetting the device to its default values. 
The Fitbit Versa 2 smartwatch allows you to be in charge of your body, so you would be quite upset if it stopped working or responding. We'll now discuss the reasons to reset Fitbit Versa 2 and guide you through resetting your Fitbit Versa 2 with our step-by-step instructions afterward. 
Why Do You Need To Reset Fitbit Versa 2?
You may need to reset your Fitbit Versa 2 for several reasons. Some of these could be:
The screen has stopped responding, turned blank, or frozen.
The keypad or touchscreen is not working.
The smartwatch is not syncing with your smartphone.
It's not able to monitor heart rate and other data tracking.
Missing or failure to display notifications and reminders.
To remove all personal data to sell the device or for a fresh start.
Device making noises.
Audio issues such as distortion or unaccepted muting.
Can't make or receive calls.
Resetting Fitbit Versa 2
Resetting Fitbit Versa 2 is easy if you know which buttons to press and what steps to take. Our step-by-step instructions in each method will ensure that you go through the whole procedure without getting stranded in the middle.
You might be resetting your Fitbit Versa 2 for any of the reasons mentioned above. So now it is time to go through the two methods you can adapt to reset your smartwatch and resolve your problem.
Method #1: Soft Reset
In the first method, you will soft reset your Fitbit Versa 2 smartwatch by accessing the Settings menu or using the hardware key.
A soft reset is a regular reset that won't erase all your Fitbit Versa 2 smartwatch data.
Step #1: Using Smartwatch Settings
Fitbit Versa 2 smart reset is helpful when it is not recording any data, has stopped syncing, or has other similar issues.
To soft reset the smartwatch, open your smartwatch screen and swipe left to head to the Settings menu. Now, scroll down and tap About > Shutdown. Next, tap "Yes" to confirm and reboot your smartwatch. Once complete, open the Fitbit app and set up your device.
Fitbit Versa 2 has holes on the side for the microphone and a barometer to measure stairs. Do not restart your device by inserting a paper clip or a pin in these holes, as it can damage your smartwatch.
Step #2: Using Hardware Key
If you can't reset your smartwatch with the Settings menu, you can do this with the hardware key.
Press the left button on your Fitbit smartwatch and hold it for 10 to 15 seconds. Now release the button once the Fitbit logo appears on the screen. Next, your smartwatch will reboot, and you can set up your device afterward.
Earlier Fitbit Versa smartwatch models have three physical buttons, but now you can use a single button on the Versa 2 to perform the relevant tasks.
Method #2: Hard Reset
If the soft reset process fails to resolve your issue, you can try a hard reset of your Fitbit Versa 2 smartwatch that will wipe all your data and apps.
Here is how to perform a hard reset on Fitbit Versa 2:
Open your smartwatch screen and swipe left to go to Settings.
Scroll down to the bottom and then click on About > Factory Settings.
A message will now state, "This will clear all personal data and apps." Click "Reset" to confirm.
Next, your smartwatch will restore the setting to default values, and the screen will turn back on in 45 seconds.
Summary
In this guide about resetting the Fitbit Versa 2, we shared the reasons that may compel you to reset your smartwatch. We've also discussed the soft and hard reset methods to fix the issue at hand.
Hopefully, these methods helped you reset your Fitbit Versa 2 smartwatch, and now you can continue tracking your sleep, monitoring heart rate, and performing other essential activities.
Frequently Asked Questions
Why is my Fitbit smartwatch not charging?
If your charging cable isn't clean, the USB port is faulty, or if you have not plugged in your Fitbit charger properly, it will not charge.
To fix this, you can clean your charging cable from dust and debris, make sure that the device is properly plugged in, or use a different USB port to charge your smartwatch. If nothing works, you might need to replace your Fitbit charger.
Why is my Fitbit stuck on the Fitbit logo?
If your Fitbit is stuck on the Fitbit logo, you can start by restarting the device to resolve the issue. If this does not work, your device batteries might be down. In this case, do a full recharge.