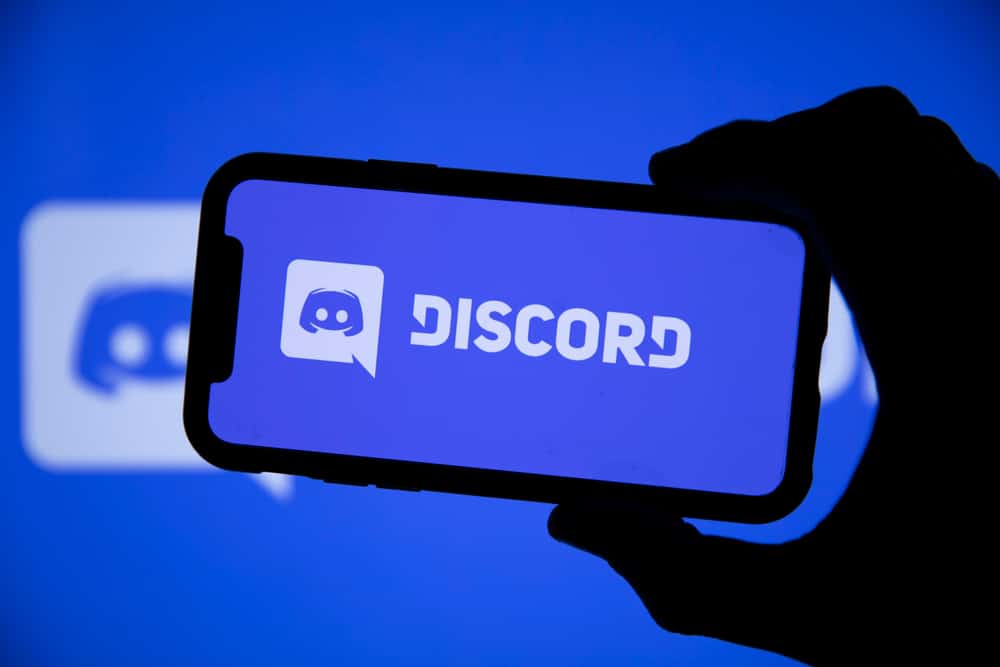 Discord is currently the biggest platform for gamers to communicate on. It grants a solid platform to its users where they can connect and play together with individuals from all over the world.
Due to its ability to create such amazing communities, Discord has completely revolutionized the gaming industry over the last few years. However, with the boom in Discord's popularity, several connectivity issues and bugs have started to pop up.
Nevertheless, these issues are pale compared to what Discord has to offer. Therefore, we have written this guide to help you restart your Discord, as a simple reset can solve all your connectivity issues.
Restarting Discord
We need to understand that Discord is available on a wide range of platforms. This means each of these platforms requires different steps to reset it. This guide will walk you through all the steps you need to reset your Discord, whether on your PC, Browser, or Mobile Phone.
Restarting Your Discord on PC
There are a few ways that can be used to close Discord on your PC and restart it. We will be mentioning all of them below:
Method #1: Turning off the Minimize to Tray
By default, whenever someone tries closing their Discord by pressing the "X" button on the top right side, it doesn't actually close. Instead of closing the app, Discord minimizes itself and keeps on running in the background.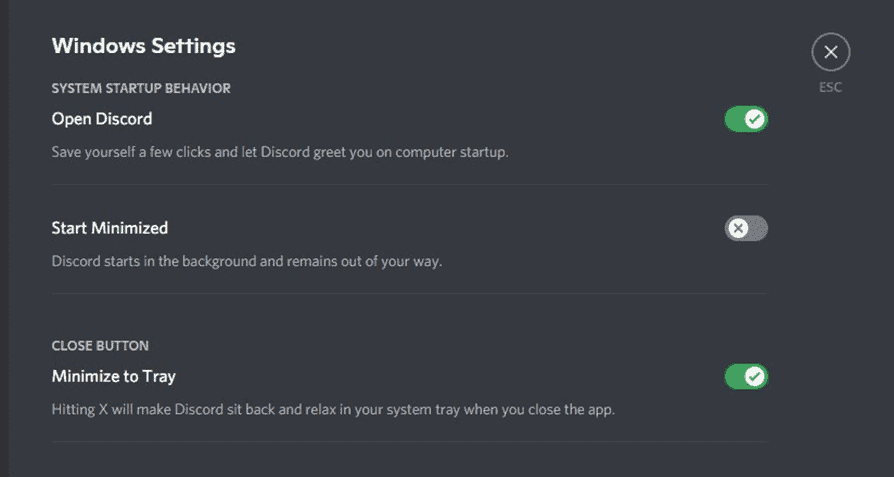 You can turn the Minimize to Tray option off by
Clicking on the Gear icon on the bottom left side to access User Settings.
Once inside the User Settings, go to App Settings > Windows Settings.
Inside Window Settings, switch Off the Minimize to Tray Option.
Now right click Discord and run it as administrator to restart it.
Method #2: Using the Task Manager
If for some reason, your Discord stops responding and you can't press the "X" button, you can instead use the Task Manager to restart it. To restart Discord, you need to: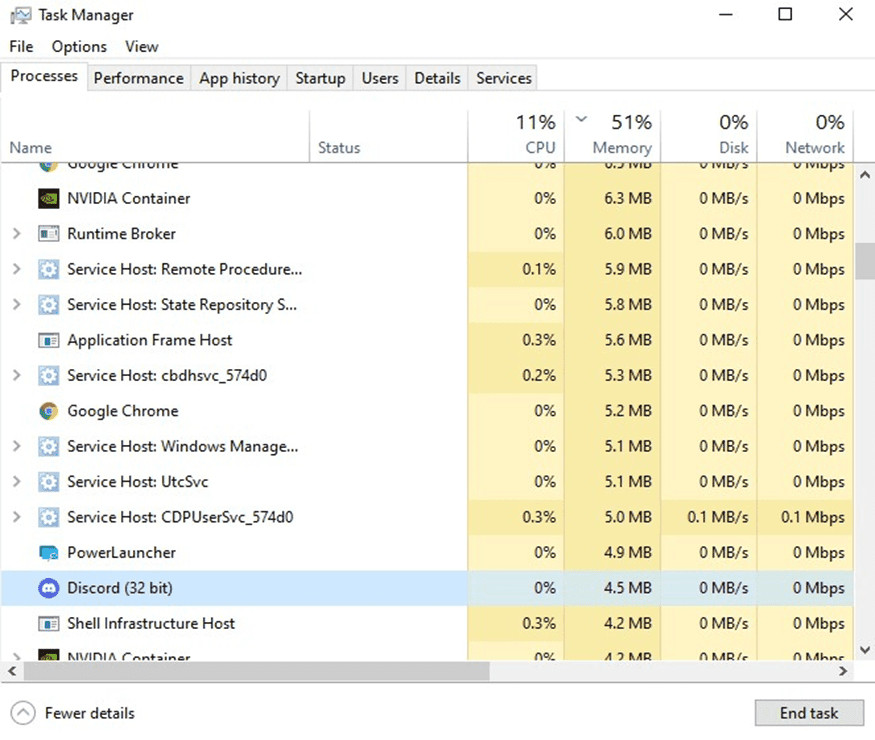 Go to the Task Manager by either using the Search Bar or by right-clicking the Task Bar.
Once inside the Task Manager, click on More details.
Scroll down through the list of all the current apps running in the background and find Discord.
Select Discord and press the End Task button at the bottom right.
Method #3: Using System Tray to Quit Discord
System Tray is part of the Task Bar that contains a list of running apps. To close Discord by using the System Tray, the user needs to: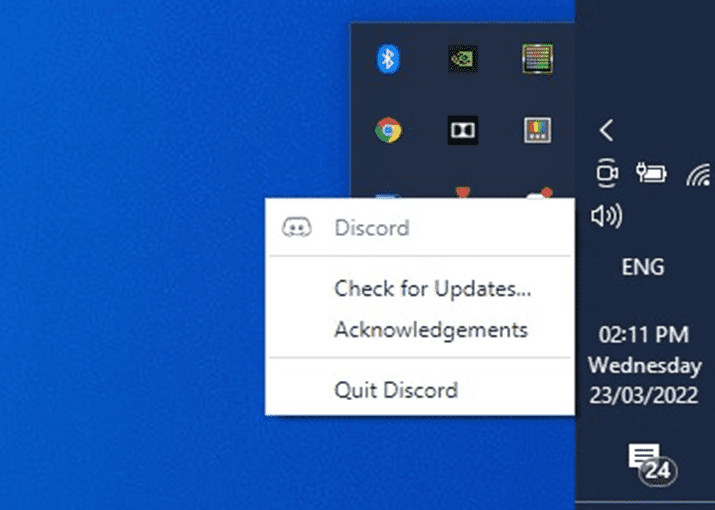 Open the system tray by clicking on the arrow shown above.
Now right click on the Discord icon to open the menu.
Press Quit Discord to turn it off.
You can restart the Discord application by accessing it from the Search Bar. However, don't forget to run it as an administrator.
Restarting Discord on Browser
Whether you are using Discord on your PC or Mobile browser, restarting it requires the same steps on both devices.
To restart Discord on your browser, you need to close your browser first. With that said, here is how you can close your browser:
By clicking the X button on your PC browser.
If your browser is not responding, you can just simply use your Task Manager to end it.
For Mobile, go to your Background Process and close your browser from there.
By following the mentioned steps, you will be able to close your browser Discord. To restart it, press Ctrl + H to go to your search history and open Discord from there.
Restarting Discord on Android or IOS
If you are using the mobile version of the Discord app, restarting it can be comparatively easier. To restart your Discord on a mobile, you need to be disconnected from the voice channel when you close the app.
To close the app, you simply need to minimize your app and remove it from the background process. If your Discord ends up not responding for some reason, you can Force Stop it from your mobile settings. To Force Stop Discord, you need to:
Go to your device settings.
Go to Apps > Discord.
In the App info, you will find Force Stop.
Press the button to close the application.
Now that you have successfully closed your Discord app, just go to Discord and run the app.
Reinstalling Discord
Provided that you tried all the mentioned methods and yet you are still unable to restart your Discord, it's time for you to commit to a hard reinstall. You can reinstall Discord on PC from Discord's official website. Meanwhile, the app for Android and IOS can also be downloaded from their respective app stores.
Summary
To restart your Discord application, there are a few conditions you need to fulfill, as closing it isn't as simple as it looks. By following all the steps mentioned above, you will be able to restart your Discord and be a part of the lobby once more.
Frequently Asked Questions
How to restart Discord with the keyboard?
To restart Discord with your keyboard, you can start by pressing ALT + F4 to close Discord first. Once it is closed, press the window key and type Discord in the search bar. Now press Enter to launch the application.
How to restart Discord Bot?
There is no such thing as restarting a Discord bot, but you can kick a bot out and invite it back. By doing so, there is a high chance that you might be able to reset it. Nevertheless, the success rate for this step entirely depends on the type of bot you are dealing with.
How do I restart my Discord account?
You can't restart your Discord account, but you will still have the option to delete your account and make a new one. To delete your account, go to your user settings > general, and scroll down until you see the Delete account option. Discord will ask for your password, after which it will delete your account. To make a new one, just go to Discord's sign-up page.