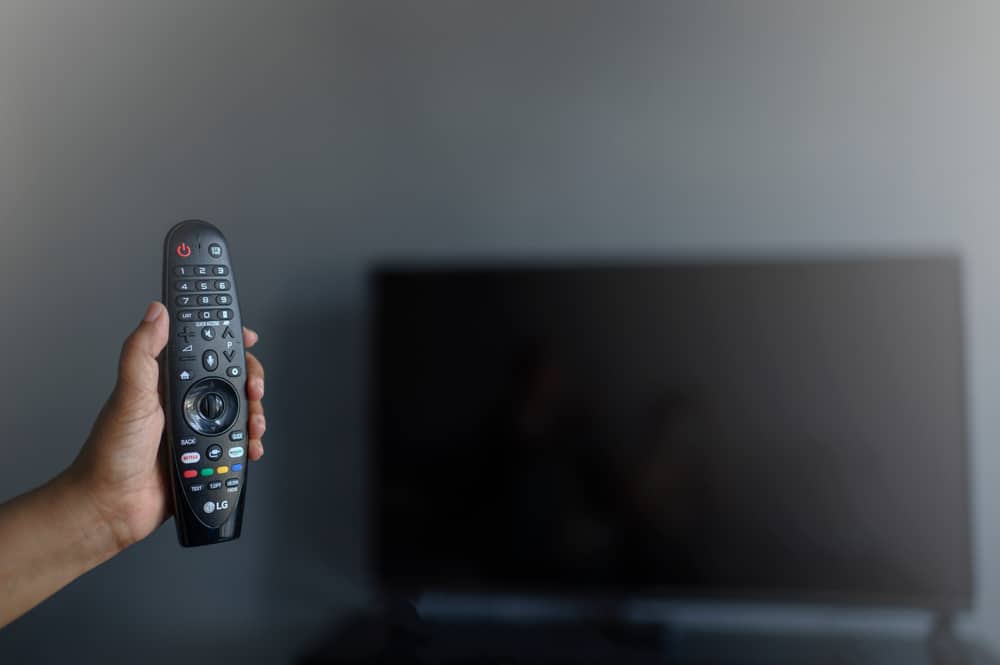 LG is one of the most reputable brands of TVs out there. With an LG smart TV, you can watch cable/broadcast signal TV, play games, surf the Internet, and download streaming applications. This brand is very reliable – LG TVs are high-quality and don't have many issues that you should worry about.
However, sometimes you might face problems such as lagging or apps taking unusually long to open or close. You might encounter Wi-Fi and issues to do with settings in general. Fortunately, you can resolve most of these problems by restarting/rebooting your LG TV.
But, restarting this type of TV isn't something anyone would find easy to do. Indeed, you're reading this article probably because you want to know how to restart your LG TV. Below, we present three easy methods that you can use to reboot your TV like a pro.
3 Quick Methods To Restart LG TV
Method #1: Restart LG TV with Remote
Press the "Home" button on your TV's remote to navigate to the "Menu."
You should find the "Settings" button on the menu screen. Click this button.
Under the "General" option, choose the "Reset" option to initiate the restarting process.
Follow the on-screen prompts and choose the "Confirm" option on all the warnings.
Enter your TV's password and begin the restart.
If you've never changed the TV's password, then its default password is usually "0000". You can also try "1234" or find the pin by searching the model of your TV on the official LG Website. 
Method #2: Restart without Remote
You may have misplaced your remote, or it just doesn't work. In that case, you can restart your LG TV by following these simple steps:
Press and hold the power button (at the bottom or side panel of your TV). The TV should restart after about 10 seconds. Proceed to the next step if that doesn't work.
Using the joystick-like panel controls on your TV, go to the "Menu." From there, choose the "Settings" option.
Under "General," choose the "Reset" option and then select "Confirm."
Enter your TV's password and "Start" the restart process.
Alternatively, you can follow these steps to restart your LG TV without a remote:
Unplug the TV from its power outlet.
Press and hold the power button of the TV for about ONE minute.
Wait for another minute.
Plug your TV back in.
This technique is known as soft restarting/resetting or power cycling. It helps remove any software issues. The TV should turn back on automatically when the restart process is complete.
Method #3: Restart LG TV without Password
Sometimes passwords can be too complex, and we forget them. You can spend years without needing to enter your TV password. So, it's likely that you won't remember it anymore.
However, you can't restart your LG TV without the password you had set up the first time you purchased it. But you can reset the password that you had initially set. Here's what to do:
Navigate to the "Menu" using your remote control. From there, choose the "Settings" option. Find the "Advanced Settings" option. Now scroll down in the "Advanced Settings" tab and select the "Safety" option.
In the "Safety" tab, you should see an option that says, "Reset Password." Highlight the button (don't click on it) and press the "Channel Up" twice. Next, press the "Channel Down" and then press the "Channel Up" once more. That's usually a secret built-in code designed to help you when you forget your password.
Enter "0325" or "0313" in the dialogue box that appears
Enter "0000" in the following safety dialogue box that appears
You should now see a screen to reset your password.
Once you do that, use the new password to restart your TV. Follow the steps described in Methods #1 and #2 above.
Conclusion
Restarting your LG TV is simple and doesn't need to give you a headache. You can reboot your TV with a remote, without a remote, and even without a password. We've described these three methods using easy-to-understand steps so you can execute them successfully.
Hopefully, this article has helped you. Find more information that we might not have mentioned in our post in the following FAQ section. We'd also love to hear your thought in the comment section below.
Frequently Asked Questions
Why is my LG TV not turning on?
There could be several reasons for your TV not to turn on. You can try to resolve the problem by unplugging the cord, waiting for about 10 seconds, and then plugging it back in. 
Check if the status LED is on, and try turning the TV on using the power switch and not the remote. If that works, you should know that your remote is the one having issues. 
How do I reset a black screen on an LG TV?
The black screen is a common problem, and there shouldn't be any need to worry. Turn off the TV and unplug it from the power outlet. Press and hold the power button for about 30 seconds while the TV is unplugged. 
That should reset the TV and resolve any software issues it might be having. Now plug it back into the socket and turn it on. The black screen should now be gone. 
How can I get my LG TV webOS out of Standby Mode?
Press the "Home" button on your remote. Choose the "Settings" option available in the top-right corner. You should see the "Sleep Timer" on the right-hand side of the menu – set it to off.