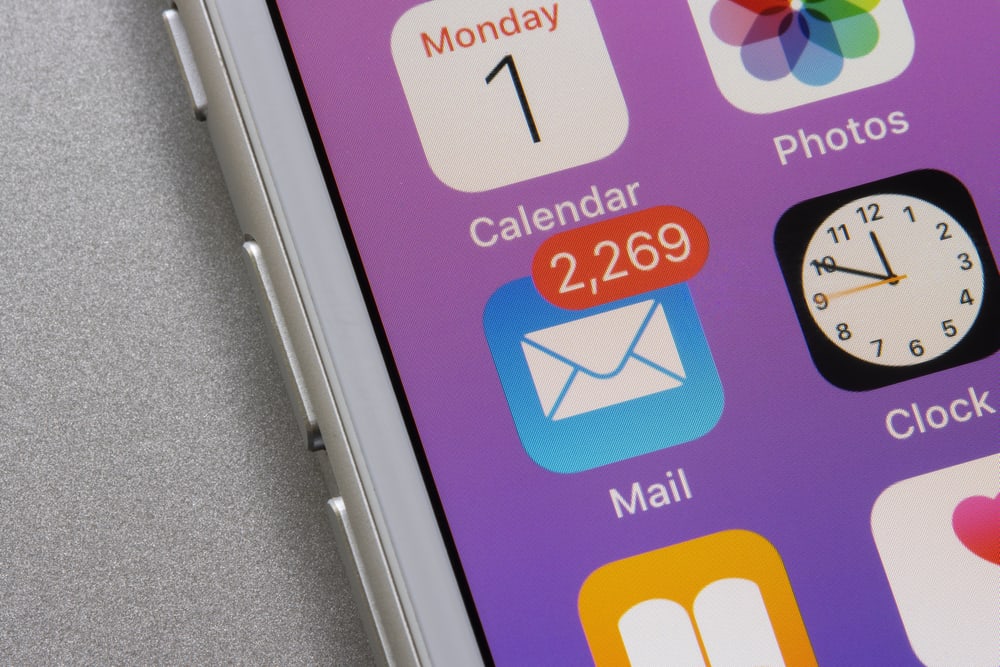 So while you're using your iPhone mail app, you unconsciously deleted an email – a significant one at that. Perhaps, you want to delete an irrelevant one, and you end up deleting an important one. Or maybe, you deleted it due to a slip of the finger on your iPhone screen. Whichever steps you've taken to delete that email that may have contributed to your fear, never panic! There's still hope for you to recover them. Without a doubt, this article is written just for you. It explains three different methods of retrieving your lost email, regardless of the number of emails deleted. 
So, grab a drink and relax while you read through. I promise it will be worth your time!
Method #1: Retrieving Mail Through the Mail App
One quick way to retrieve your deleted email on your iPhone Mail App is through the mail app itself.
Let's see how:
Tap the "Mail" icon. It will immediately load on your screen.
Shake your iPhone in your hand. You'll see a pop-up option displayed further on your screen: "Undo Trash" and "Cancel".
Tap "Undo" and find your deleted email restored in your inbox.
For this action to be successful, it must be done only when you've not exited the mail app or did not do anything outside the app after the deletion. Otherwise, your efforts to retrieve the email by this method will be futile.
Method #2: Retrieving Mail Through the Archive
This method is also used in retrieving lost emails. With some simple steps, archived emails can be recovered. 
Here's how to do that:
Go to the home screen. Launch the "Settings" app.
Options for "Mail, Contacts, Calendars" will be displayed at the top of the screen, while other options for "Notes", "Reminders", and others are listed below. 
Tap on options "Mail, Contacts, Calendars" to open.
Then select the correct mail account.
"Archive Messages" will be displayed at the bottom of your mail account. To enable archiving, set it to "ON" if it is set to OFF. (All deleted messages will be archived in the "All Mails" folder going forward.)
Go back to your home screen again, then launch the "Mail" app.
Tap the three-line icon at the top of the "Mail" app screen to open the menu.
If you have multiple accounts linked to your phone, select the mail account you want to retrieve mails from, from the app menu.
After selection, tap the "All Mails" folder. You'll see all the mails of the selected email account, plus the deleted ones displayed on your screen.
Then tap on a deleted email that you want to restore to open it. 
At the bottom of the screen, you'll see five icons. From the left, the icons are: "Report", "New Folder", "Delete", "Move", and "Edit/New Email".
Tap the fourth icon from the left, the "Move" icon. Your list of folders (or mailboxes) will appear. 
Then tap on the folder you want to restore the deleted email to.
Finally, you're done!
Repeat this step for all the other deleted emails you want to retrieve.
Method #3: Retrieving Mail Through the Trash Folder
The trash folder stores deleted mail for a limited number of days before you can retrieve it. You can also set the duration to which your deleted emails can stay before they finally get permanently deleted from your trash.
Read the Frequently Asked Questions at the end of the article to know how to set that.
Now back to "Retrieve Mail Through the Trash Folder". These simple steps will help you:
Launch the "Mail" app.
Open the apps menu by tapping the apps menu located at the top of the screen.
You'll see the linked account(s) list if you have multiple accounts. Then pick the account that applies to the error made.
Then tap the "Trash Folder".
If your mails are not archived, you should find all your deleted emails here in the "Trash Folder".
To restore the mail, tap it. Then tap the "Move" icon. All of your folders (or mailboxes) will be displayed. Tap the one where you wish the email to be restored, and it will be placed there.
Summary
In this simple guide about how to retrieve a deleted email, we have discussed three different methods to do that. Although, the mail app remains the primary email for iPhone users, and it's also easy to set up for receiving mail without having to download any mailing app. Nonetheless, a crucial email, when deleted, may cause severe panic to us. And at the same time, it is fun to discover DIY methods of restoring any deleted email.
With this guide, throw your worry into the wind! I trust your questions about retrieving deleted mail are settled in this guide, and you feel convinced to share your solutions with your group of friends and followers. Have a nice time!
Frequently Asked Questions
How long will my deleted emails stay in the Trash Folder?
After setting a mail account on your iPhone, or every other iOS device, any mail stored in the Trash folder will be deleted after 7 days.
Can I extend the number of days for my emails to remain in the Trash Folder of my iPhone?
Yes, you can. You can simply do this through your phone Settings. 
1) Go to Settings.
2) Tap "Mail".
3) Then "Accounts" (for iOS 15 or iOS 14), "Passwords & Accounts" (for iOS 13 or iOS 12), "Accounts & Passwords" (for iOS 11), "Mail" (for iOS 10), or "Mail, Contacts, Calendars" (for iOS 9 and previous versions).
4) Then tap the "address@example.com".
5) Tap "Account" address@example.com.
6) Tap "Advanced" below the account settings.
Here, you'll see the "Remove" option. Below the "Deleted Messages" section of the remove option, select between "Never" and "After one month". 
Never means that your mails in the trash folder do not delete at all, while "After one month" means that your mails in the trash folder are only deleted after 30days. 
After changing this successfully, then tap "Advanced" in the top left to go back to one screen, then tap "Account" to go back once, then tap "Done" in the top right to save the changes. That's all!