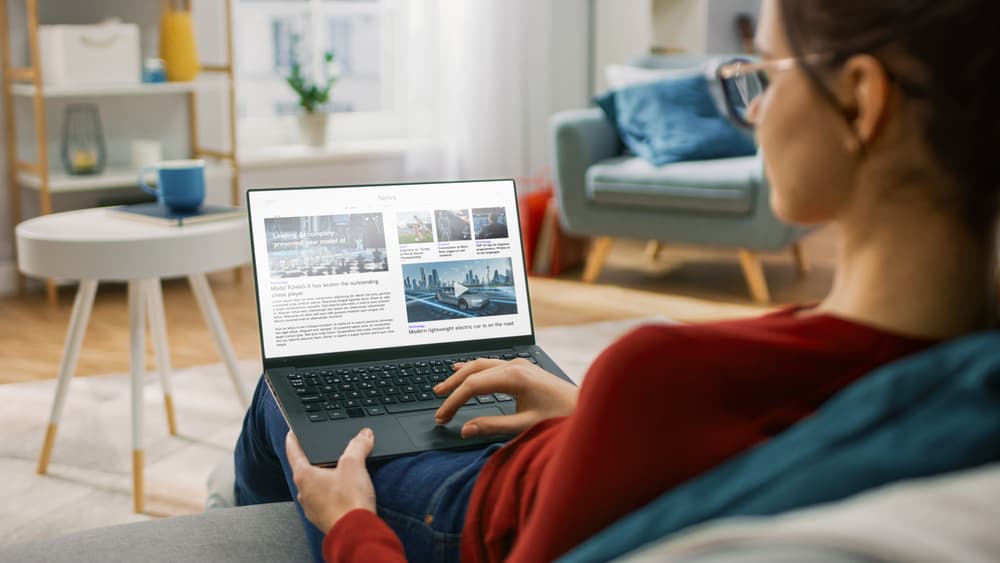 A mouse is one of the essential hardware pieces of a desktop computer. With the ability to virtually select any pixel on the entire screen, this piece of hardware allows for an excellent user-friendly interface as one feels complete control of the user interface, and the whole experience feels very interactive. A laptop achieves the same with the use of a touchpad.
Touchpads are remarkable pieces of engineering that allow you to control the cursor and move it to any part of the screen by gliding your finger across the surface in the direction you want the cursor to go.
Use two fingers and scroll up and down on your touchpad to scroll on a page or a window. You can also try single-finger scrolling on the right-most part of your touchpad, but this only works if your device has that functionality. If either of those methods doesn't work for you, then you have to use the scroll bar on the right-most part of your window.
As touchpads support different scrolling methods, this article will help you identify the type of scrolling your touchpad supports. So keep reading to find ways to help you scroll on your laptop!
What Kind of Touchpad Do You Have?
How your laptop will allow you to scroll depends mainly on what type of touchpad your laptop has? There are many different touchpads, and each has its functionalities and capabilities, with different ways to support all your scrolling needs!
Traditional Touchpad
These touchpads are usually available in earlier generations of laptops. They are effortless to use as they have an area where you can move your finger around and two buttons used for right-clicking and left-clicking.
These touchpads do not have the capabilities of modern touchpads; hence the only way to scroll would be to use the scroll bar in the window you want to scroll on.
Buttonless Touchpad
These touchpads are the ones that are present in most of the modern laptops available in the market right now. But unfortunately, these touchpads do not have any proper buttons but instead support either pressing on the touchpad on the right or left for the clicking or just tapping on either side to click.
One can quickly scroll through a page using the steps described below with buttonless touchpads.
Method #1: Double-Finger Scrolling
Go to any window or scrollable page (i.e., has either a scroll bar visible on the right side of the window or has continuing content below).
Vertically use two of your fingers so that you can scroll the page up and down.
If you have a precision buttonless touchpad, you can also use your two fingers to pinch to zoom in and out of the page.
Method #2: Single-Finger Scrolling
Some touchpads already have functionality that supports single-finger scrolling. This feature is helpful as sometimes using two fingers to scroll is a little tiresome, and it can be difficult for new users to get used to.
Follow the two methods below to check if your touchpad has this functionality.
Method #1: Check if your touchpad has a thin line drawn on the right-most side. Either it can be a thin line or a vertical pattern. This indicates that if you slide your finger on it, it will allow you to scroll using one finger.
Method #2: Sometimes, laptop manufacturers do not draw markings on the touchpad but support finger scrolling functionality. To see if this is the case with your laptop, scroll with one finger on the right-most side of the touchpad.
Summary
With the help of this article, you can learn to scroll on a laptop with the help of different methods. Hopefully, now you can enjoy all your favorite articles without worrying about missing out on the content written at the end of the page!
Frequently Asked Questions
Is there a more efficient way to scroll which works on all touchpads?
There is a way that allows you to scroll with a single finger and works on all touchpads. When you want to browse a page, hover over the right side of the page where the scroll bar is. Then double-click the scroll bar, and a small circle with up and down arrows appear on the screen. You can quickly scroll through the page by moving your cursor up and down.
Why is my scroll not working?
One of the most common reasons that this happens is when your drivers are not up to date. So, start by cleaning your touchpad with a clean cloth. Then, right-click on your Windows icon and click "Device Manager". Next, under "Human Interface Devices", select your touchpad and click "Update Drivers". This should resolve most of the problems you are facing with your touchpad.