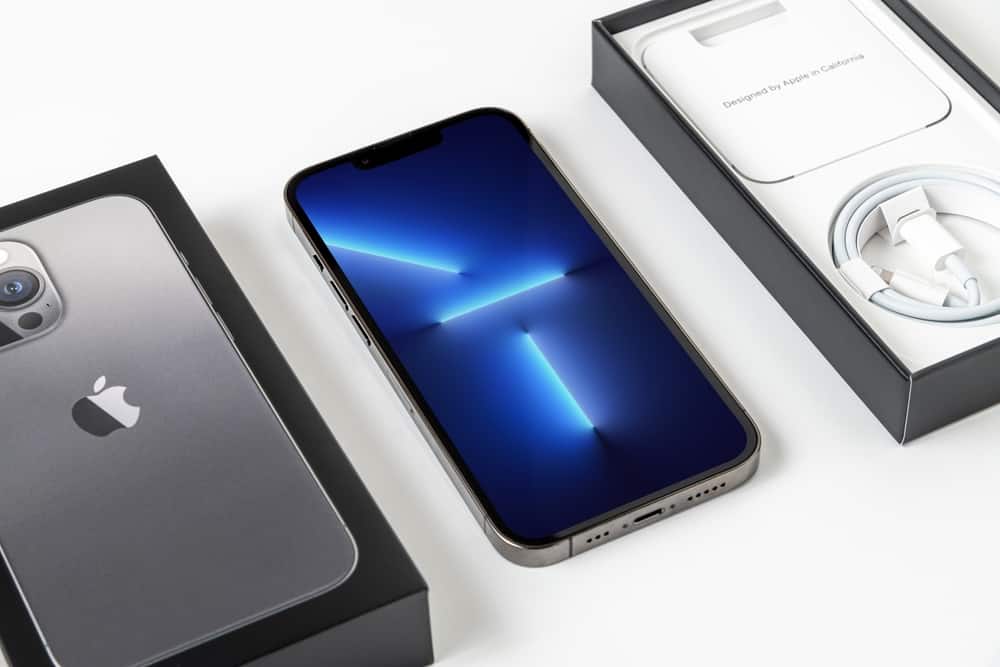 Are you tired of looking at the same old home screen background that defaults on your iPhone? Do you want to customize your iPhone's background with some color images? Doing this is super easy and fun.
To set a background on iPhone, go to Settings>Wallpaper>Choose a New Wallpaper and select a new background from the iPhone's wallpaper collection of Dynamic, Stills, and Live wallpapers for Lock Screen, Home Screen, or both. You can also choose an image under Photos to set it as background. 
New iPhone background can give you a unique experience of owning a brand-new device. You can choose more than one type of background wallpaper for your device.
In this article, we will guide you on setting the background on iPhone. We will also discuss two methods to select the iPhone background and our photos as your iPhone background.
Setting a Background on iPhone
Don't know how to set the background on your iPhone? We have brought you two effective methods to change the background on your iPhone with Apple images or your wallpaper from Photos.
Method #1: Changing Background From Settings
This method is typically followed to set Apple images on your iPhone, including Dynamic, Stills, and Live Wallpapers. Follow this step-by-step process to change your iPhone background in less than a minute.
Step #1: Open Settings
Find the "Settings" icon on your iPhone's home screen and go to "Wallpaper". Tap on "Choose a New Wallpaper". Here you'll also find the option to enable "Dark Appearance," which dims the theme and wallpaper on your device depending on ambient light.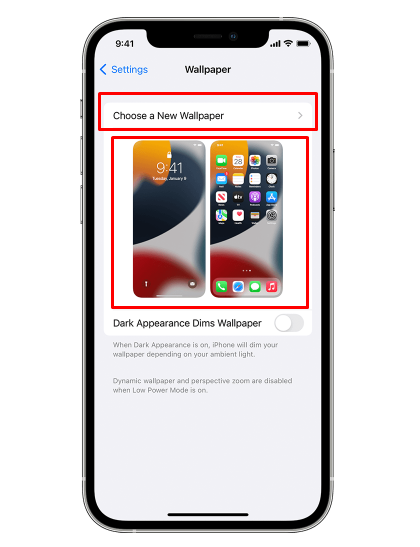 Step #2: Choose an Image
You'll find several options on the screen to choose various types of background images. You can select from Apple images of Dynamic, Stills, Live wallpapers, or your photos as the background. However, the live wallpaper feature is not supported on iPhone XR, iPhone SE (1st and 2nd gen), or iPhone 6s and below.
Step #3: Scale the Background
Now you have to set the image by dragging or zooming it to find the best spot background section on your screen. If the image has low resolution, it may not move or scale. You can also enable the Perspective Zoom feature that moves the background as the screen tilts.
If you're choosing a Live Wallpaper, you can enable the Live Photo effect or Perspective Zoom at a time. Once you're done setting the background, tap the "Set" button featured on the bottom right side of the screen.
Step #4: Set the Wallpaper Screen
After choosing the "Set" option, the iPhone will ask where you want to show the selected background. You'll find three options on the screen: Set Lock Screen, Set Home Screen, or Set Both. Selecting the "Both" option will set the same image on both the Lock Screen and Home Screen.
The Perspective Zoom option is not accessible if Reduced Motion is enabled on iPhone. Therefore, change iPhone motion sensitivities to experience the Perspective Zoom effect on your background.
Method #2: Changing Background From Photos
If you want to set a camera shot or selfie as your iPhone background, follow these easy steps to set them instantly from your iPhone's Photos app:
Go to iPhone's Home Screen and open the "Photos" application.
Now open any image and tap on the "Share" button on the screen's bottom-left side.
Next, tap on the "Use as Wallpaper" option and scale the image to adjust it on the screen.
If you want, choose to enable "Perspective Zoom" or "Live Photo" effects.
Finally, tap the "Set" button to set the background on the Lock Screen, Home Screen, or Both.

Want a new background often? Create personal automation using the shortcut app to add the Set Wallpaper button with one tap action.
What Is the Difference Between Dynamic, Stills, and Live Backgrounds?
iOS offers various background options with compatible devices (above iPhone 6s) to enhance the user interaction experience.
The still wallpaper is like your average background image. These wallpapers don't move or change on interaction. In contrast, the dynamic wallpapers move if you move your device in different motions.
Live wallpapers work the same as Dynamic wallpaper. But instead of responding to the motion, it moves when you press on the Home Screen of your iPhone. Live wallpapers are only supported on iPhones with a 3D Touch Screen.
Summary
In this guide on setting the background on iPhone, we presented two different methods to select a new background image of various types instantly.
The type of background you want to choose for your iPhone can vary on the device's compatibility. So, download wallpapers according to your iPhone's specifications.
Frequently Asked Questions
How to customize my iPhone Home Screen?
You can add custom widgets on your iPhone's Home Screen. Tap and hold on iPhone Home Screen to add widgets.