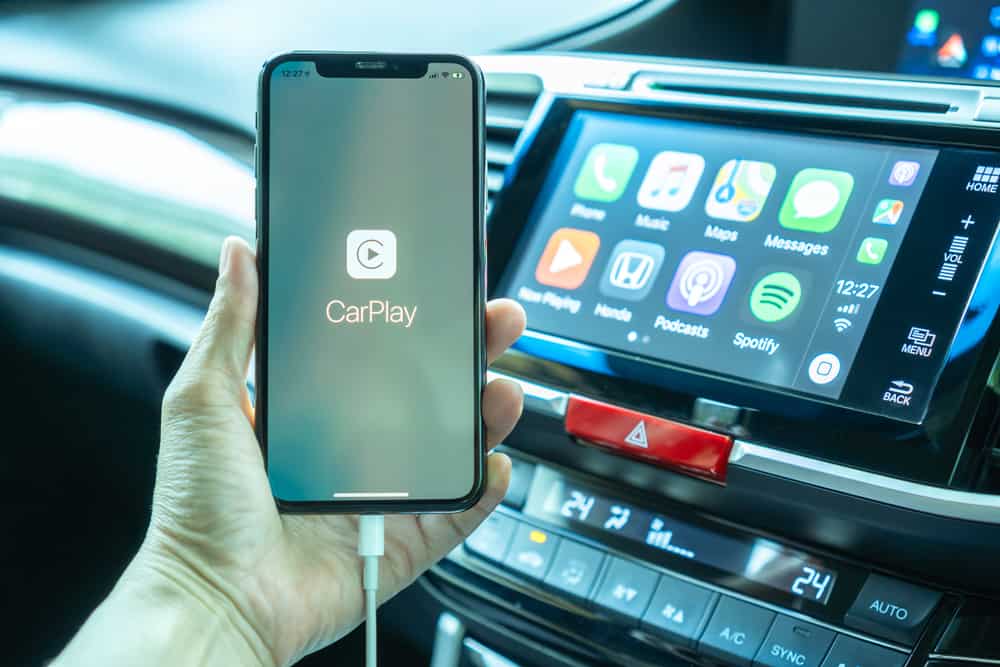 Your iPhone comes with a feature known as the CarPlay, which lets you connect your phone to your car's radio or infotainment system. Provided your iPhone runs iOS 7.1 or later, you can use this CarPlay feature. However, not many people know how to use this feature and are left asking the question, how can they set up CarPlay on an iPhone? 
You can wirelessly set up CarPlay on your iPhone or via a USB cord, depending on whether your car supports wireless or USB CarPlay. If your car supports wireless CarPlay, simply pair it with your iPhone CarPlay via Bluetooth, and if your car supports USB, then plug it in.  
Over 600 different car models support Apple's CarPlay feature. And even if you are using a very old mod car, you can still use the Apple CarPlay feature through a third-party infotainment system. 
To learn more about using CarPlay on iPhone, keep reading this guide.
Steps To Set Up CarPlay on iPhone
Before you go ahead to start trying to connect your car with your iPhone CarPlay, the first thing you need to do is check for compatibility. Note that the CarPlay feature on iPhone is not available in every region. Apple's CarPlay feature is only supported in a handful of countries and cars. 
Also, you need an iPhone 5 or later to have the CarPlay feature in the first place. If that is settled, you need to check what mode you can connect the CarPlay with your car. Most cars support connection via USB, while a few modern cars let you connect wirelessly.
If your car's infotainment system is too old, you would need to get a third-party infotainment system like Pioneer. Below, we elaborate on the two methods you can use to set up CarPlay on your iPhone. 
Method #1: Wirelessly
Only a few cars today, particularly modern cars, let you connect your iPhone CarPlay wirelessly. In most of these cars, you can also connect your iPhone CarPlay via a USB cable, but using the USB cable seems inconvenient when you have the wireless feature. 
Here's how to connect your iPhone CarPlay wirelessly.
Press and hold the voice command button on your car's steering wheel to enter CarPlay setup mode.
Turn on your car's Bluetooth pairing mode. 
On your iPhone, open the Settings app, then click "General" > "CarPlay".
A list of available cars you can pair the CarPlay to will be listed on your iPhone; tap on your car name to pair it.
Apple's CarPlay feature can work with Bluetooth or Wi-Fi on some car models. Refer to your car's user manual for more information.
Method #2: Via USB 
If your car supports CarPlay but does not have a wireless feature, you could upgrade to a third-party infotainment system with a wireless connection. However, if that is too much trouble, another option you have is to set it up using USB, that's if your car also supports that.
If your car supports using a USB cable connection to the infotainment system, you will find it the most straightforward method to use CarPlay on your iPhone. 
Here's how to connect your iPhone CarPlay using a USB cable.
Plug a USB cable into the USB port of your car stereo. Note that the USB port on your car may be labeled with a CarPlay logo. 
Plug the other end of the USB cable into your iPhone. 
Unlock your iPhone, and from the home screen, it will automatically load up the CarPlay interface on your car's screen.
When you set up CarPlay on your iPhone to your car via USB cable, it limits the use of your iPhone as a handset. For example, using the Map app wouldn't work on your iPhone; you can use it on your car screen.
Conclusion 
Connecting your iPhone to your car using CarPlay is helpful when driving. Instead of multitasking by operating your smartphone and driving, the CarPlay feature integrates your smartphone into your vehicle. In some cars, you can even ask Siri questions without touching your iPhone. So, if you haven't been using the CarPlay feature on your iPhone, you should start today.  
Frequently Asked Questions
What can I use the CarPlay feature for? 
Once you connect your iPhone to your cat via CarPlay, whether wirelessly or with a USB cable, you can operate your iPhone with your car. Since most cars' infotainment systems feature a widescreen, your iPhone apps get displayed on it. You wouldn't only find built-in apps like Apple Music, Phone, Text, and Podcast, but you'd also see other third-party apps like WhatsApp, Tidal, Spotify, and so on. 
What do I do when Apple CarPlay refuses to connect wirelessly? 
If your car supports a wireless connection via CarPlay but refuses to connect, you should try restarting your iPhone. If the problem persists, turn off the Bluetooth for 5 seconds and turn it back on. Also, check if multiple devices are connected to your car's stereo. Updating your iPhone and car's stereo firmware may also help fix the problem.