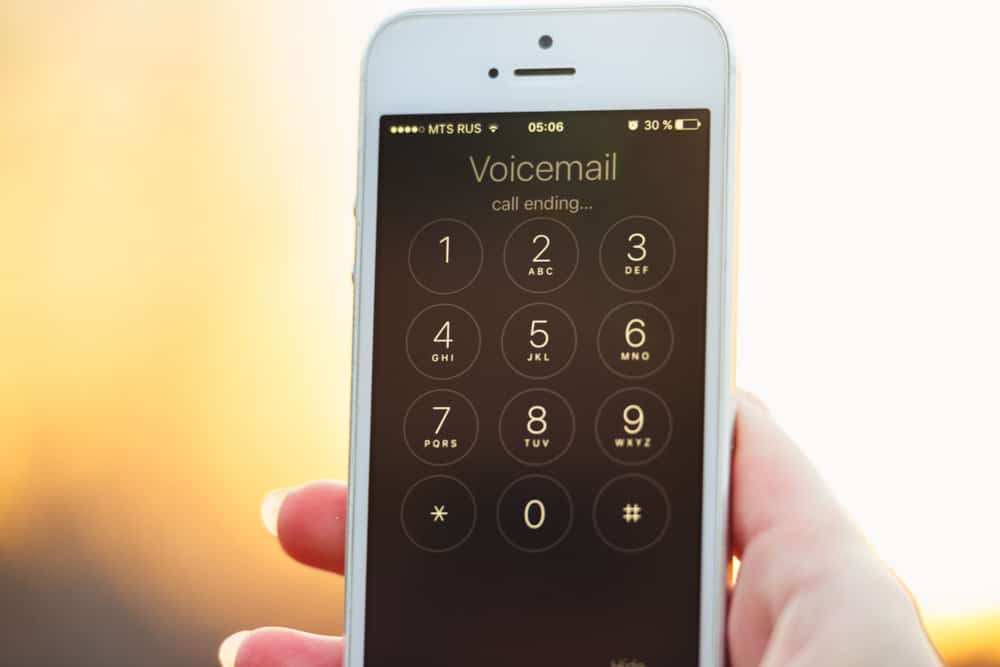 If you are new to using an iPhone or just bought a new one, you will likely have to set up your voicemail for the first time. Setting up a voicemail is essential as it lets callers leave a message when you miss their call or are unavailable. So, how do you set up voicemail on your iPhone? 
You can set up the voicemail feature on your iPhone from the phone app. When you open the app, you will see the "Voicemail" tab at the bottom-right corner; click on it and follow the simple process to get started. 
With features like the Visual Voicemail and Visual Transcription at your disposal, using the voicemail feature has advanced. The Visual Voicemail feature lets you view your voicemail in a list; the Voicemail Transcription shows your messages transcribed into text (although this is available only on iOS 10 or later). 
Keep reading for more details on setting up voicemail on an iPhone. 
Step-by-Step Guide on How To Set Up Voicemail on iPhone
Even if you are the type of person that prefers conversing via messaging apps, there is still value in setting up your iPhone's voicemail feature. Setting up the voicemail on your iPhone is quite simple. 
In three straightforward steps, the voicemail on your iPhone will be up and running. Here's how to go about it.
Step #1: Open the Phone app 
To begin, unlock your iPhone and then open the Phone app. At the bottom-right corner of your Phone app screen, you will see a "Voicemail" tab; click to open it. 
Step #2: Create a Voicemail Password 
When the voicemail page opens, since it is your first time setting up the voicemail on the device, you will get an option to "Set Up Now"; tap it. To proceed, you must set up a four to six-digit password. The password can be alphanumeric, so feel free to be creative.  
Step #3: Choose a Greeting 
Once you set up the password, it brings you to a greeting page. Here you have two different options; you can either choose the default greeting or create a custom one. Selecting the default greeting lets you use the greeting Apple has recorded. If you choose the custom one, you can record your greeting message. Once satisfied with your option, click on the "Save" button at the top-right corner of your screen. 
The voicemail feature is available on only select carriers and regions. Visit the Apple Support page to check if your region and carrier support voicemail. 
How To Listen to Your Voicemail Messages
Suppose you receive a new voicemail message and want to listen to it; there are two ways to do it. You can listen to a new voicemail message directly on your iPhone or any other phone, provided it has a cell signal. 
Method #1: Via Your iPhone 
Listening to a new voicemail message on your iPhone doesn't require hard work. It's even easier when your iPhone supports Visual Voicemail as it presents all your mail as a list where you can listen to it, share it, and even delete a new and old voicemail. For added convenience, you can even ask Siri to play the new voicemail on your iPhone. 
Here's how to listen to your voicemail on your iPhone.
Open the Phone app on your iPhone and navigate to the "Voicemail" tab. 
Tap the new voicemail with a badge and play it, and if your iPhone supports Voicemail Transcription, it will convert it to text, and you can read it. 
Method #2: Via Another Phone 
If you do not have access to your iPhone, you can still listen to a new voicemail. You will need another phone — whether an iPhone, Android, or Windows — to use this method. The other device must have a cell network for this method to work. 
Here's how to listen to your voicemail on another phone.
On the other device, dial your phone number, and ensure no one picks up when it rings through, so it goes to voicemail. 
Press the pound (#) or asterisk (*) key to bypass the greeting message depending on the carrier. 
Enter your voicemail password after listening to the instructions. You'll hear the instructions for listening to the voicemail. 
Conclusion 
You need to set up voicemail to ensure your caller can leave a message if you miss a call. As you can see from this guide, the process is easy and only takes a few steps to set it up. After you set up your voicemail, you can adjust your settings to get notifications when you have a pending message. And if you notice anyone spamming your voicemail, don't hesitate to block the contact, and you will stop receiving voicemails from the number.