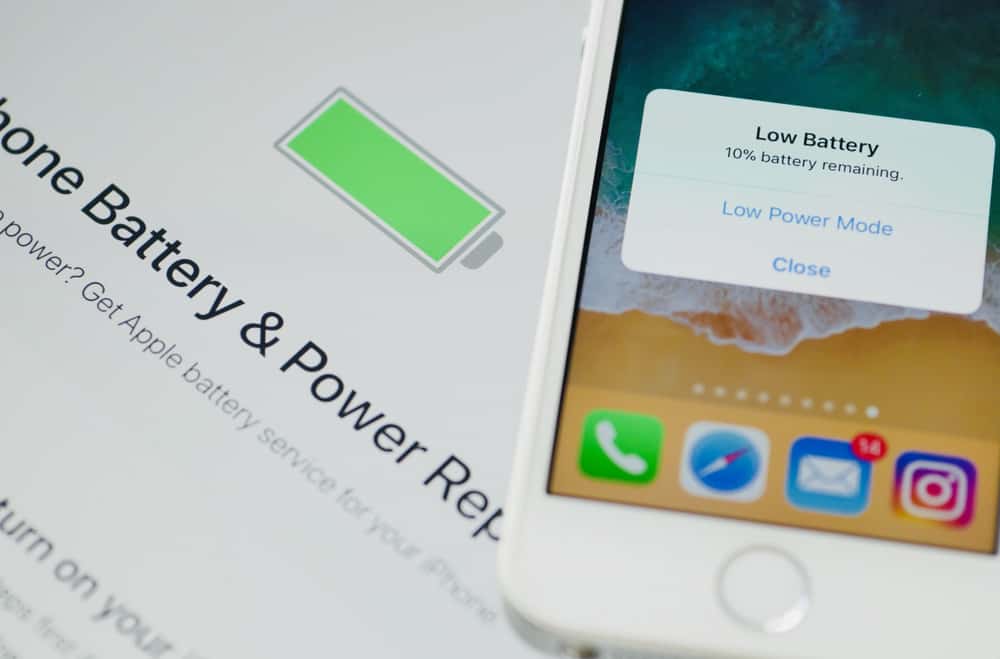 The iPhone is notorious for having stellar battery life. However, as the age of your device, one may drain a lot faster than the other. In these cases, it'd be quite handy to have the ability to share your battery from one device to the other.
No, you cannot share the battery on an iPhone. The only way for you to share is by removing a MagSafe Battery Pack connected to your iPhone to any other compatible devices. Besides, an iPhone cannot share its battery life with any device.
This article will cover exactly why the iPhone can't share its battery, whether an Android phone can do the same, and the advantages of using MagSafe.
Can You Share Battery From iPhone to Android?
No, you cannot share your battery from iPhone to Android. This is because an iPhone does not support wireless power sharing. While the iPhone supports the Qi standard of wireless charging alongside MagSafe compatible charging, the iPhone cannot wirelessly transfer your battery from one place to another.
While the iPhone 12 and 13 were rumored to support wireless power sharing, as the test of time entailed, that was not true. There's no rumor about the iPhone 14 regarding wireless power sharing. 
So, there seems to be no chance that the iPhone 14 or any other subsequent model will have wireless battery sharing. This is because the feature produces a lot of heat, making the entire process relatively inefficient.
As we've mentioned previously, while Apple seems to not have added in the functionality just yet, their inclusion of MagSafe Battery Packs does indicate that reverse charging/battery sharing does exist in terms of hardware specification. 
Can You Share Battery From Android to iPhone?
Yes, you can share your battery from Android to iPhone. When sharing your battery wirelessly from an Android, your phone emulates a simple magnetic wireless charger and can be used with any Qi standard compatible iPhone.
The iPhone, in this case, does support wireless charging, which leads to your battery being shareable from your iPhone to Android with no qualms whatsoever. However, for this method to work, you will need a compatible Android that supports wireless power-sharing over the Qi standard.
Can You Share MagSafe Battery Packs From iPhone to Other?
MagSafe Battery Packs are not connected to a particular charger. Therefore, you can connect them from one iPhone to the other. This is the only way you can share your iPhone's battery. However, with this method, your iPhone's actual battery is not shared.
Instead, the juice inside the battery pack can be transferred from one iPhone to any other Apple-compatible device. This method isn't limited to just battery packs from Apple, though. Any MagSafe compatible battery pack can be plopped off from one iPhone and added to the next for seamless battery transfer.
As the ecosystem matures, we can expect to see Apple maybe adding this functionality allowing you to share the battery from your iPhone to the next. But, as of yet, this seems like a pipedream other than the MagSafe Battery Pack method.
Is It Possible To AirDrop Battery?
AirDrop is Apple's proprietary file-sharing method that uses a culmination of WiFi Direct and Bluetooth to quickly transfer photos, pictures, and music from one Apple device to the other. Sadly, you cannot AirDrop battery from one Apple Device to the other. This is because electricity cannot be wirelessly transferred over long distances.
Moreover, no iPhone supports wireless power sharing or reverse wireless charging. So, they can't act as a charger that can give out their juice to charge any other device.
Can I Share My iPhone's Battery When Wired?
No, you cannot charge your iPhone's battery when wired. When you connect two iPhones, besides being able to transfer data when switching to a newer iPhone, there is nothing you can do. Neither iPhone will begin to charge.
This is unlike when you connect your iPhone to an iPad or a MacBook. In that case, your iPad or MacBook does share its battery with your iPhone. But, two iPhones can't charge each other because they do not support power-sharing amongst each other.
Conclusion
The iPhone cannot share its battery with any other device. Due to Apple's underwhelming support of reverse wireless charging, we have yet to see an iPhone supporting the feature. And, from what it looks like, while Apple has the hardware capability to do so, they haven't pulled the trigger yet.