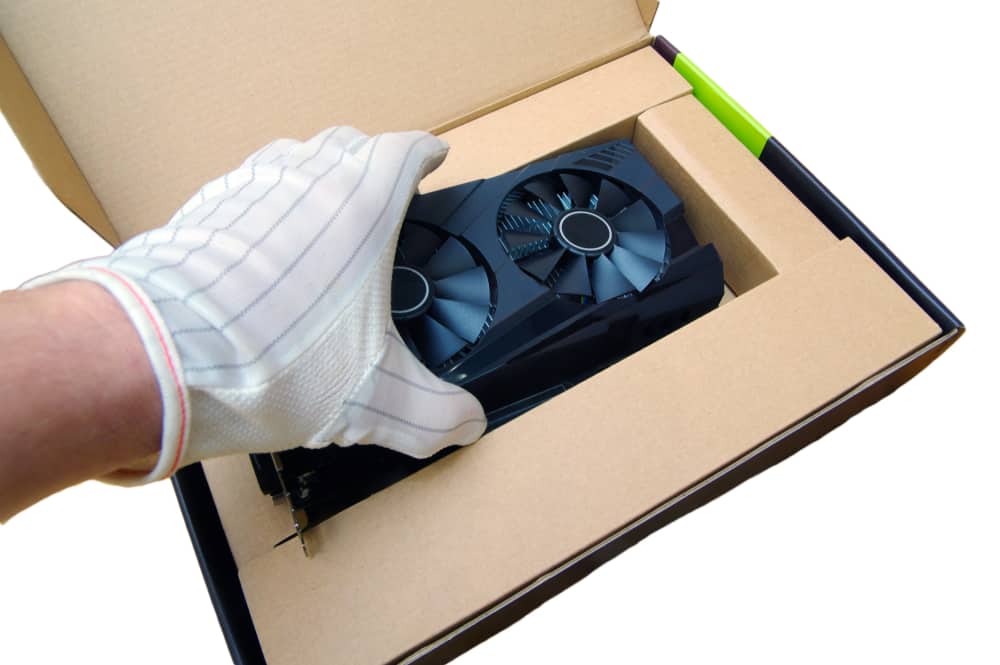 The "Handle With Care" part is important for computers and electronics anyways, but you need to put some extra care while shipping them. The same goes for the GPU or graphic processing unit, which is an expensive and valuable item, and a slight mishandling or shock can cause irreversible damage.
To ship a GPU safely, firstly pack it in its original box. Then, take a bigger carton and put the original one in it, and fill the extra space with newspaper or bubble wrap as it will provide padding to your item. Now, seal the bag flaps with some tape, and it's good to be shipped safely. Heart favorite of gamers, programmers, and miners –  GPUs are now shipped worldwide courtesy of their importance in gaming, mining, machine learning, and artificial intelligence.
We just provided a glance into shipping GPUs safely. Let's dig the subject a bit deeper.
How To Ship a GPU Safely
There are plenty of safety measures you can pick to keep GPUs safe during their transition but which one you pick depends on the fact whether you are delivering it to your clients or sending a used one to your relatives or a customer. Let's look into the methods one by one.
Method #1: Use the Original GPU Box for Packing
No one better than manufacturers know how sensitive their product is, and they design their packing box accordingly. So, the first thing you'd require is its original box. Why? Because it's of accurate size and offers a compact protective covering.
However, in case of a lost original box, visit any electronic center nearby, and you'll probably get a perfect or near-perfect match. Pack the GPU in the box as you are ready to ship it.
Method #2: Prepare a Protective All-Around Layer
It would be best to pack it in a box with a double layer for a more considerable distance. First, pack the GPU in the original box, then put it in a big box. Now fill the space between the two boxes with newspaper, bubble wraps, etc.
I prefer to use foam because it is cheap and works solid. But bubble wraps are great, too, due to their cushioning effect and low-key anti-static traits. Whatever you choose to fill the space will minimize the risk of shocks.
Give each side equal priority as any vulnerable side means a ruined product. Apart from that, your product should sit tightly with all the filling so that it doesn't keep moving within the package and cause self-damage.
Method #3: Use an Anti-Static Packaging Box
Electronic devices are more sensitive to static electricity and electrostatic discharge. In simple words, electrostatic discharge or ESD can severely affect computer components like the motherboard and GPU.
So, to cope with that discharge, an anti-static bag is excellent as it'll absorb static electricity and dispel it to the ground. Your device is very much shielded from electrostatic discharge.
However, you should be using a metal anti-static bag only. The other kind, the static shielding bag, doesn't work. If you don't have an original anti-static bag, consider buying a new one. They're readily available at most shipping centers.
Method #4: Use a Cardboard Box
Using a product's box to pack it for shipping is a common practice, but for some extra protection, grab a cardboard box. It's perfect for long-distance shipping of any product. So, when you're using one for shipping GPU, keep the size the same as an extra-large box won't keep the product intact inside.
But let's suppose you can't find the perfect size but a bit larger; again, you can make it work by filling the extra space with newspaper, packing peanuts, or foam. Put a layer of filling at the bottom, adjust the GPU, and fill the remaining space with more filling.
Method #5: Use a Carrying Case
A carrying case is the most protective way to ship computer components and GPUs. But not everyone may have a specific carrying case with additional protective layers. Also, it would be pretty costly for a regular user. But purchasing a carrying case is worth enough if you are working on large-scale shipping.
Though people use different carrying cases in their daily routine, these bags are made with an extra protective layer, are more durable, and are known as heavy-duty carrying cases.
Conclusion
That was an extensive peep into shipping GPUs safely. Use any of the mentioned methods to keep your GPU safe during the journey. Be careful while packing them for shipping; for added security, put a fragile sticker on them.
GPUs are sensitive to bumps and dumps. So, your packing shouldn't be a loose fit but snug tight. It's very much like not wearing a seatbelt and will lead to damage from the inside. We hope our guide will help you ship your GPU in one piece.
Frequently Asked Questions
What is the cheapest way to ship a GPU?
If you're selling your old used GPU on eBay, you might not want to spend bucks on the packaging. In such a case, use the double protection method and fill the outer box with bubble wraps, packing peanuts, or any other cheap filling. Then, close the box, tape it, and you're ready.
What is the best way to ship a GPU?
The best and most practical method is using an anti-static bag. You need to save GPU from electrostatic discharge, and the anti-static bag does this well. It absorbs the discharge and dispels it to the ground keeping your electronics safe.
Do I need an anti-static bag? What if I don't have one?
The anti-static bag is essential but if you don't have one, use newspaper or bubble wrap to cover the GPU before packing it. The bubble wrap can act like an anti-static bag too.
Can I ship a GPU without its original box?
Yes, you can, but know that it's a risky thing to do anyway. First, wrap your GPU in a newspaper or some packing paper. Then, add a layer of some soft material like bubble wraps or foams, put it in cardboard, and seal it with tape. It will keep the GPU comparatively safe.