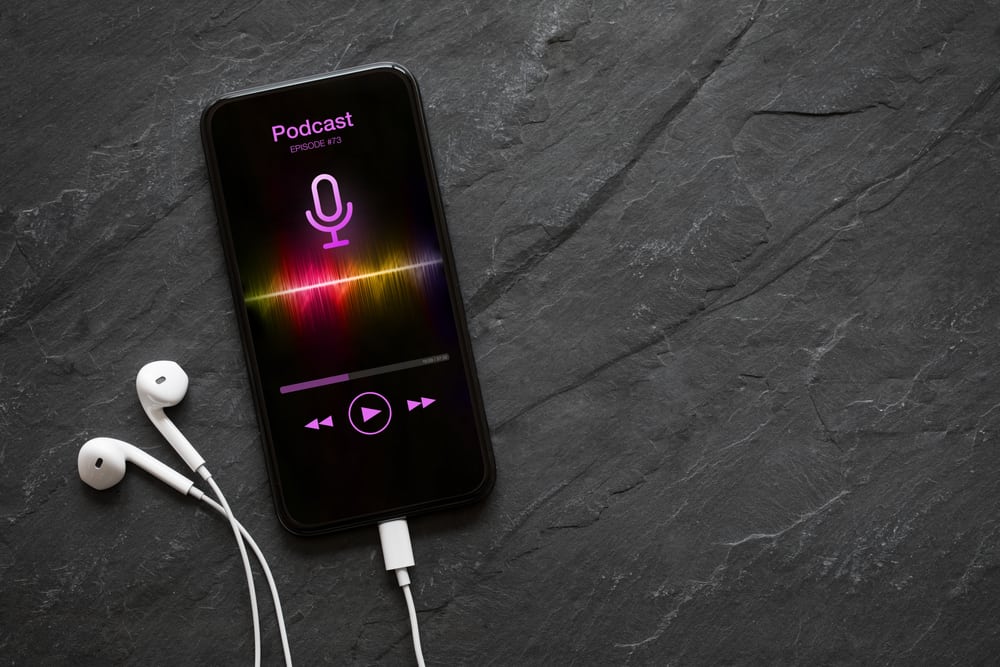 Podcasts have seen an impressively increasing popularity uptrend in recent years. People love to listen to their favorite creators at their convenience. If you also want to start your own podcast and have an iPhone, you can set it up right now. But before rushing, here are some things to consider.
iPhones generally have superior mic and audio quality. However, you must invest in a good-quality external mic if you want to record professional podcasts. Recording in a closed space with no noise distraction also helps. Lastly, you will need to select a popular podcast hosting service to make your podcasts available to the listeners. 
If you take care of these little things, you can record a high-quality podcast with the convenience of your iPhone without requiring any heavy equipment. 
iPhone podcasts might also come in handy when you just want to upload a new episode and your professional studio isn't accessible due to some problems. In this article, you'll find everything about starting a podcast on iPhone to easily reach your audience using your smartphone.
Investing in a Microphone
Some podcasters prefer using professional wired headphones to record their podcasts due to their excellent mics and noise cancellation. However, iPhones after the 6s got rid of the 3.5mm jack, and users had to switch to wireless alternatives. 
Depending upon the model of your iPhone, you must purchase a compatible external microphone because a podcast is all about audio. If your voice isn't clear, then your podcast will not grow. In some cases, the guests on your podcasts might not feel comfortable with bulky stand mics, and you can get lavalier or lav mics for those instances.
Lav mics are portable and easy to use, and you can clip them to your shirt or collar. It feels like you're not wearing anything at all, so you and your guests can record the podcast with a free mind.
Dedicating a Space for Recording
When working with a limited budget, you cannot create a whole studio for recording. Instead, you should record your podcasts in a small room where you can control all the noise. Recording in an open space will take that flexibility, and you'll have to start over every two minutes or so.
If you want to sound even better, you should look for a room with soft surfaces, or you can cover up the wall with absorbent sheets. This will reduce the hard surface echo, making your podcast sound much cleaner.
Moreover, you'll have to spend less time editing your podcasts if it's already sharp and noise-free. Another tip is to put your iPhone in Do Not Disturb mode so you won't be interrupted by constant notifications.
Recording Your Podcasts
The old-school method of recording with your iPhone's Voice Memo app doesn't sound nice these days. The App Store has tons of amazing podcast recording applications with impressive software features. 
Some apps let you edit the podcast with cuts and music while recording, so it takes less time to edit the sound afterward. Below are some popular options you can use to record your podcasts.
Podbean
Podbean is one of the most popular and user-friendly podcast hosting services that many creators use frequently. Follow these steps to record your podcast on Podbean.
Search and install Podbean from the App Store.
Launch the application on your iPhone.
Sign up on the app using your preferred credentials.
You will see a mic icon on the app's main screen at the bottom right corner. Click that icon to start recording your podcast.
You can tap on the "Account" tab in the top right corner to access this mic icon. You will also be able to see your previously published podcasts under the "Account" tab. 
Once you're done recording, you can click the "Save" button, and your podcast will move to the "My Drafts" section.
You can play and listen to your podcast before uploading it to ensure there are no errors.
Podbean has many cool features to take your podcast up a notch.
Adding Music
When recording, you can add some music presets to your podcast. You can also choose to add songs from Apple Music, making sure they're royalty-free. A music slider lets you create a fade effect by lowering and increasing the music volume.
Cut/Trim Feature
Nobody can record a whole podcast in a single attempt. That's why there's a trimming feature that lets you cut or delete a selected part from your podcast. Highlight the part to be deleted with your slider, and the audio to the right of the slider will be deleted.
Title Editing
Podbean also lets you rename your podcast title and description and add a cover image. When you're done editing, you can save it in your drafts section or publish it directly from the app. 
One drawback of the Podbean app is that you cannot record video from your iPhone's camera directly on this app. You will have to separately record the video if you're conferencing or having a guest using zoom or any other recording application.
Other Popular Hosting Services
There are some other amazing podcast hosting services as well, like Riverside.FM, Spreaker, and Apple Podcasts. They are very user-friendly and provide different features to edit and publish your podcasts. For instance, Spreaker lets you record, edit, and publish the podcast straight from the app, and you can even live stream straight from the app.
On the other hand, Riverside makes it very easy to invite guests to your podcast and record the camera feed directly from your iPhone.
However, you must first set up your RSS feed on applications like Apple Podcasts. But due to Apple's massive user base, people are willing to go the extra mile. You also need to fill out an application on Apple's website.
An approval from the website might take 2 weeks before your podcast is all set on the application, but they will reach out to you within 24 hours. 
The Bottom Line
Starting your own podcast on an iPhone is as easy as possible. You just need to sign up for a podcast hosting service, and you're good to go. Before recording, you should install a good external microphone and record in a closed and quiet environment. 
Many amazing applications on the App Store let you add music and other edits to your podcast while recording, and you can publish the outcome directly from their app. You can even live stream and collab with other creators using these services. We hope this article has helped you find the right steps to start a podcast on your own iPhone.
Frequently Asked Questions
Do podcasters make money?
A beginner podcaster might be unable to make a fortune out of their podcasts due to less audience. However, paid subscriptions and brand sponsorships help them to gain a lot of income when their podcast gains a significant fan following.
Is it free to publish a podcast?
Recording a podcast doesn't require any money. However, the famous hosting services charge a subscription fee from podcasters. For instance, Apple Podcasts charge $19.99 per year to give the creators access to special publication features.