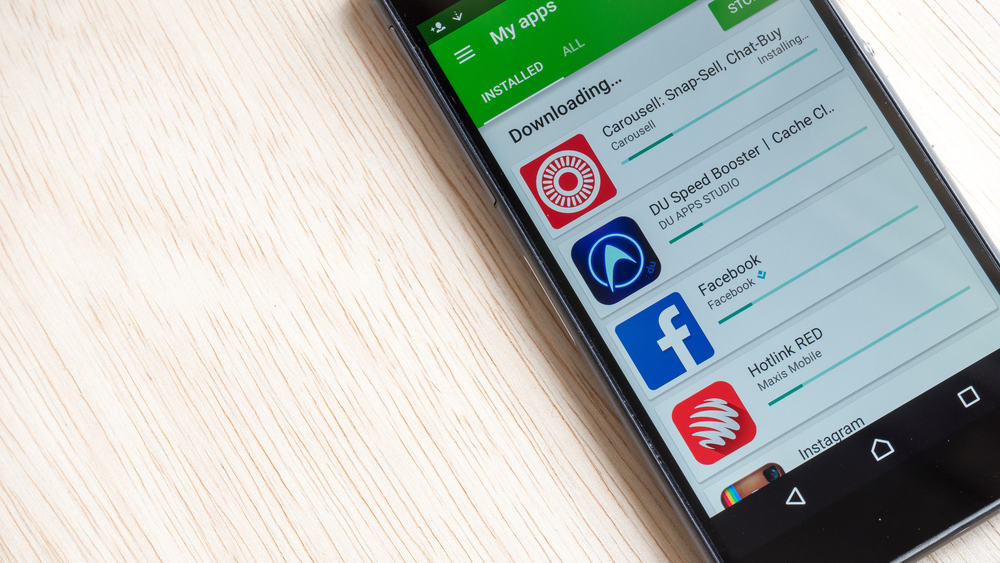 You start downloading a video online or an app from the Play store. You quickly realise you don't want that app or video anymore. Can you stop the download on the spot? Yes, you can!
There are many ways you can cancel a download from the app store or on your browser. Simply go to the app and click the cross on it, or go to the Downloads folder and cancel it from there. Sometimes, your download may even get stuck. You can easily stop it and restart your download at a later time again.
Let us see the different methods of stopping an active download and salvaging a stuck download. These are the steps outlined here.
Stop App from Downloading in Google Play Store
Many times, we get confused between genuine and copycat apps as they have the same name. The only difference is the logo, as it is copyrighted. And so, if you have started downloading a duplicate app and want to stop, here is how to do it.
Open up the "Google Play Store".
Now, type the name of the app that is downloading.
Click on the name and open its page.
You can see a progress bar with a cross at the end of it.
Simply click on the cross before it completes to cancel the download.
Once you have stopped the download, you can find the genuine app and download it.
Stop Downloads Happening on an Android App
Sometimes, unwanted ads and content gets downloaded even on your local Android app. How do we stop such unsavoury downloads?
If it is urgent, simply switch off your Wi-Fi.
Another method is to put your phone in airplane mode.
For a more foolproof effect, turn off your phone entirely.
Alternatively, there are also some third-party apps that help stop unsolicited downloads.
How do we deal with downloads that are frozen or stuck? It may happen that due to bad Wi-Fi or server issues, the app download may slow down. In such cases, you can resolve it using the Download manager. 
Let us see two methods – one for the new Android version and the other for older ones like Android 2.1.
Method #1: Unfreeze Stuck Downloads on New Android Versions
Try and force the Google Play store to close down first.
Then go to the "Settings" App and click on "Apps & Notifications".
Now, in the recently opened apps, click on "See all Apps".
Here, in the app list, click on the Google Play store.
In the App Info Page, click on "Force Stop". This stops the Google Plat store and app downloads.
Click on "OK" to confirm your choice.
Now, go to the Google Play store and find and download the app again.
Method #2: Use Download Manager to Fix Stuck Downloads
This method is for older phones with Android 2.1 and below. As you download apps from the Android Market place, the process is a bit different.
Launch the "Settings Menu" or the "Settings App".
Click on "Applications" and then on "Manage Applications" to show a list of apps.
Click on "Market" and then "Clear cache".
Now, click on "Force Stop".
If you still face any difficulty, go to the Download Manager and click on "Clear Data".
Finally, click on "Force Cose".
Some companies even offer third-party apps that unfreeze downloads and restart them. There is no hassle of closing the Google Play Store or even in dire cases switching off the phone.
Conclusion
You may need to stop any unsavoury downloads from happening on your Chrome browser or app. Alternatively, you may be stuck downloading an app from the play store. You can easily come out of these by either using a Download manager or simply switching off your Wi-Fi or phone. There are even third-party apps that will help you with this.
Frequently Asked Questions
How do I force an app to stop installing on my phone?
Click open the Settings menu on your device. Launch the Apps or App Manager and scroll down to all Apps. Find the Google Play Store app and click to open it. Now here, click on the Force stop button to stop the installation forcibly. Next, tap the clear cache button to completely stop the installation.
How can I stop a file from downloading on my Google Chrome app?
Open your Google Chrome App. On the top right-hand side, click on the three dots and click on the Downloads option. Here you will find the list of files currently downloading or already downloaded. Go to the file you want to stop from downloading. Here, click the cross option to cancel the download.