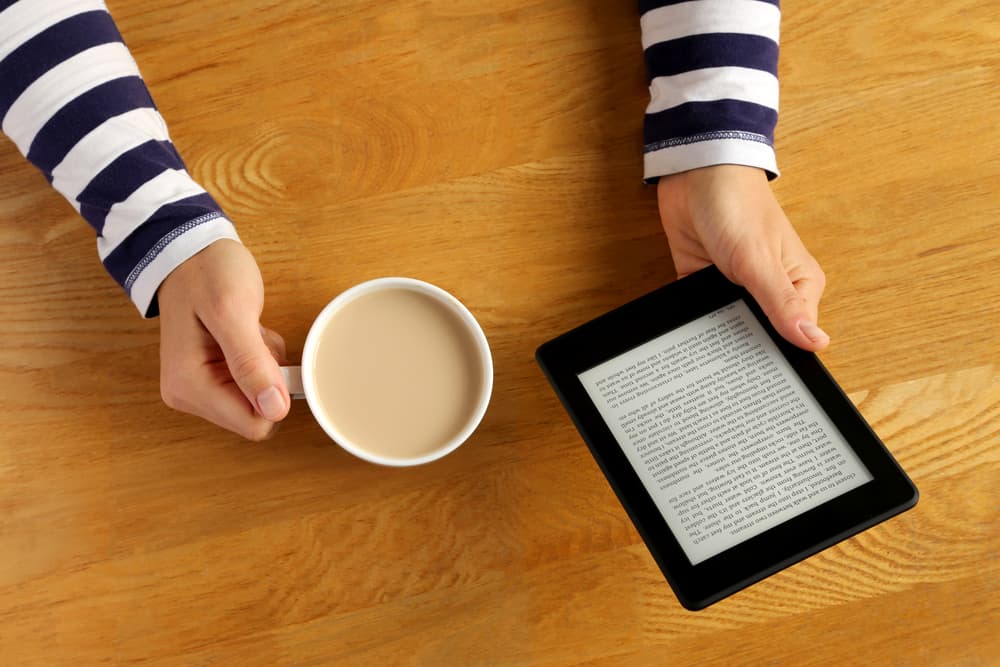 Have you been using a Kindle Fire but want to change from one user profile to another? Luckily, the process is quite effortless and can be performed in a few simple steps.
To switch users on Kindle Fire, access the Notification panel, tap the profiles icon, and select a new user profile. 
To simplify the process for you, we have written a detailed step-by-step guide on how to switch users on Kindle Fire conveniently. We will also address adding a new user and removing one on your device.
Switching Users on Kindle Fire
If you are wondering how to switch users on Kindle Fire, our following step-by-step method will help you go through this process without much difficulty.
Swipe down from any Kindle Fire Home screen to access the Notification panel.
Tap the profiles icon.
Tap any profile name and wait for Kindle Fire to switch the user and load their profile.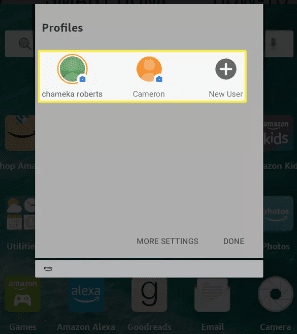 Creating a User on Kindle Fire
If your Kindle Fire device only has one profile, you can create a new adult or child user and switch afterward.
Method #1: Creating an Adult Kindle Fire User
Follow these steps to set up a new Adult Kindle Fire user profile.
Access the "Profiles" section on your Kindle Fire, and tap "New User".
Confirm if you want to create a new profile, and tap "OK".
Tap "Profiles & Family Library".
Tap "Add a second Adult profile".
Tap "Continue" when you see the next prompt about handing over the tablet to the other user.
Select if you have an existing Amazon account or wish to create a new one for this profile, and tap "Continue".
Sign in with the new user, and you can then choose from two Adult profiles on your Kindle Fire.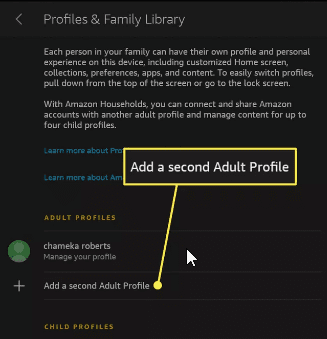 Method #2: Creating a Child Kindle Fire User
To set up a new Child Kindle Fire profile, follow these steps.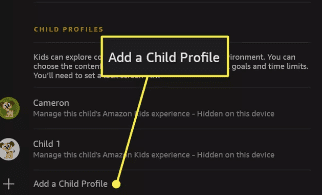 Access the Profiles section on your Kindle Fire, and tap "More Settings".
Tap "Add a Child Profile".
Tap "Set Password".
Enter "Name".
Enter "Birthdate".
Tap "Add Profile", and you're done!
Hiding a Profile on a Kindle Fire
Having created a child or adult user, you might also want to hide the profile to limit the tablet activity. Fortunately, your Kindle Fire device can do so by simply following these steps.
Open the Settings menu from the Kindle Fire Home screen.
Tap "Profiles & Family Library".
Find the Child or Adult profile you want to hide and tap on it.
Tap "General Settings".
Turn on the "Show Profile on Lock Screen" option by tapping the toggle next.
Tap "Hide Profile" in the confirmation pop-up, and that's about it!

Registering Your Kindle Fire to Another Account
If you don't want to use your existing Amazon account to add, remove, or switch user profiles, you can simply delete it and create a new one on the Fire tablet in the following way. 
Swipe down from any Kindle Fire Home screen and tap Settings.
Tap "My Account".
Tap "Register".
Log in with your Amazon credentials or sign up for a new account by tapping "Start here".
From the Account Settings, tap "Deregister", and your Kindle Fire will be associated with your new Amazon account.
Summary
In this article, we have outlined how to switch users on Kindle Fire. We've also discussed the process of creating a new account, including the adult and child accounts, and hiding a profile on the device.
Hopefully, your question has been answered, and you can now quickly switch between different profiles on your Fire tablet.
Frequently Asked Questions
Where are the settings on the Amazon Fire tablet?
The Settings menu appears by swiping down at the top edge of your tablet's screen. This shows the panel on which different functions and notifications can be accessed. 
On the bottom of that panel, the gear icon appears. Clicking on this symbol opens the Settings menu. This is where you can also find the profile icon, which displays all available users on the Kindle Fire.
How many users can you add to a Kindle Fire?
As of this writing, Amazon allows six users on an account. Among those, two can be chosen as adult users, while the remaining four can be child profiles. The prerequisite for adults is an Amazon account, whereas children can be added by their parents or guardians.
What does deregistering an Amazon account do?
If you deregister your Amazon account, your name, user profiles, and contact details get removed from Amazon's records. Because of this, you won't be able to order anything from the website. Also, you will be unsubscribed from future Amazon emails, and your purchase history and reviews will also be removed from the website.