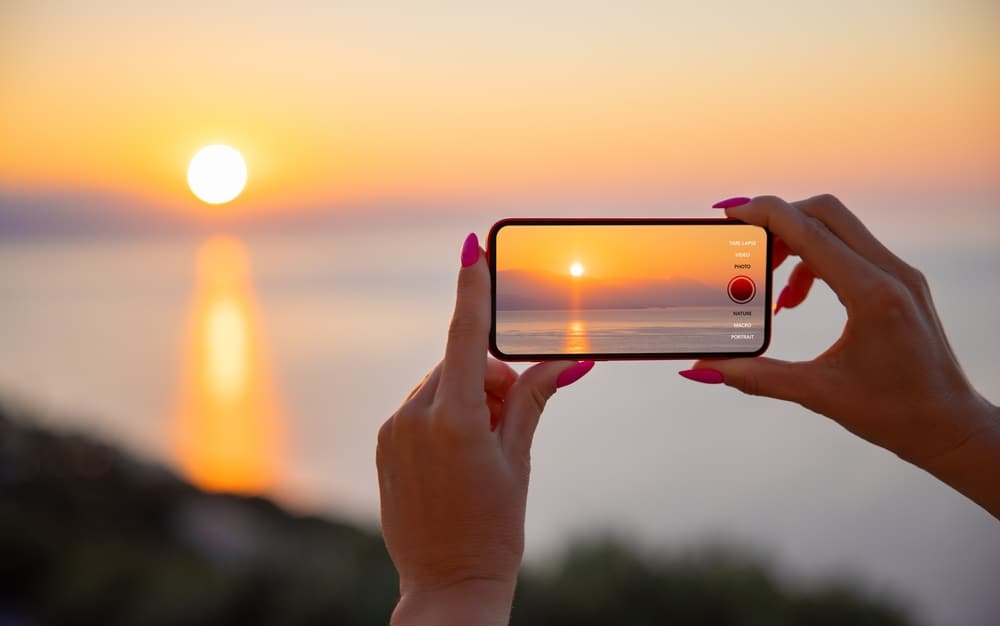 If you frequently encounter beautiful scenery, but the view can't fit in one photo, or you can't fit your entire group of friends into a single shot, then consider taking panoramic pictures. Panorama photos are single wide-shot photos that capture too wide views for a traditional landscape or portrait photo layout.
Typically, it would help if you had a professional camera to capture panoramic pictures or create one by taking several photos of a view from a single view and then joining these photos together to create a single image. Luckily, if you have an iPhone, you don't need to stitch several photos together to create a panorama photo. Instead, use the Pano feature of your iPhone to take excellent panorama photos.
Taking a panorama photo on an iPhone is pretty simple. Open your camera, then swap through different shooting modes until you get to Pano mode. Next, lift your camera to set the view, adjust exposure and photo direction, and take the shot.
Read on to learn exactly how to take a panorama photo on iPhone.
Overview of Taking a Panorama Photo on iPhone
Panning is the first technique to learn when looking to take excellent panorama photos with your iPhone. Panning moves the camera from right to left (or vice versa) from one position. Because iPhone panorama photos are technically many photos joined to create a single photo, minimizing movement when panning is critical.
If you move too much when panning, you'll have a distorted photo. To avoid a distorted panoramic photo, keep your hands close to your chest but not too close that you don't see the camera arrow. If your hands are unstable, use a tool to stabilize the iPhone while you take the shot.
Examples of tools you can use to stabilize your iPhone are a selfie stick and a tripod. To use a selfie stick holder, unscrew the holder and mount it onto the tripod. Loosen the holder's locking knob so you can move the iPhone left to right. Tighten the holder's tilting knob, so your iPhone doesn't accidentally move up or down and distort the photo.
Steps to Take a Panorama Photo on iPhone
Follow the steps below to take a panorama photo on your iPhone:
Step #1: Select Pano Mode
First, open your camera, then swipe through the various shooting modes until you get to pano mode.
Step #2: Do a "Run" of Your Photo
Before you shoot a panorama on an iPhone, it's important to first "run" the camera through the scene. This way, you can plan where to begin and end the photo. Hold your iPhone upright in portrait orientation to do a photo "run" of a horizontal panorama. Start moving the camera from left to right across the scene. Note interesting views you can use as beginning or endpoints for the photo.
Step #3: Adjust Camera Exposure
Usually, the camera will set exposure depending on how bright or dark the beginning of your panoramic shot is. But, if there are scenes on your shot that are brighter or darker than the opening view, parts of the photo may be over or under-exposed.
To avoid over or underexposure, find an area with medium exposure when doing a "run" of the scene. Point your camera to this view, then tap and hold your screen. This will be the degree of exposure for the entire photo.
Step #4: Set Panning Direction
To set panning direction for your panoramic photo:
Hold your iPhone up, point to the scene then ensure the arrow is pointing right.
Hold the iPhone up and ensure the arrow points left to start the picture from the left.
If the camera arrow is pointing in the wrong direction, tap on it, and it will switch.
Step #5: Take Your Shot
To start shooting your panoramic photo:
Point the camera to the first scene, then press the shutter button.
Slowly and steadily pan the iPhone towards the end scene of your photo.
When panning, ensure the arrow is on the display line. If you deviate or move fast, on-screen instructions will tell you how to adjust.
After getting to the end scene of your panoramic photo, you can stop by pressing the shutter button or moving the camera in the opposite direction.
After the camera stops, your panorama photo will save automatically.
Summary
This article teaches that you don't need a professional photo to take a panorama photo. Your iPhone will work just fine. Remember to do a 'run' of the scene before taking the shot and adjust your camera exposure to medium brightness.
Frequently Asked Questions
What are the best tips for taking excellent Panorama Photos on an iPhone?
Practicing panning steadily, doing a "run" on the scene to take excellent panorama photos on an iPhone and adjust the camera exposure.
Are all Panorama Photos horizontal?
No, panorama photos can be vertical.
How can I take a vertical Panorama Photo on an iPhone?
Open your camera and swipe to pano mode. Hold the iPhone horizontally, then tap on the shutter button. Follow the camera arrow up to shoot. Tap the shutter button to stop and save the image.