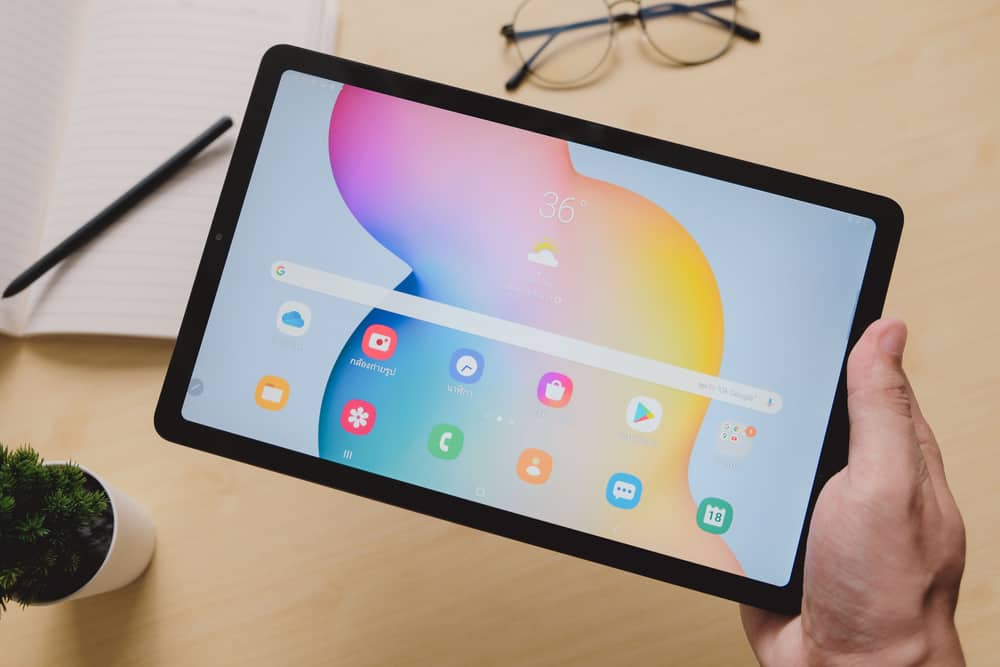 Most Android devices allow you to take a picture of your touchscreen. So if you see interesting content on the screen and you want to capture it, you can take a screenshot. You can even use your Android tablets to record a video of your phone's screen. But the question is, how can you take a screenshot on your Android tablet?
The most popular way to take a screenshot on a tablet is by simultaneously pressing and holding the power button and the volume down button. You can also use gestures, ask Google or use a third-party app. 
Note that some Android tablets, particularly those with a home button, may require you to press the home button and the power and volume down button to take a screenshot. This article will discuss how to capture your screen on an Android tablet running Android version 4.0 or later.
Ways To Take a Screenshot on an Android Tablet
When you capture your screen with your Android tablet, your screen will flash, and a notification will pop up on your device telling you that the new image is in your gallery. Some Android devices will allow you to edit the screenshot immediately after you take the screenshot. However, if your Android tablet does not allow you to edit the image, by tapping on the popup screenshot image, you can enter the gallery to deal with it there. 
Method #1: Using the Power Button and Volume Down
All Android tablets always come with a power button and volume keys. So, you can always use this method to take a screenshot on any Android tablet. It is perhaps one of the first and most popular ways people started taking a screenshot with their Android devices before the advancement of technology.
Here's how to take a screenshot using the power button and the volume down buttons:
To take a screenshot of a page on your Android, press the power and volume down buttons simultaneously.
If your Android device has a home button, press and hold the home and power buttons simultaneously to take the screenshot.
Method #2: Using Gesture
Another option you have to take a screenshot on Android tablets is the gesture. This feature is built into several modern Android tablets and phones because it is easy to use. Different Android tablets come with different gestures you can use to take a screenshot. However, to use this feature, you must first enable taking a screenshot with the gesture.
Here's how to take a screenshot using the gesture:
To turn on gesture to take a screenshot, head to Settings, then tap on the "Advanced Feature" or "Action and Gesture" option depending on the brand of your tablet.
Depending on your brand, you could swipe down with three fingers, knock three times on the screen, or even wave to take the screenshot.
Method #3: Ask Google
Google remains one of the most widespread voice assistants available on almost every Android device, including tablets. With several voice assistants available, you can easily ask them to take a screenshot for you, and they will. You can also take a screenshot of your screen using your voice command.
Some Android devices use other voice assistants, but Google is more like the standard must-have on Android devices.
Here's how to take a screenshot by asking Google to do it:
Enable the voice assistant from the page you want to take the screenshot.
For most Android tablets saying "OK Google" will launch the voice assistant.
But for some Android tablets, you must hold the home button for a few seconds, and the voice assistant will launch.
When it does, say the voice command "Take a Screenshot," and Google will take a screenshot of your current page.
When you take a screenshot with Google voice assistant, it immediately launches a quick share option where you can share the screenshot on social media or choose to save it on your device.
Method #4: Third-Party Apps
Finally, there are third-party apps you can download that let you take a screenshot on your tablet. Apps like Screen Capture Shortcut, No Root Screenshot, ScreenCap Root Screenshots, etc. This method is handy for people who are not using Android 4.0 or don't have the screenshot feature on their device.
Here's how to take a screenshot with third-party apps:
With Screen Capture Shortcut, you can take a screenshot on your device by shaking it.
With No Root Screenshot, it creates a widget on your device that, when you take it, takes a screenshot of your device.
ScreenCap Root Screenshot requires your device to be rooted, after which lets you screenshot by creating a widget.
Some of these third-party apps you download on your device to take a screenshot will only work when your Android tablet is rooted. It is not advisable to root your Android as it voids your warranty and could break your device. 
Summary
As you can see from the guide above, you can take screenshots on your Android device using different methods. So, if you have not been capturing important pages on your device because you didn't know how, well, now you know! Use the method that is most convenient for you to take a screenshot at any time.