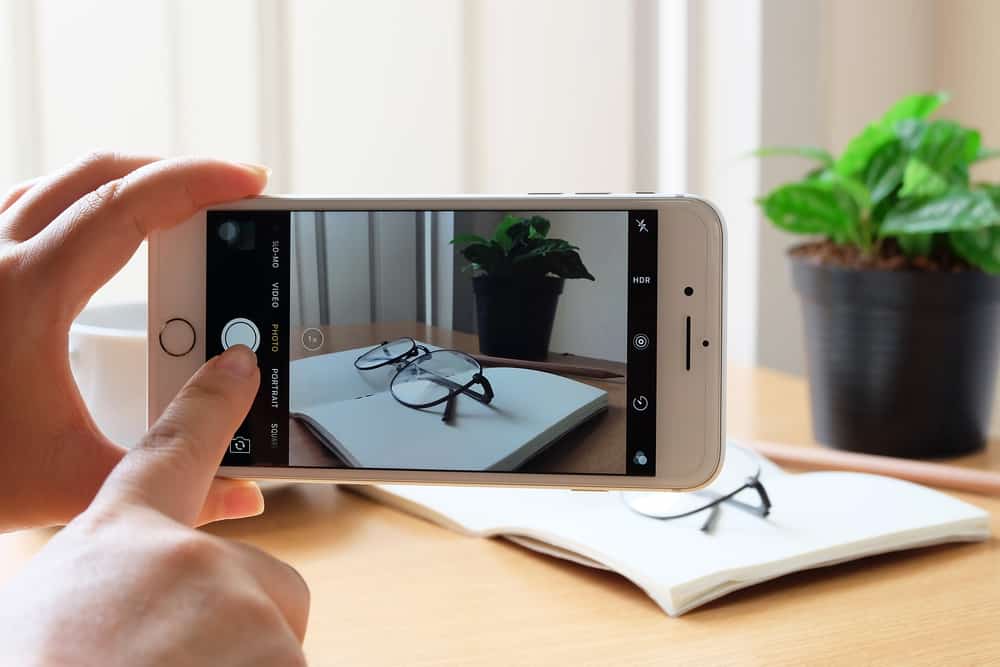 Whether you're a clothing shop selling sweaters, an iPhone enthusiast selling cases, or a blogger writing product reviews, taking high-quality product photos can make all the difference. They're so effective they compel you to buy a product before you even read the description.
You don't need an expensive camera to capture professional images of your products. While that may work for some shots, using your iPhone alongside the right lighting, background and angles is really what's going to yield the best results.
A poor product photo can leave some customers wondering if the item will even work, even though the reviews may say otherwise. Having your products look great is extremely important because it can make or break any sale.
So, let's break it down step by step to see what's helpful when using an iPhone to take product photos.
Step #1: Choosing the Camera App
Whether you're a beginner or a pro when it comes to shooting, having the right camera app will make your job a lot easier. Choosing the right app for your camera is important as these apps are designed to make your camera work better for you.
You can either use the stock Camera app that comes with your iPhone or download a third-party one from the App Store. It all depends on your personal preference.
Despite the great built-in Camera app, if you want more out of your camera experience, there are many third-party apps that you can use on the App Store, such as:
Step #2: Setting the Background
The best product photos are clear, clean, and use simple backgrounds that are not distracting from the product itself.
It is important to ensure that the product you are selling online is the main focus of any image you take. The background should be a dull neutral color; darker colors will bring too much attention to the background rather than the product.
The more stuff there is in the background for viewers to focus on, the harder it will be for them to see your beautiful product. A simple white or grey backdrop while shooting a product photo is, therefore, a must.
Step #3: Adjusting the Lighting
When it comes to product photography, one of the most important aspects is the lighting. Poor lighting can ruin a photo and defeat your product's main purpose of standing out in the marketplace.
For shooting products, you need a soft, diffused light source to ensure you're always getting great shots, and you can use either natural or artificial light sources for this purpose.
Sunlight is an excellent natural light source that can illuminate your product and help emphasize any details you may want to include in the shot. But If you're shooting product images in low light or at night, you can use artificial light to help illuminate the scene.
Step #4: Setting Up the Product
While this may not seem overly exciting, prepping your products removes the potential for costly mistakes or lost time due to having to redo an image. The photos you take are what last a lifetime. So, you must get your product ready for the shoot.
When preparing to shoot, make sure your product is dust-free and free of unwanted tags. Make sure your products are displayed in a way that each key detail can be seen.
Your product should always look its best before you start shooting. Having an item that doesn't look as appealing as possible can lead to disappointing potential buyers, which is not something that we want.
Step #5: Experimenting With Camera Angles
Camera angles are everything. The angle of the image will affect how your product looks and how close it is to the viewer's eye. Using different angles in your product photos gives them a more dramatic, professional feel and shows off your products better.
Posting multiple photos of your product from different angles helps show off different aspects of the product and the overall design.
Getting multiple shots of your product from different angles and lighting will bring out the best in every shot. You can also use a tripod to get crisp and consistent shots without having to hold your phone steady all the time.
Step #6: Giving the Final Touch Ups
For an image of a product to do justice, it needs to be edited and retouched – so that customers will fall in love with it before they know it exists. It can get your ideas out there in a way that more than makes up for the lack of professional results.
While you want to keep the images natural and untouched, there are some apps on the App Store that you can use to adjust colours or exposure levels for you to get the perfect shot.
Here are some editing apps you can find on the App Store that can help you make your product photos stand out from the crowd and save you hours of work:
And with that, you have everything you need to take great product photos right on your iPhone. With the addition of one or two apps — it's a match made in heaven for product photography!
Frequently Asked Questions
Which iPhone is best for product photography?
Aside from the powerful camera on iPhone 11, you can also achieve pretty sophisticated results in your product photography with iPhone 7 or higher if you know what you're doing.
How do you get a white background on iPhone product pictures?
It would be best to use a white backdrop while shooting the product pictures, but you can also remove the background by using an editing app that you can download from the App Store.
How do I blur the background of a product photo on my iPhone?
With Portrait Mode on your iPhone, you can take pictures with blurred backgrounds. You can use this mode only with an iPhone 7 Plus or newer.