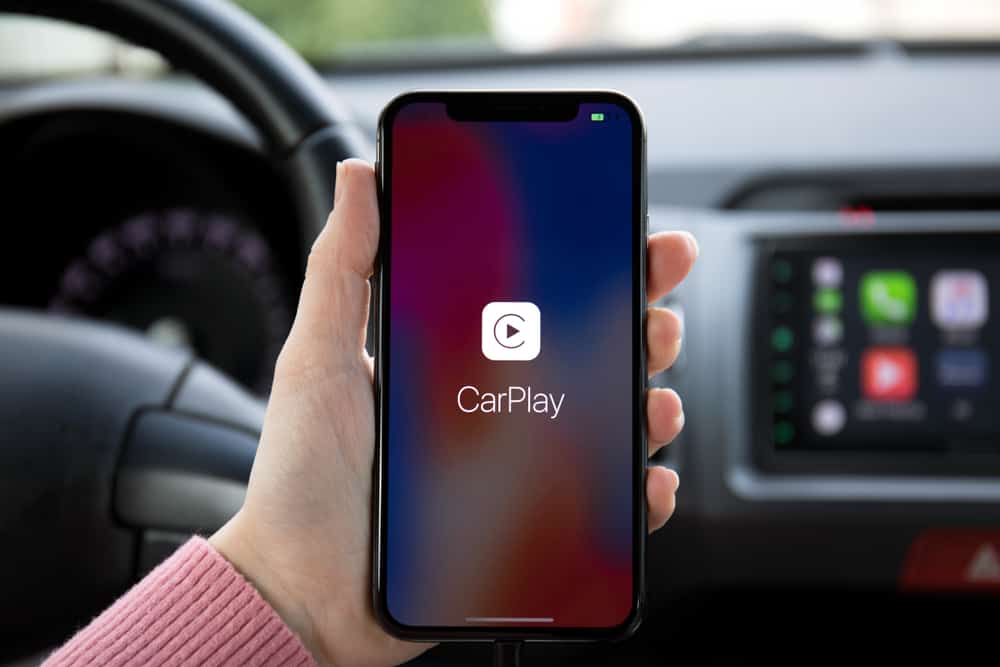 Apple's CarPlay makes your vehicle's infotainment system faster and more responsive than the built-in software on your car. Would you like to know how to turn off CarPlay on your iPhone?
Turn off the feature in the "Settings" tab under "Restrictions" or by forgetting the synced vehicle. In the latter case, you can prevent the component from automatically activating when your phone is plugged into someone's car while allowing it to start on your own.
If you're someone who would appreciate being rid of these irritating notifications, so you're at the right place. The following article will provide instructions to turn off CarPlay on your iPhone. 
How To Turn Off Carplay on iPhone
Method #1: Temporarily Disable Apple CarPlay on the Device
There may be occasions when you don't need Apple CarPlay for a particular trip, or your car may be connected to a friend's car, and you wish to turn it off.
The easiest way to prevent CarPlay from being connected to your audio system is to turn off the feature in the settings. You can do it this way:
Tap the "Settings" button in the iPhone's menu. In the app library, you can find this gray gear.
There are many options available to you here. You can tap through to "General" by scrolling down.
Within a few seconds, you should be able to view the CarPlay settings.
Your phone will display the list of cars it has previously paired with once you tap into the CarPlay settings. If all of your friends drive Honda Civics, you'll need to turn them off manually since they might have generic names.
To disconnect a car from CarPlay, tap the "Forget This Vehicle" button next to the vehicle. Set it and forget it!
When you unpair your car from CarPlay, your iPhone will ask you to confirm the action. Finish the task by clicking "Forget."
A particular vehicle can be disabled from using Apple CarPlay with this method. If you do not drive a vehicle that supports Apple CarPlay, you can temporarily turn it off in your regular vehicle once it has a short journey.
Method #2: Disabling Apple CarPlay Permanently in Restrictions
You can turn off Apple CarPlay altogether if it does not suit your needs and you wish to drive without distractions. In other words, you won't have to pair your phone each time, letting you finally say goodbye to CarPlay.
There's something less obvious here: Apple doesn't want you to quit CarPlay altogether. The process follows:
Go to Apps and search for "Settings."
To view Screen Time, scroll down. An hourglass icon represents this. Next, press "Screen Time" in order to access the settings menu.
Several options are available to you. Using the scroll-down menu, you'll locate "Security and Privacy."
In the top right corner, you'll find a button to toggle your security and privacy restrictions on and off. The grey buttons will appear bold, and you can choose from them.
It's time to find Allowed Apps. You can find it on the top menu bar. By tapping it, you will be taken to the new screen.
On the Apps list, you'll find CarPlay. It is on default, but it can be toggled off. There will be a change in color to gray on the switch.
Your iPhone cannot initiate Apple CarPlay anymore. You will not be allowed to pair with any car automatically, and all cars you've previously synced with will be forgotten.
Congrats! You can now use these two methods to turn off CarPlay on your iPhone.
Summary
The Apple CarPlay feature can help minimize distracting glances on your phone when you're driving – and it's handy if you want to get limited phone features on your dash.
Nevertheless, it can be a hassle in its own right. When you're driving, constantly trying to stay connected to your car can distract you from your surroundings. The steps in this guide can be reversed whenever you want to enable Apple CarPlay. You still have access to it at any time.
Frequently Asked Questions
What is the procedure for enabling CarPlay on my iPhone?
In your car, you can set up CarPlay by pressing and holding your steering wheel's voice command button or pairing your Bluetooth or wireless device. Select your car from Settings > General > CarPlay > Available Cars on your iPhone.
What is the process for turning off CarPlay on my iPhone XR?
Many cars now offer Apple CarPlay as an integrated feature. The software makes it easy for drivers to sync their iPhones to their vehicles. In Settings, select the "Restrictions" tab and turn off the app. You can also forget a synced vehicle to turn off the feature.
Is CarPlay compatible with Bluetooth?