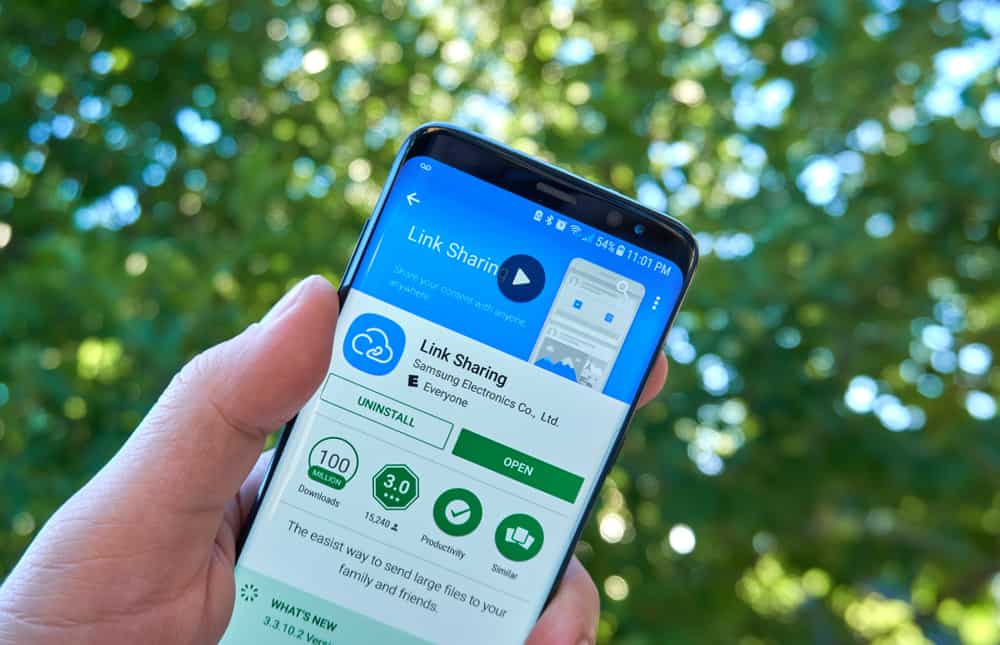 In the age of social media, it's all about sharing. With Samsung Link Sharing, you can easily send large files such as photos, videos, and documents over the air. It lets you share large files over Wi-Fi in a few seconds–no cables required. Yet, how do you turn it off?
There are a few ways to stop Link Sharing on the messaging app if you have an Android device. You can turn it off most effectively by navigating to the photo sending interface within the messaging app itself.
If you're looking for a way to share large files with multiple people, Link Sharing is the best option. But it isn't always necessary to use Link Sharing, and it might not be the right option for your data plan usage because it transfers data to and from your device. 
If you want to disable Link Sharing on your Android device, here's how you can do it.
Step #1: Launch the Messaging App
To begin, you will have to launch the default messaging app on your Android phone and open an existing conversation to access Link Sharing.
Step #2: Open the Photos Sharing Interface
You'll need to click the Photos icon to open the interface for sending images and videos as soon as you're in the conversation.
Step #3: Toggle the Link Sharing Option
You'll see a cloud-like icon with on or off written next to it at the bottom of the screen; clicking on it will turn Link Sharing on or off.
What Is Link Sharing Used For?
With Link Sharing, you can easily send large files wirelessly. You can send files by simply choosing your file, tapping share, and sending it as an attachment via email or text message.
Samsung's Link Sharing lets you easily transfer files up to 5GB of photos, videos, and documents. The files will be stored in the Samsung Cloud service for 3 days to access, and after that, they will be automatically deleted.
Instead of the files themselves, only a link will be sent to the recipient for them to click on to access the files you've shared.
Frequently Asked Questions
What is Link Sharing on Android?
Link Sharing is an app by Samsung for Android that lets you share photos, videos, voice messages, contacts, or anything else that's stored on your device. With a few taps, you'll be sending multi-GB files to your friends and family in no time.
Is Samsung Link Sharing secure?
As Link Sharing creates an ad hoc web server for transmitting files and the link self-destructs after it is used, it is a safe and secure way of sending data over the air. With it, you don't have to worry about your private data ending up in the wrong hands.
Why does my MMS send as a link?
When sending photos or videos through your device's default messing app, they could appear as links instead of an MMS. This happens because of the Link Sharing feature, which you can disable in the Messages app, as shown above.
What is Quick Share on a Samsung phone?
Quick Share is Samsung's alternative to Apple's AirDrop that lets you transfer files between nearby Samsung Galaxy devices in a flash. Wi-Fi and Bluetooth detect and transfer your favorite photos, video, and more to the nearest Galaxy device.
How does Link Sharing work on Samsung?
With Link Sharing, when you want to send a large file, it uploads the file to the Samsung Cloud and then gives you a link, which you can then send as a text message or as an email attachment to the recipients to access.
How do I get rid of quick share?
On a Samsung phone, you can disable direct sharing by opening the settings app, searching for "Direct Share", and clicking the first result you see. From here, you can enable or disable the feature as you wish, and once disabled, no more direct share suggestions will appear.
Where is Link Sharing on my phone?
There are a couple of ways to access Samsung Link Sharing. Usually, you will see these options when sharing a file, photo, or document in the share panel. Apart from that, Samsung Link Sharing also has an app you can open to send or receive files.
How do I download Samsung Link?
Although the Samsung Link Sharing app comes pre-installed with your Samsung device, you can download it from the Play Store if it has been accidentally removed. Search for "Samsung Link", then click "Download" so you can reinstall it.
How to share files from your PC to Samsung?
By downloading Link Sharing from the "Microsoft Store" on your PC, you can easily share content by sending it to contacts, creating links, or using a code.