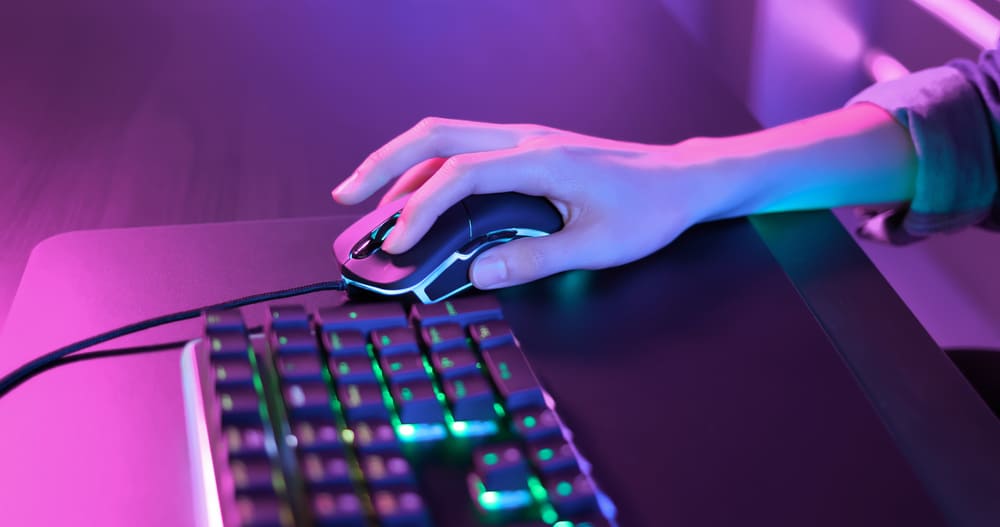 As a gamer, you must be aware of the hindrances caused by mouse acceleration in your gaming experience. In such cases, turning off the pointer precision feature is crucial to enjoying an uninterrupted PC/gaming experience.
You can quickly turn off mouse acceleration by navigating to the Control Panel and accessing the mouse settings option on a Windows PC. If you are a Mac owner, use the Terminal or System Preferences to disable the feature. 
Although this may affect your gaming experience, it doesn't mean that you cannot get things back to normal. This step-to-step guide will explore why it is recommended to turn mouse acceleration off and some ways to disable it on your device.
What Is Mouse Acceleration?
Mouse acceleration is commonly known as the speed and distance at which the cursor moves on the screen compared to the speed the physical mouse moves.
With pointer precision (another name for mouse speed) turned on, the cursor will cover the distance from one side of the screen to the other just by moving the physical mouse three inches. On the contrary, the mouse covers only half the distance with this feature turned off.
Should I Turn Off Mouse Acceleration?
While playing video games, having a good aim is extremely important. This gets even more essential in shooting games. A precise movement will allow you to hit your opponent and perform even better in the game.
However, it is recommended to disable the mouse speed for a better aim. This way, moving the cursor feels more natural, and you will have more control over it.
Turning Off Mouse Acceleration
Disabling the mouse acceleration feature on a Windows or Mac PC is very easy. Our step-by-step guide will show you how to do this without wasting your precious time.
We'll also discuss enabling Mouse acceleration if things are not working as intended. So, here are the two methods for turning off mouse acceleration on your PC without any delay.
Method #1: Disabling Mouse Acceleration on Windows 10
The pointer precision is turned on by default in Windows 10. That's why you need to turn it off for improved accuracy.
Step #1: Go to Mouse Settings
Go to the search bar on your Windows 10 desktop and type "Mouse Settings". You will see a window popping up. Now, choose Mouse settings from the search results.
You can also tap Windows key+[R] to open the "Run" dialog box. Next, type in the CMD command main.cpl, press the Enter key to access the "Control Panel", and select "Mouse Settings" afterward.
Step #2: Select Additional Settings
Now that you are in "Mouse Settings" select the "Additional Mouse settings" option.
Skip this step if you have opted for the Run dialog box method to access Mouse Settings. 
Step #3: Disable Enhance Pointer Precision
Next, the "Mouse Properties" will pop up on your Windows PC screen. Now, click on the "Pointer Options" tab and head toward the "Motion" section.
Here, you will see "Enhance Pointer Precision" and deselect the checkbox next to it. Finally, complete the process by clicking "Apply" and then "OK".
For gamers, a specifically designed mouse with disabled mouse acceleration is available in the market. You can buy that for an enhanced gaming experience.
Method #2: Using Terminal on Mac
On Mac, you can easily turn off pointer precision through the Terminal in the following way.
Open the spotlight search bar on your Apple device using the shortcut [cmd] + [spacebar]. Enter "Terminal" on the search bar and tap the first search result to open it.
In the Terminal, type in the command write.GlobalPreferences com.apple.mouse.scaling -1 in the Terminal. Next, uncheck "Enable for mice" and re-login to your account to disable mouse acceleration.
Method #3: Using System Preferences on Mac
Follow these steps to turn off mouse acceleration on Mac through System Preferences.
Click on the Apple icon on your Mac dashboard and enter System Preferences.
Now tap the "Mouse" option to open it. You will find different settings like secondary click, scroll direction, and tracking speed here.
Click on "Tracking Speed", and you will find a bar to adjust the pointer speed. However, you cannot completely turn off mouse acceleration here but can adjust the pointer speed as per your preference.
Enabling Mouse Acceleration
After turning off the pointer precision, if you think turning it back on could benefit you, enable it on Windows with these steps.
On the search bar of your device, type in "Settings" and open it. Next, go to "Devices" > "Mouse" > "Additional Mouse Options" > "Pointer Options" tab. Now ensure that the box next to "Enhance pointer precision" is checked and save the changes.
Mac users can enable mouse acceleration by going to "System Preferences" > "Mouse" and clicking on the "Tracking" slider. Finally, reboot your Mac PC for the changes to take effect. 
Summary
In this guide on how to turn off mouse acceleration, we have discussed different methods to disable the feature on Windows 10 and Mac PCs. At first, this mouse pointer precision may have seemed perplexing but not any longer with the help of our easy instructions.
Hopefully, you have successfully disabled this feature on your device and are enjoying a sustained gaming experience by now. You can also enable the acceleration feature back when the purpose is achieved.
Frequently Asked Questions
Do experts use mouse acceleration?
No, most experts avoid mouse acceleration. They love to have more control over their cursor. So they go for low sensitivity DPI settings. A controlled mouse and cursor movement gives them more authority in the game.
What popular games work best with mouse acceleration off?
Thousands of video games need you to have better eye-hand coordination, and what better way to improve that other than disabling pointer precision. A few games that have benefited a lot from turned-off mouse acceleration are overwatch, Fortnite battle royale, and call of duty.