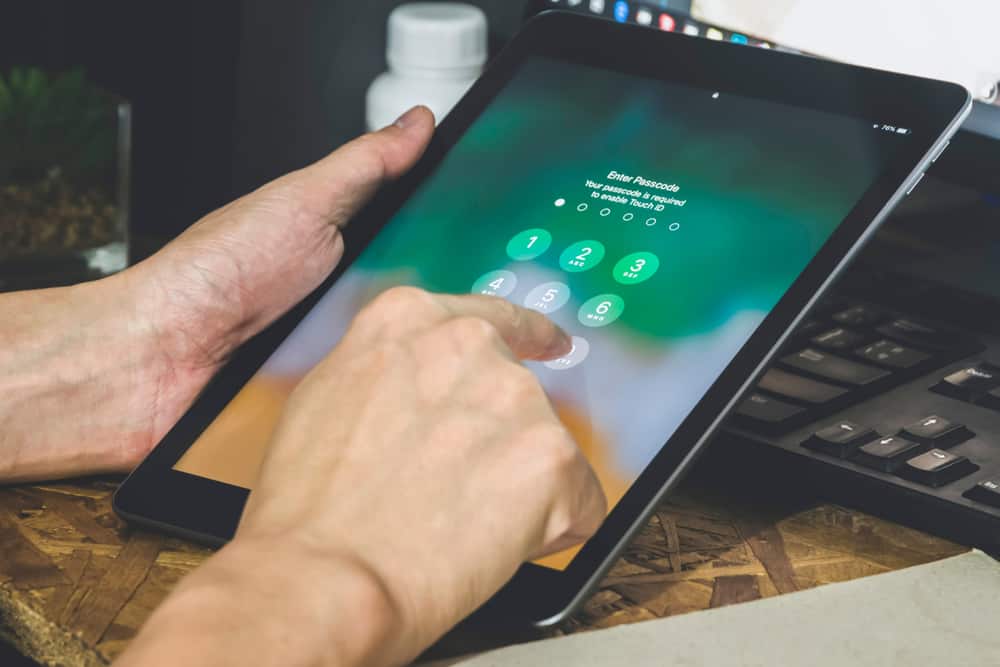 The iPhone password comes in different forms and is known as a passcode. Depending on what you set it, it can be a 4-digit passcode, a 6-digit passcode, or an alphanumeric code of any length.
However, It is not every time that the iPhone passcode is suitable for use. At times, it is best to turn it off for security reasons if you are trying to protect your passcode in a crowded area. You may also need to turn off your passcode when transferring your iPhone to another user or swapping it to get a new one.
You can turn off your iPhone passcode through the Settings app of your iPhone. Depending on the iPhone model, you will have two options: "Face ID & Passcode" or "Touch ID & Passcode". Clicking any of these options can help you unlock your iPhone.
This article will focus on the iPhone passcode. It will cover topics such as how to turn it off, reset it, and turn it on. You will also learn alternative security locks such as the Touch ID and Face ID and how to activate them.
How To Turn Off Passwords on iPad
To turn off the passcode on your iPad, you should:
Go to your Settings app.
Tap "Touch ID & Passcode". If Face ID is functional on your iPad, click "Face ID & Passcode".

Click "Turn Passcode Off"
Input in your present passcode to confirm your action.

If you follow these steps, you will successfully turn off your iPhone password/passcode.
How To Reset iPhone/iPad Passcode
You can reset your iPhone passcode by clicking the "Change Passcode" button in the Settings app.
Here is how to reset your iPhone passcode.
Go to your Settings app.
Click "Touch/Face ID & Passcode".

Enter your passcode.

Click "Change Passcode".

Enter your old passcode.

Enter your new passcode.

Verify your new passcode.
By now, you will have successfully reset your iPad passcode.
If you forgot your iPhone/iPad passcode and input the wrong one up to 6 times, you will need to reset it. The safest way to solve this is to reset your device in Recovery Mode, or you can use a computer to factory reset it. Once the memory has been wiped off, and the reset is completed, you can set a new passcode.
Reasons Why Some iPhone/iPad Users Turn Off Passcode
Here are the various reasons some iPhone/iPad users prefer to turn off their passwords.
Reason #1: To Protect Their Passcode
Some iPhone users turn off their passcode because of security reasons. For example, if they use their iPhone in a crowded place and need to use a passcode, the best option is to turn it off. In this case, the Touch or Face ID will be preferred.
Reason #2: For Fast Unlocking and Ease of Use
Not everyone likes to use their passcode, especially when it takes time. A Touch ID or Face ID is simply faster. All they need to do is place their finger on the home button or position their face on the screen. Within a microsecond, they can unlock their phones.
Reason #3: No Need To Memorize Digits
Not everyone has adequate long-term memory and may quickly forget the passcode they registered on their iPhone. Hence, they prefer a safety lock requiring a fingerprint/touch or a face capture.
Reason #4: To Transfer Their Phone to Another User
If someone wants to give out his iPhone to another person and doesn't want to reset the phone, they may decide to turn off the passcode and allow the other person to use it.
How To Enable Touch ID on iPhone or iPad
Now that you have turned off your iPhone passcode, you will need to enable Touch ID to offer security to your iPhone. Having just Touch ID security is better than not having any.
Here is his to enable the Touch ID on an iPad/iPhone.
Go to the Settings app on your iPhone.
Scroll down to "Touch ID & Passcode" and tap it.
Under "Use Touch ID", toggle the buttons on.
Tap "Add a Fingerprint".

Place your finger or thumb on the home button to capture your finger edges. Also, place the edges of your fingers or thumbs. Continue placing the edges of your fingers or thumb until it shows "Complete".

After this step, you must put in a passcode after pressing "Continue". If you are not interested in turning on your passcode, simply press "Cancel" at the top-right corner of your screen. Otherwise, you may insert a passcode if you wish.
If your passcode is turned on, you will be required to input your passcode after clicking "Touch ID & Passcode" in step 2 above.
It is advisable to not only use 1 hand to capture the Touch ID. Interchange your hands and let your phone recognize the fingers on both hands.
The Touch ID is a fingerprint. It is functional for iPhone 8 models and below iPhone 5s. In other words, iPhone 5s, SE, 6, 6+, 6s, 6s+, 7, 7+, 8, and 8+ have touch ID enabled.
How To Enable Face ID on iPhone or iPad
Just like the Touch ID, you can enable Face ID. The Face ID is only functional for the iPhone X model and above (i.e., iPhone X, XS, XR, 11, 12, and 13).
Here is how to enable Face ID on iPad/iPhone.
Click the Settings app.
Navigate to "Face ID & Passcode" and click it.
Toggle any button options and set when to use your Face ID. The options are "iPad Unlock", "iTunes and App Store", "Wallet & Apple Pay", and "Password AutoFill".
Click "Set Up Face ID".
Position your face in front of your iPhone, and click "Get Started". Make sure your head is inside the frame and calmly move your head to complete the circle.
Click "Continue".
Move your head once more to complete the circle for a second time.
Click "Done".
Conclusion
People turn off their iPad/iPhone passwords for a reason. For some, it could be for security; for others, it could be to allow others to access their phones. While for some, the frequent input of passcodes can be tiring. Hence, they off it for ease of use. Whatever the reasons, this article will guide you on how to turn off your iPad passcode. This method works for iPhone devices as well. Be sure to follow the steps to switch off your password when you desire.