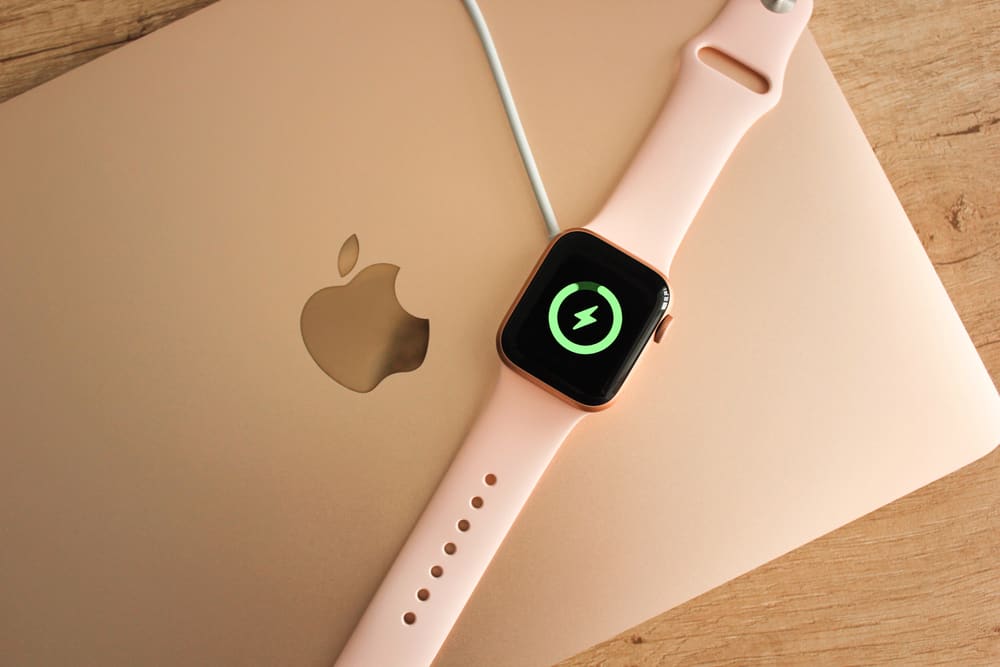 The power reserve feature on Apple Watches can be an irritating one, especially when you don't understand it. It is a highly crippling mode, disabling almost everything remotely important to you whenever the battery gets too low.
To turn off the Power Reserve feature, simply restart your Apple Watch. When it starts back up, the Power Reserve feature will no longer be active unless you decide to turn it back on again. If the power is really low, it might not power back up, so you should recharge it. 
The Power Reserve feature on your Apple Watch activates whenever the watch is below 10% battery level. It will remain until you physically reset the watch or plug it into the charger and the battery rises above 10%.
What Features Can You Use with Power Reserve On?
When your Apple Watch battery drops to 10% or lower, the Power Reserve feature kicks in, much like the Low Power Mode on your iPhone. However, the feature eliminates almost everything but the time displayed on the watch's screen.
It also eliminates screen interaction, so you have to turn it off by pressing the side button and resetting the watch. You no longer have access to any of the apps, and the Watch will no longer remain paired with your iPhone.
It also disables any kind of calling or text message in models that support either. You won't be able to receive texts through the Apple Watch or respond to them, and you certainly won't get any calls through it, along with zero notifications.
Your Apple Watch will have essentially returned to the watches of yesterday, letting you know what time it is in, not much else. Once you turn off the Power Reserve feature, your Apple Watch will return to sucking up as much juice as before until the remaining 10% is exhausted.
How to Preserve Your Apple Watch Battery Life
As with an iPhone—or any other phone for that matter—there are ways to set up your Apple Watch and ways to use it that will help you preserve the battery life, giving you more time between charges.
Keep the software on your Apple Watch updated.
Turn off the display when you're not using it.
Use the double-press "Digital Crown" feature.
Utilize the "Do Not Disturb" feature.
Disable "Activate on Wrist Raise".
There are scores of little tips that will help you save battery on your Apple Watch, but these are a few of the more important ones you can use.
Update the Software
Updating the Apple Watch is generally automatic, with notifications coming through on your Apple Phone. Just ensure that your Apple Watch has more than 50% battery, and you should be good to go. Many of Apple's updates contain fixes for things that cause a serious drain on the battery.
Keep the Display Off
There's no reason to have the display on all of the time, especially during parts of your day when you seldom look at your Apple Watch outside of briefly checking the time. This also includes the "Raise to Wake" feature known as "activate on Wrist Raise" on the Apple Watch.
Be sure to keep it turned off unless it's absolutely necessary so that you don't have to press the side button to see the time.
Digital Crown Double-Press
This is a unique feature and doesn't require you to dig deep into the processor to pull up apps and go back to where you left off. Simply raise the watch and double-press the digital crown, and it will open the last app you were working on. It's quick and simple.
Embrace Do Not Disturb
Do Not Disturb does more than silence your notifications. It allows you to prioritize the times of day that you receive them. Instead of your watch buzzing off and on throughout the day, the "Do Not Disturb" feature allows you to set your notifications to be delivered all at once, at your specific time.
You can also use Do Not Disturb to completely silence your Apple Watch for long periods, especially throughout parts of the day when it simply makes more sense to utilize your iPhone, rather than needlessly interacting with your Apple Watch.
When you combine all of these features and change how you interact with your Apple Watch, you will save a lot more battery than you realize.
Conclusion
A simple reset will get rid of the annoying Power Reserve feature. However, there is a reason for the feature. If your Apple Watch battery is getting that low often enough, you may consider how you use it and when.