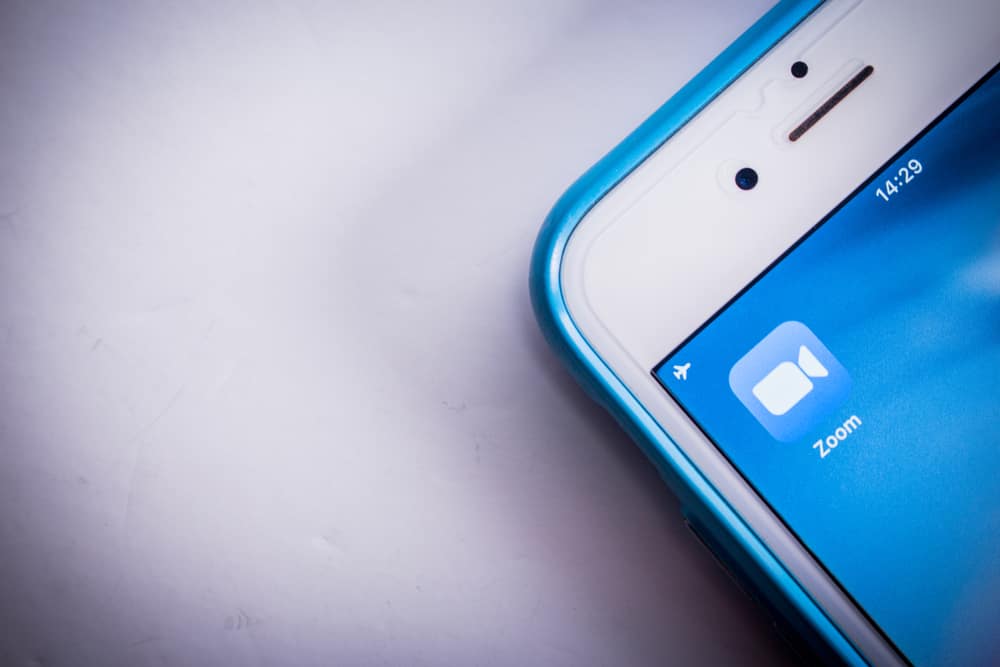 Many people turn off their cameras when they join a meeting on Zoom. Some Zoom users turn it off because the admin requires it; others turn it off to maintain their privacy or to be anonymous in the meeting. For some people, it could be a way to save their network bandwidth. Whatever the reason, turning your Zoom camera off is beneficial in certain situations.
To turn off your camera on Zoom, you need to hit the "Turn Off My Video" button. Zoom allows you to turn off your video or camera before and after joining the meeting.
This article includes ways to turn off the camera on Zoom and troubleshoot Zoom video problems. You will also learn ways to disable audio options on Zoom and see answers to many frequently asked questions about Zoom cameras.
But before these explanations, let's see the step-by-step process of turning off the camera on Zoom using an iPhone.
How To Turn Off Camera on Zoom on iPhone
Here is how to turn off the camera on Zoom on an iPhone.
Input your email address and password to sign in to your Zoom account.
Go to the "Settings" icon at the bottom of the screen.
Click on "Meetings".
Toggle on the "Turn Off My Video" button.
How To Turn Off Camera on Zoom Without Signing In
You don't need to sign in to your Zoom account. All you do is input the meeting ID or invite link into the box provided.
Open your Zoom app.
Hit the "Meet & Chat" button. You will find this button at the bottom of your screen.
Type into the space provided for the meeting ID or invite link.
Enter your name as you want it shown at the Zoom meeting.
Toggle on the "Turn Off My Video" button that appears under "Join Options".
How Do You Hide Yourself on Zoom on iPhone?
The "Hide Self View" feature does not turn off your Zoom Camera. However, it optimizes your Zoom screen and makes viewing of others in the meeting enlarged.
When you use the "Hide Self View" mode, you make your image not visible to yourself. Hence, creating more screen displays to view others.
Here is how to use Zoom's hide self-view on iPhone.
Join a new or existing meeting. Since your camera isn't turned off, you can see your video.
Navigate to your video and tap the ellipses icon.
Select "Hide Self View".
If you follow this step successfully, you won't see your video. However, others will still be able to see a video of you.
Before using the hidden self-view feature, your camera must be on.
How To Restore Self-View on Your Screen
If you are interested in seeing yourself as the meeting progresses, you can turn on the self-view feature.
Here is how to turn on the self-view feature on Zoom.
Navigate and click the "View" button on the top-right corner of your Zoom interface.
Tap the "Show Self View" button.
If successful, you will see the video of yourself displayed on the screen.
How To Troubleshoot Video Problems
You will need to turn on your camera when you need to make live presentations during Zoom meetings. However, as a Zoom meeting requires a good software tool like the app and hardware like your phone, it is prone to having technical problems.
You experience problems displaying your video on Zoom meetings. For instance, you may experience frequent crashes, videos not showing, and low-quality videos.
Attempt any of these troubleshooting steps below to solve it.
Try Zoom's built-in meeting features such as HD video, light adjustments, filters, and virtual backgrounds. Adjusting these settings can improve and customize your video appearance.
Check your device camera settings; ensure your device has a good-quality camera.
Make sure the Zoom app/program version is compatible with your device.
How To Disable Audio on iPhone Zoom Meeting
You disable or turn off your Zoom camera on your iPhone like you disable Zoom audio on your iPhone.
In other words, you are presented with both "Turns Off My Video" and the "Turn Off My Audio" option at once. You should select either option based on how you want to interact in the meeting.
Frequently Asked Questions
Is my camera automatically off on Zoom?
Yes, Zoom automatically sets the camera off when you join a meeting. After entering the discussion, you will have the option to allow your camera. However, some meeting hosts may set the participants' cameras to be turned on automatically before joining the meeting.
How do I change the background picture on Zoom?
Rather than turning off your Zoom camera, you may decide to use a background photo in place of your picture. Here is how to change the background photo on Zoom.
1. Log in to your Zoom account and join a meeting.
2. Click on the "More" button.
3. Click "Background and Effects".
4. Select the background image you wish to use. Alternatively, you can click the plus (+) button to upload a new picture.
Can I share the screen on Zoom when my camera is turned off?
Yes, you can share your screen on Zoom even if your camera is turned off.