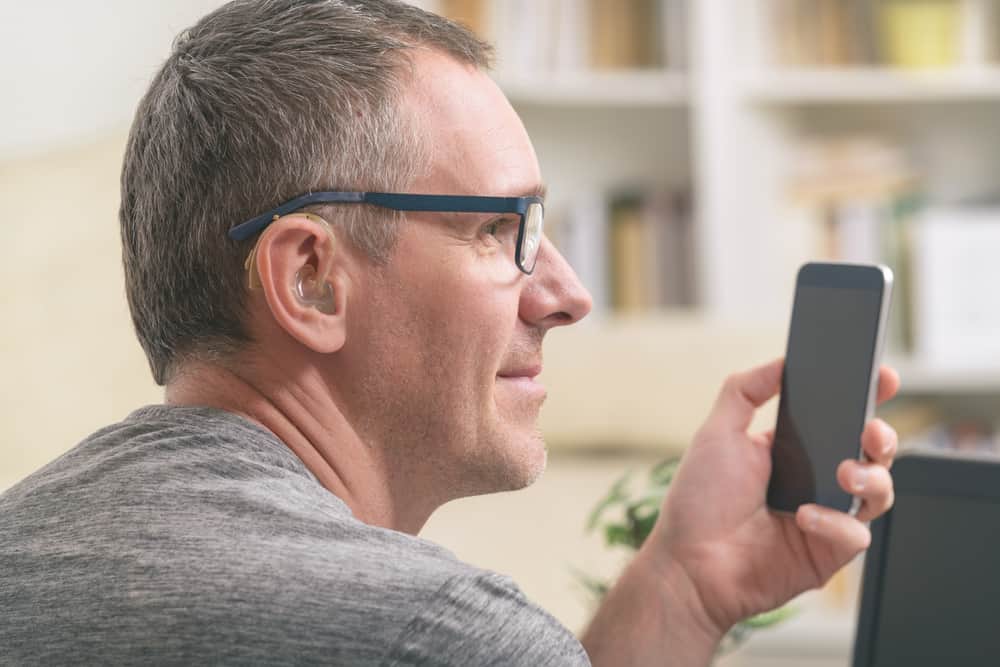 iOS devices, in general, are filled with several hearing aid features such as live listen, visual alerts, video subtitles, and so on. These features were designed to improve communication with people with special hearing needs. So, the question is, how do you turn on hearing aid mode on an iPhone? 
You can turn on the hearing aid mode on your iPhone from "Accessibility" in the Settings app. You can also access several features built to assist anyone with special hearing needs from the settings. 
With several "Made for iPhone" hearing aids on the market, finding one that suits your hearing needs could be challenging. Moreover, most iPhone devices have a broad hearing aid compatibility rating for hearing devices.
So, if you are confused about where to find the option to turn on hearing aid mode on your iPhone, this guide will teach you that and more.  
Easy Steps To Turn On Hearing Aid Mode on iPhone 
When you activate the hearing aid mode on an iPhone, it helps to reduce the level of interference. So, using the hearing aid feature on your iPhone rather than simply pairing your AirPod via Bluetooth is better. 
When you turn on the hearing aid mode on your iPhone, it reduces interference by using acoustic or inductive coupling. 
Here's how to turn on hearing aid mode on iPhone.
Step #1: Open Settings 
From your iPhone's home screen, launch the Settings app. If the Settings app is not on your device's home screen, swap down from the top, and search for the Settings app in the dialog box. You can also ask Siri to launch the Settings app. 
Step #2: Select "Accessibility"
In the Settings app, scroll down and tap "Accessibility". The accessibility settings on your iPhone were designed to allow you to customize your device by modifying accessibility settings or apps to improve the experience. This feature allows people with various disabilities such as visual, hearing, or speech impairment to enhance their ability to access and interact with apps. 
Step #3: Click "Hearing Devices"
In the "Accessibility" settings, scroll down and click the "Hearing Devices" option. Here, toggle the "Hearing Aid Compatibility" button on. In this menu, you can also control and adjust the several settings on your hearing device to suit your hearing needs.  
Your iPhone becomes a remote microphone that sends sound to your "Made for iPhone" hearing aid with Live Listen. This helps you hear a conversation when someone is speaking across a noisy room.
Conclusion 
Apple takes pride in the numerous accessibility features built into its devices. Individuals with hearing and sight limitations can easily use the products. Hearing aid support is an accessibility feature that allows iOS devices to connect with and manage compatible hearing aids. All you have to do is pair your hearing aid to your device to ensure you don't miss any of the sounds or audio.
Frequently Asked Questions 
What are "Made for iPhone" hearing aids? 
"Made for iPhone" hearing aids are wireless devices specially designed to be compatible with iOS devices without additional hardware. Connecting these devices to your iOS devices is easy, delivering a high-quality and power-efficient digital audio experience. Users can use these devices to manage their hearing aids from their iPhone devices. However, you need an iPhone on iOS 7 or later to use this hearing aid. 
What is Live Listening on an iPhone? 
The "Live Listen" is a feature on your iPhone that uses your device microphone to transmit audio to paired AirPods or "Made for iPhone" hearing aids. These features help anyone with special hearing needs better hear conversations even in a noisy area. To use the Live Listen feature with your AirPods or other devices, you need an iOS 14.3 or later. 
What do I need to know about hearing aid compatibility ratings? 
When buying a hearing aid device, it's essential to use it with your device before making the purchase. To get the best experience on your iPhone, go for a hearing aid with an M or acoustic coupling rating. If you are unsatisfied with the acoustic coupling hearing aid, try using a hearing aid with a T rating or telecoil coupling mode. 
How do I enable visual notifications on my iPhone? 
When you enable this feature, it flashes the LED flash next to the camera lens at the back of your phone when you receive a notification. You can also prevent the LED from flashing when your iPhone is silent by turning off the "Flash on Silent" option.
To enable this feature, go to Settings > "Accessibility" > "Audio/Visual". From there, you can turn on "LED Flash for Alerts".