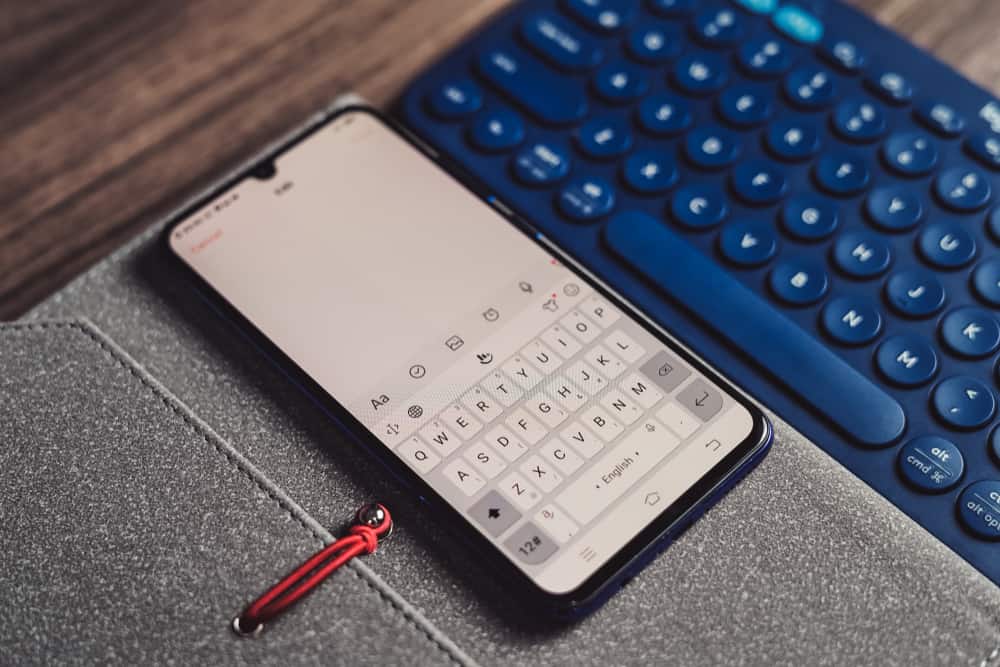 Android devices provide loads of customization options to their users. The more technology advances, the more these features become artificially intelligent. One of these features is predictive text on the keyboard that automatically suggests an upcoming word while typing. So how can you enable this feature?
Predictive text or auto-suggest can be enabled from your Android phone's settings panel. It is buried under the "Keyboard and Input Method" tab. This feature works best for Google Keyboard, so we recommend switching to Gboard if you use another keyboard application. 
Turning on predictive text can save you a lot of time as you just have to tap the suggestion to write a complete word. It is most useful in professional writing like e-mails. You can also turn the feature off if you don't want to receive text suggestions.
In this article, we will describe the whole process of turning on the predictive text on your Android phone so that you can speed up your writing game.
What Is Predictive Text or Auto-Suggest?
Predictive text is an intelligent feature in Android devices that learns from your writing patterns. When you type some phrases frequently, the information is saved on your device. Using the same starting letter will suggest a complete word, and if you choose a word, it will suggest the word in succession. 
This feature can also remember the names, e-mail addresses, and usernames of your different websites and applications, so you don't have to enter all the data manually. 
How To Enable Predictive Text on Your Smartphone
Every smartphone manufacturer has a different approach to enabling predictive text on their smartphone. It is because each manufacturer, like Google and Samsung, installs their own UI keyboard on their Android device.
If you are using a Samsung or any other phone where Gboard is not the default keyboard, we recommend switching the keyboard as Google's database is a secure place. Moreover, Gboard learns fast, contains no ads, and provides a smooth experience where the data can easily be transferred when you switch devices.
Switching to Gboard
Follow these steps to install and switch to Gboard on your Android smartphone.
Search "Gboard" in the Play Store's search bar and install the application.
Head to your smartphone's Settings.
Scroll down to tap "System Settings" and select "Keyboard and Input Method".
The step mentioned above can vary depending upon your manufacturer, so you can type "Keyboard" in the search bar above to quickly find the tab.
Tap the "Current Keyboard" option and select "Gboard" from the available options.
Enabling Predictive Text on Your Android Smartphone
Now that you have installed and enabled Gboard on your device, follow these steps to turn on the predictive text on your device.
Launch the Settings app on your Android device.
Head into "System Settings"> "Keyboard and Input Method".
Under the available keyboards title, tap on "Gboard".
Select the "Text Correction" tab.
Turn on the "Next-Word Suggestions" toggle to enable predictive text on your device.
If you don't want to use Gboard, you can still enable predictive text or auto-suggest on your Samsung or any other Android device. You must look for similar terminology because the overall steps would remain the same. For instance, "Keyboard and Input Method" might be listed as "Language and Input".
Once in use, you can always disable the predictive text feature by repeating the same method mentioned above and turning the "Next-Word Suggestions" toggle off. The procedure may also vary due to the Android OS version installed on your device.
The Bottom Line
Predictive text or auto-suggest on Android smartphones is a great feature that intelligently predicts upcoming words and phrases. It makes your texting experience very seamless and saves time as well. Predictive text can be easily enabled from the settings panel on your device under the "Keyboard and Input Method" tab.
The process of allowing predictive text might vary depending on your smartphone manufacturer, but it comprises similar steps. Furthermore, you can always disable the predictive text feature by turning off the "Next-Word Suggestions" toggle.
Frequently Asked Questions
Are predictive text and auto-correct the same thing?
No, they are different. Predictive text is the feature that intelligently suggests an upcoming word or phrase based on your previous usage pattern. Auto-correct automatically rectifies your text mistakes as soon as you finish writing a comment.
Can I remove a word from predictive text suggestions?
Yes, you can. When you see the text prediction which you want to delete or remove from the suggestion bar, you can long-press on the suggestion. A trash can icon will appear where you can drag the suggestion to delete it from the database.