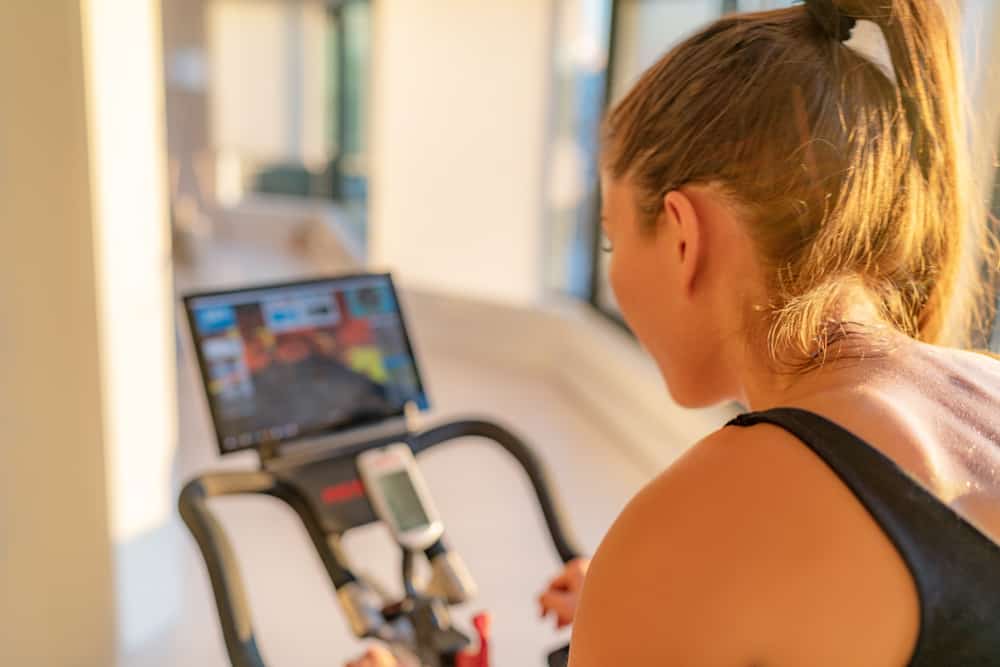 The Peloton heart rate monitor is a great workout partner. It easily pairs up with Peloton's apps and machines, including the indoor bike. It tracks your pulse, tells you your real-time heart rate zone, and the battery lasts for at least a few workouts. To preserve the battery and ensure your Peloton heart rate monitor lasts you for a while, it's essential to switch it off after every workout.
To turn off the Peloton heart rate monitor, disconnect the monitor modal, remove the monitor, and clean the strap.
If you've ever done a full workout without a heart rate monitor, you know how difficult it is to track your heart rate during a challenging workout or determine how much you've run. The same is the case when doing a spinning exercise, making the HRM a vital piece of equipment. So to make sure your Peloton doesn't malfunction after a few uses, switch it off.
What Is the Peloton Heart Rate Monitor?
If you have a Peloton treadmill or bike and wish to get the most benefits from it, we recommend that you connect it with the right heart rate monitor. While Peloton machines work with third-party Bluetooth or ANT+ monitors, the company itself has now released its heart rate monitor.
It features optical technology that measures your pulse while using Bluetooth to connect with your Peloton machine and display the heart rate on your machine's display. It also has LED lights, so you know when it is connected to your machine and when it is measuring your heart rate.
How To Turn Off Peloton Heart Rate Monitor
Once you're done working out on your Peloton, don't forget to disconnect and switch off the heart rate monitor. This saves the battery life and ensures your monitor doesn't die out entirely in just a few months. 
Turning off the Peloton heart rate monitor is pretty straightforward and is what you did to connect the monitor. The only difference is changing the heart monitor mode from connected to disconnected. Here's how.
Go to Settings from the upper right of the screen.
Choose "Heart Rate Monitor" from the list of options.
Tap on "Disconnect".
Your heart rate monitor is now disconnected.
Summary
Turning off the Peloton heart rate monitor is very easy and equally important. If you leave it on even after a workout, its battery might drain out quickly, and you might find yourself charging it very frequently. So, don't forget to switch it off once you're done with your daily dose of exercise!
Frequently Asked Questions
How can I connect the Peloton heart rate monitor?
On your Peloton bike, tap Settings in the upper right corner of the screen. Then, select "Heart Rate Monitor". Make sure your Bluetooth is on.  
How can I wake up the Peloton heart rate monitor?
To wake up the monitor, stretch the band outwards a few times. Doing so will wake the device, and a blue light will blink, indicating that the Bluetooth is on and ready to connect. 
What is the battery life of the Peloton heart rate monitor?
The Peloton heart rate monitor's battery can typically last around 2.5 days. However, if you have "Always On" activated for the display enabled or use it for 5-6 hours a day, the battery can die out quicker. 
What can I do if the Peloton HR monitor keeps disconnecting?
If your Peloton monitor is acting up and not working correctly, it's most likely because of dry electrodes. Wet your fingers under a faucet and swipe them on the electrodes to solve the problem. Once you do that, you'll see blue lights on the monitor, which means the monitor is ready to connect. 
Can I use the Peloton HR monitor with the Peloton app?
The Peloton Android app allows members to connect a Bluetooth-enabled heart rate monitor and see real-time information about their heart rate during their Peloton workouts.