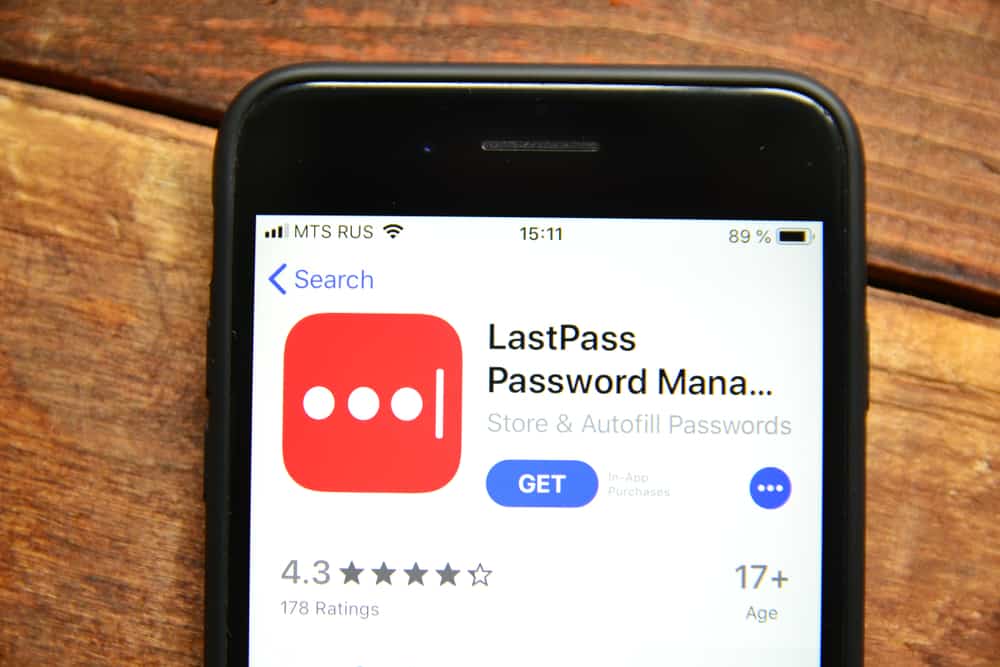 Are you using LastPass to encrypt and store your usernames and passwords in its vault for various websites but don't want to use it now due to security risks for your Mac? Fortunately, uninstalling this password manager is not that difficult.
To uninstall LastPass on Mac, open Safari, head to "Preferences" > "Extension", choose "LastPass", and click "Uninstall". Next, quit the LastPass app, go to the Applications folder, drag the LastPass icon to Trash, and empty it afterward. 
To make things sound easier, we took the time to write a simple guide on uninstalling LastPass on your Mac.
What Is LastPass?
Although macOS has tools for suggesting secure passwords and saving and syncing them, password managers offer advanced ways to store the information with the ability to share it with someone else and sync it with non-Apple devices.
LastPass, a password manager, encrypts and saves usernames and passwords whenever you sign into a website in its dedicated vault. This tool also offers browser extensions for Chrome and Safari; however, LastPass warns you about the installation's security risks. 
That's why many users want to uninstall LastPass on their Mac completely but often find removing all traces of the application and extension difficult. 
Uninstalling LastPass on Mac
If you don't know how to uninstall LastPass on your Mac, our following 2 step-by-step methods will help you go through the entire process without much trouble.
Before uninstalling LastPass on your Mac, note all the passwords and other details stored in the vault, as you won't be able to access it afterward.
Method #1: Manually Uninstalling LastPass on Mac
You might have installed the LastPass app and are using it as an extension on Safari or Chrome browser. If so, do the following steps to uninstall it on your Mac manually.
Step #1: Uninstalling the LastPass Safari Extension
LastPass extension can be used on your Safari and Chrome browsers as a part of the app installed on your Mac.
So to completely remove LastPass on your computer, launch the Safari browser, head to "Preferences", and select "Extensions".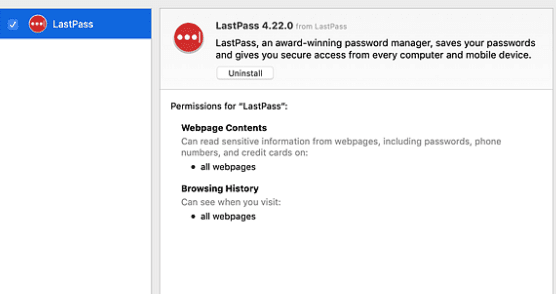 Click "LastPass" from the list of extensions, and click the "Uninstall" button.
Step #2: Uninstalling the LastPass App on Mac
After clicking "Uninstall" next to LastPass, you will see a message displaying that this extension is part of the LastPass app, and you need to remove it as well.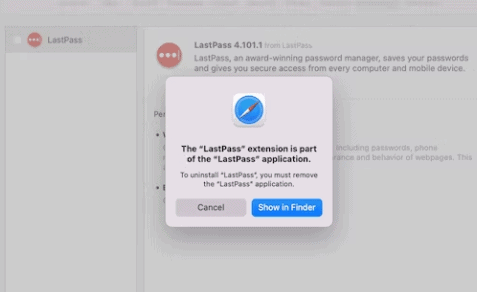 To do this, click "Show in Finder" on the pop-up and quit LastPass to ensure that the app no longer appears in the Mac menu bar.
Next, go to the Applications folder from the Finder, find the LastPass app, drag it to Trash, and empty it afterward.
If you are using LockPass as a Chrome extension on your Mac, launch Chrome, right-click on the LastPass icon located at the browser toolbar, and choose "Remove from Chrome".
Now, follow step #2 to delete the LastPass app from your Mac.
Step #3: Removing LastPass Traces
In the last step, you must remove all the LastPass traces on your Mac. To do this, go to the Library folder and delete every entry under "Application Scripts", "Caches", "Containers", "Application Support", "Logs", "Preferences", and "Cookies".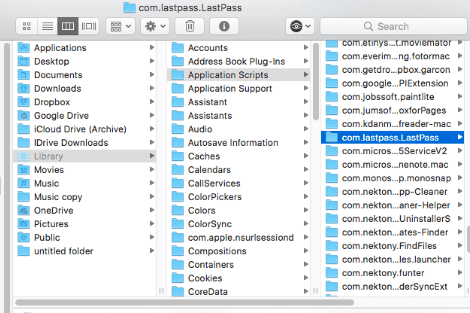 Finally, LastPass is completely uninstalled on your Mac!
Method #2: Using a Third-Party App To Uninstall LastPass on Mac
It is possible to completely remove LastPass in a few clicks using third-party uninstaller apps like CleanMyMac X in the following way.
Launch Safari or Chrome on your Mac and head to the MacPaw download page.
The CleanMyMac X will automatically download on your Mac.
Install the app, launch it, and choose "Uninstaller" in the left pane.
Find LastPass in the extensions list and select it by checking the box next to it.

Click "Uninstall", and the LastPass extensions on your browser will be uninstalled, and the associated app files in the Applications folder and other places will automatically be removed.
Summary
In this guide, we've discussed how to uninstall LastPass on your Mac using several approaches. We've also introduced you to this password manager and its risks and benefits.
Hopefully, things got cleared in this article, and you can quickly remove all the traces of LastPass on your Mac.