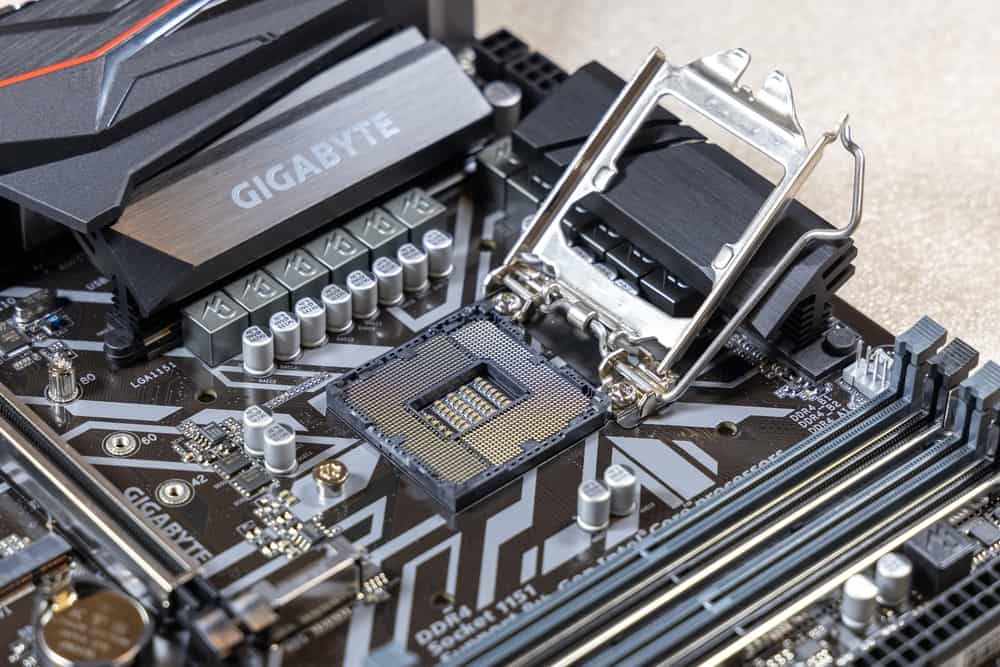 Updating your BIOS on Gigabyte is quite an easy process. While the method is archaic, it does get the job done. Gigabyte tends to release a few updates for its motherboards, including security patches and performance improvements.
To update your BIOS on a Gigabyte motherboard, format your USB drive to FAT 16/12/32. After doing so, download the latest BIOS file from the Gigabyte support website and copy it to the drive. Now, boot your computer up, press END, and open the Q Flash menu.
This article will discuss how you can update your BIOS on a Gigabyte motherboard. 
Using Q Flash
Q Flash is the best way to update a Gigabyte motherboard. Unlike ASUS, which offers multiple methods to upgrade your BIOS, the selection with Gigabyte is fairly limited.
Here's how you can update your BIOS using a Gigabyte motherboard.
Head to Gigabyte's support website and download the latest BIOS update according to your model. 
Once the file is downloaded as a ZIP file, you'll need to extract it.
Insert a USB drive into your device.
Format the drive to any of the following file formats.
Restart or shut down your PC. Then, turn it on or wait for the system to restart.
Press the END key as soon as your PC boots up. You can also head to your BIOS and press the F6 key to flash your BIOS.
Once you've entered the Q Flash Menu, you'll be able to navigate the menu using your directional arrow keys. 

Once you've found your USB drive – aptly named "Flash Drive" – press Enter.
If you have a valid BIOS file, you will now be able to flash your BIOS.
During the entire process, you should not attempt to turn off or restart your system. Depending on your motherboard and the update's size, it can take about 10-15 minutes for the update to go through.
Setting Up After the Update
Now that we've gone through the update, you should see the newer version of the BIOS plastered on your BIOS screen. But we aren't done yet. To ensure that the previous settings of your BIOS haven't altered with the newer update, here's what you need to do.
As soon as your BIOS posts, press the Delete key on your keyboard.
Select "Load Optimized Defaults".
Select "Save & Exit Setup".
You have successfully updated your BIOS and have ensured there won't be a conflict with your settings. Once you successfully boot into your Windows, we recommend opening your BIOS and checking whether the following settings have been affected.
XMP: XMP profiles are overclock profiles meant to drive your memory frequency to its advertised amount. Every high-speed DDR4 RAM has an XMP profile that needs to be adjusted in the BIOS for your RAM to operate properly.
Fan Speed: A custom fan curve is often set in the BIOS to ensure optimal cooling. Setting your BIOS settings to default can hinder the fan curve or cause your fan to operate more aggressively or passively.
Boot Drive: The Boot Drive is where your BIOS first heads to locate your OS. If you have multiple drives installed, you might not boot into your OS simply because your boot drive changes.
Conclusion
Updating your Gigabyte isn't a challenging task. However, we're still quite saddened by the fact that there aren't multiple update methods that also include the ability to check updates on their own on a Gigabyte motherboard. 
Frequently Asked Questions
How do I check my Gigabyte BIOS update?
You can check your Gigabyte BIOS update by heading to the support site. Once there, you can check the date for the latest update and compare it with your BIOS version. Sadly, most Gigabyte motherboards do not support the ability to check updates on your own. 
Can a BIOS update damage the motherboard?
No, a BIOS update cannot damage a motherboard. This is because it's official software and is made only for the particular version of your motherboard. However, if you turn your motherboard off while it's updating, there's a high chance that you may end up damaging your motherboard or boot-locking it. 
What is the BIOS key for the motherboard?
If you want to enter the Q Flash Menu, the END key is how you can get there. On the other hand, if you want to enter the BIOS setup menu, the BIOS key is the DEL key.