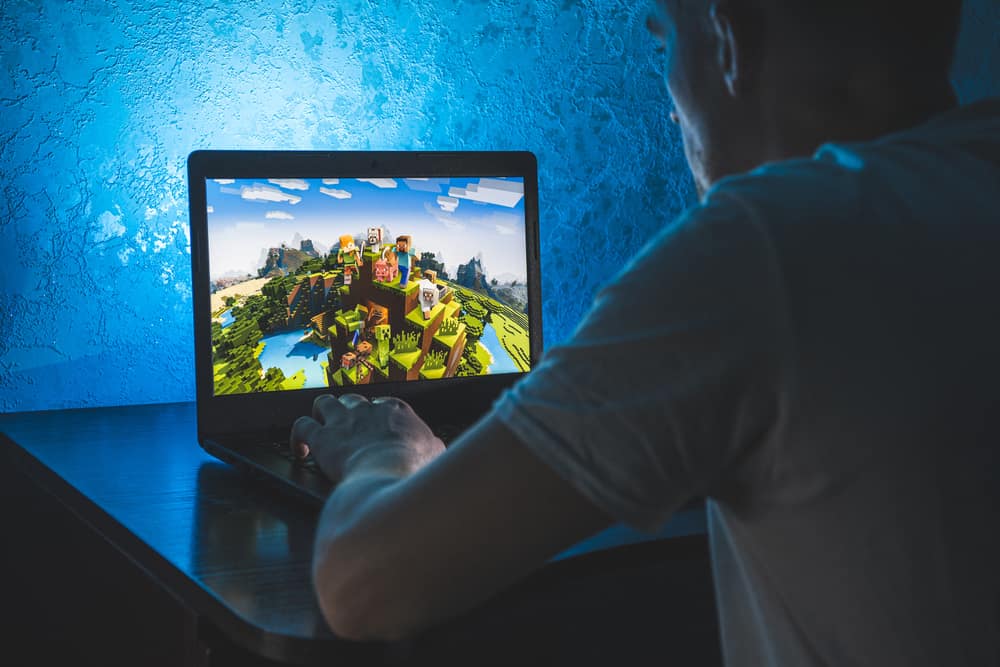 It may be somewhat annoying not to be able to use your favorite controls in games. Do you want to play Minecraft Java Edition with a controller on a PC? Are you wondering if it is possible? Luckily, there is a solution for it in this guide.
There is no built-in support in the Minecraft Java edition to connect the controller. But, with the help of a third-party tool known as Steam, you can add the controller support for Minecraft. You have to add Minecraft to your steam library, getting into the big picture mode, and from there, you can set up the controller by mapping the keys.
This guide covers the step-by-step solution to play Minecraft by connecting a controller to a PC through Steam.
Steps to Connect a Controller to PC to Play Minecraft Java Edition
You can connect Xbox, PS4, or PS5 to your PC by following the below steps. The majority of the controllers use wireless Bluetooth technology to connect. In contrast, some of them offer a wired connection. You can use any controller you want to connect.
Step #1: Download and Install Steam
Steam is a gaming platform where you can buy, play, create, and discuss PC games. Steam has outstanding controller support. Nowadays, you can use any controller with any Steam game. You can adjust the settings of your controller according to your desired mapping. You don't have to worry about controller compatibility and workarounds. You can explore and download a variety of custom controller configurations created by developers and fellow gamers. Here are the steps to download and install Steam.
Open this website https://store.steampowered.com/about/ and click on "Install Steam". It will start downloading.
After the download is complete, click on the executable steam setup file and install the Steam by following the self-explanatory installation wizard.
After the installation is complete, launch Steam.
Create an account on Steam for free by entering your credentials and then verifying your email. Or, if you already have an account, you can directly log in.
Step #2: Add Minecraft to Steam
To be able to play Minecraft Java Edition with a controller on Steam first, you need to add it to the Steam. Here's how you can add Minecraft to Steam.
Select "Add a game" in the bottom-left corner of Steam.
Select "Add a Non-Steam Game".
From the menu, select "Minecraft" or the "Minecraft Launcher".
If Minecraft does not show on the list of applications, do not be worried. Hit "Browse" and navigate to "Program Files", where minecraftlauncher.exe should appear.
Once you've selected your game, click "Add Selected Program" to dismiss the pop-up window.
Now Minecraft will be able to be launched directly from Steam.
Step #3: Open the Steam in Big Picture Mode
Big Picture is a Steam mode meant to be used with your TV and game controller so you can play your Steam games while relaxing on the couch. Steam's Big Picture mode allows you to navigate the platform with only a gamepad, eliminating the need for a mouse or keyboard. Steam's Big Picture mode is designed especially for people who play many games with a controller or use Steam in a living room gaming setup. To connect your controller, follow the below steps.
Navigate to Steam's top-right corner and choose the "Big Picture Mode" option.
After entering the mode, navigate to "Controller Settings" by clicking the settings icon.
From the menu, choose the controller you want to use.
Before continuing, ensure your controller is plugged in and listed under "Detected Controllers".
Step #4: Configure your Controller Settings
Return to the main screen and pick the "Library" tab once you've made your selection.
After accessing the Steam Library, launch the Minecraft game. There will be two options under Minecraft. Choose the bottom one, "Manage Shortcut".
There is a range of options and setups inside the controller. Make sure to set up your preferred controls.
Select each control element, such as joysticks and keypads, then map it to a keyboard control one by one. Configure the left joystick as a "Directional pad", then map it to the WASD keys to move. Map the right joystick as a joystick mouse to pan with the camera. You'll have to adjust the sensitivity to your preferences.
After setting the controller, go to Steam and select the green "Play" button under Minecraft.
The game will launch, and you will be able to play it with your controller.
Controller configurations can be modified or reset at any time. These options are only applicable to Minecraft Java. Other games will not work with these settings.
Conclusion
Steam is one of the ways to get Minecraft Java to work with controllers. There are other applications too that will do the job, some of them are free, and others require some amount. But their setup options may be limited. It's an excellent option to try Steam before any other tools.
Frequently Asked Questions
Why am I unable to connect my controller?
Some of the possible reasons could be:
1) You forgot to set up your preferred controls. Make sure to map your controls before starting the game.
2) Try switching between the Bluetooth and cable controller.
3) Your computer drivers might be outdated.
Are there other options available to connect a controller to a PC to play Minecraft?
Other third-party tools, such as Xpadder, are also available. It's a lightweight and straightforward Windows program that allows you to get the most out of your gamepad – and it's free! Xpadder comes with many capabilities and is compatible with all Windows versions. The most basic feature is the ability to assign keys to gamepad buttons.
When using third-party programs, make sure you download a virus-free version from the company's official website.
Does Minecraft Windows 10 have controller support?
Minecraft: Bedrock Edition (previously "Minecraft: Windows 10 Edition") is controller friendly. It supports a variety of control systems, including controllers and touchscreens. Connect the controller to your computer and start playing.