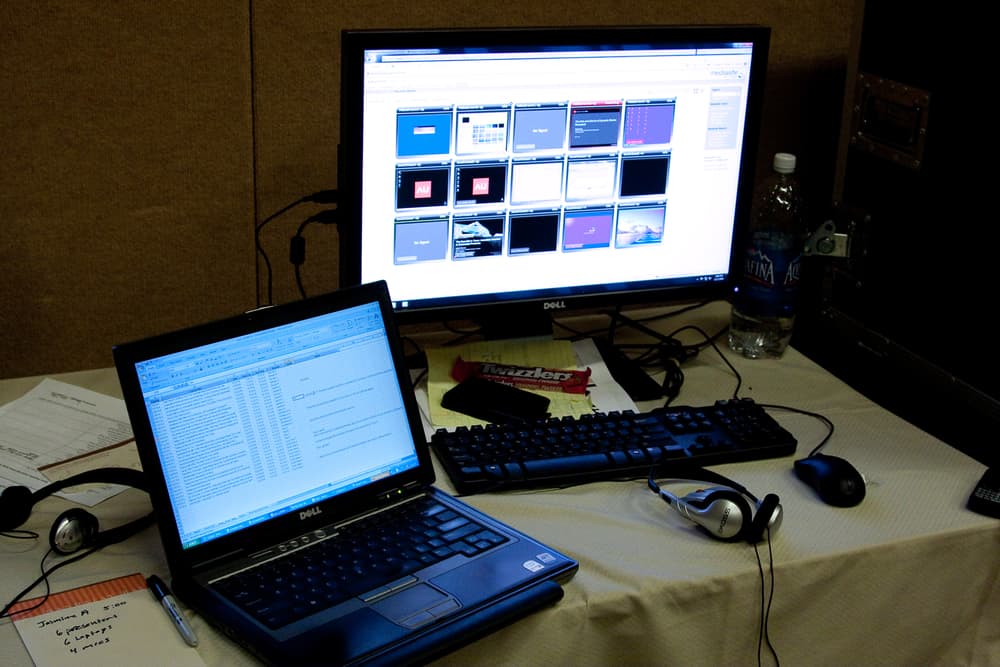 Do you want to transform your laptop into a desktop PC so you can work on a larger display or use better peripheral devices? Most users find it difficult, but the process is relatively straightforward.
Here are the steps to use your laptop as a desktop.
1. Connect your external keyboard and mouse via the USB cable or Bluetooth pairing. 
2. Connect your external monitor via the HDMI cable to your laptop and turn it on. 
3. If your laptop does not detect the external monitor, you can manually do so by going to Settings > "System" > "Display".
4. Adjust the laptop power settings to let it work like a desktop.
We took the time to write a comprehensive step-by-step guide on using a laptop as a desktop PC. We will also explore the advantages and disadvantages of using a laptop as a desktop.
Using a Laptop as a Desktop
If you don't know how to use a laptop as a desktop, our following step-by-step methods will help you do this task.
Method #1: Using a Windows Laptop as a Desktop
If you want to use your Windows laptop as a desktop, follow these steps.
Step #1: Connect the External Monitor
In the first step, you have to check the display ports of your laptop. HDMI port is commonly used for display, but you can also use USB-C, DVI, and VGA.
Connect your laptop to the monitor using the appropriate port. If you want to use an HDMI cable, connect one end to your monitor's HDMI port and the other to your laptop's.
It is preferred to use the same resolution monitor as your laptop. But, if your laptop is below 1080p, you can use a better-resolution monitor so it doesn't impact the display performance.
Step #2: Set Up the Connections
You need to connect all the peripheral devices to use the setup in this step. To do this, plug your laptop and monitor into a wall outlet. Use a USB cable to connect your keyboard and mouse to your laptop.
If you use a  Bluetooth mouse or keyboard, pair it with your laptop. 
Step #3: Detect the Monitor
After connecting all the devices, turn on your laptop and monitor. Use your credentials to log in to your laptop, automatically detecting the external monitor.
Otherwise, go to the Start menu on your laptop. Open Settings and click "System". Select "Display" and click "Detect" to detect the external display.
Step #4: Enable Duplicate Display
In the same "Display" tab, scroll down to "Multiple Displays". Select "Duplicate these displays" from the drop-down menu.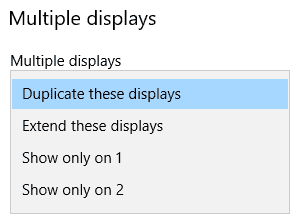 Step #5: Use the Laptop as a Desktop
In the last step, change your laptop's power setting so it doesn't turn off after you close the lid. To do this, go to the Start menu of your laptop and search "Control Panel" in the search bar.
Select "Hardware and Sound" > "Power Options". Click "Choosing what closing the lid does". Now, click the drop-down next to "When I close the lid" and select "Do Nothing".
Now, you can use your Windows laptop as a desktop with a bigger display and peripherals.
Method #2: Using a MacBook as a Desktop
If you use a MacBook instead of a Windows laptop, the following steps will help you use it as a desktop.
Connect the external monitor to a power supply.
Use a USB-C or HDMI cable to connect your monitor and Mac. You can also use a power adapter to connect the cable to your Mac.
Connect your external keyboard, mouse, and other peripherals to the MacBook.
Press the power button on the MacBook to switch it on.
In the menu bar, choose the Apple icon.
Click System Preferences > "Displays".
Press the Option key on the keyboard of your Mac and select "Detect Display" on the screen.
If the monitor is not appropriately scaled, adjust it by dragging the slider below "Underscan" in the display window on your MacBook.
Using a Docking Station
You can use a docking station to start using your laptop as a desktop by doing these steps.
Connect your external keyboard, mouse, and external monitor to the dock.
Connect the router via Ethernet cable to the docking station and other external devices like the printer, USB drive, etc.
Use a USB 2.0 or USB 3.0 cable to connect the docking station to your laptop.
After your laptop detects the docking station, it automatically begins to install the device drivers.
Once all the drivers are installed, you are ready to use the peripheral devices with your laptop, making it work like a desktop.
Summary
This guide discusses how to use your laptop as a desktop computer by connecting the peripheral devices and external monitors. We've also discussed using the docking station to make your Windows and Mac laptop a desktop computer.
Hopefully, your question is answered in the article, and now you can quickly set up and connect your laptop to a monitor to use it as a desktop.