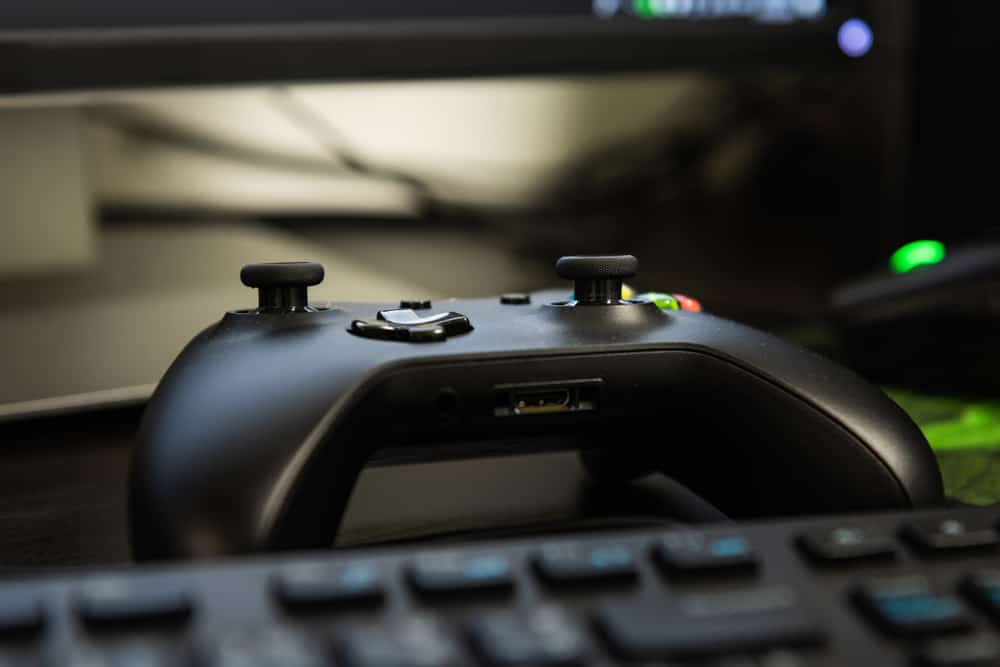 As amazing as Xbox controllers are, their ability to type using the on-screen keyboard is nothing but horrifying. This makes it so that many people either try to avoid typing using the controller or try using a keyboard to type.
Xbox is a Microsoft machine, which makes one wonder that, unlike other consoles, Xbox might have a better chance of running third-party peripherals. Sorry to burst your bubble, but that isn't the case.
Unfortunately, connecting your keyboard and mouse can require a little more steps than just plugging them in, especially if it's a mouse. If you still want to connect your keyboard and mouse with your Xbox, this guide will walk you through all the necessary steps you need to follow.
Using Keyboard and Mouse on Xbox
Traditionally, in the gaming community, using a keyboard and mouse against a controller has always been deemed unfair. Moreover, with game developers trying to create more and more cross-platform games, this disadvantage is starting to scare many players.
However, there is no need to be scared as Xbox has noticed this trend and to help its user base, it has provided its users with the ability to connect to a keyboard and mouse. So, to connect your keyboard and mouse to an Xbox, just follow these steps.
Connecting your Keyboard
To connect your keyboard to an Xbox, all you need to do is plug in your wired peripheral. If you plan to connect a wireless keyboard, ensure that the peripheral has its own dongle, as Xbox doesn't feature Bluetooth functionality.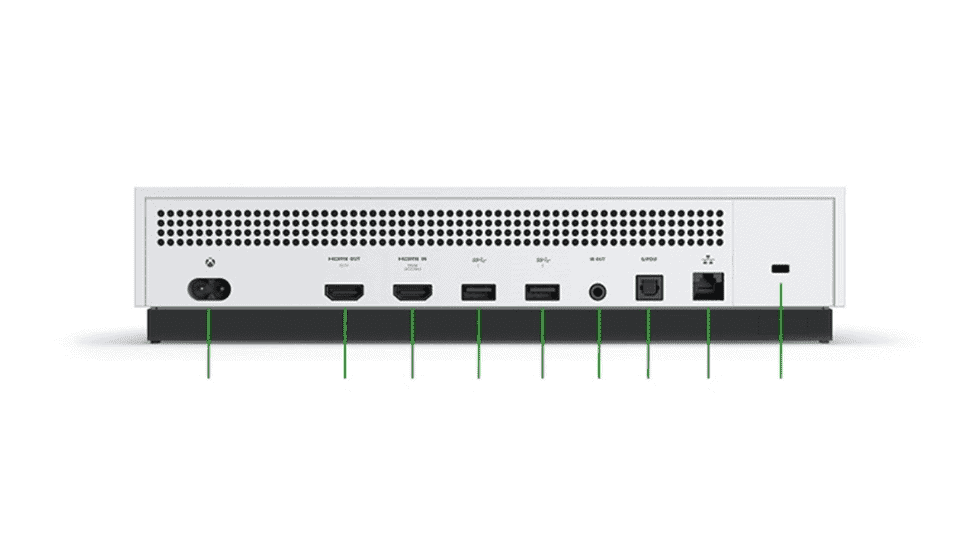 You can check whether your keyboard is connected to your Xbox by going to your Home Menu and using the navigation keys to move.
Connecting your Mouse
Unlike connecting your keyboard, connecting and setting up your Mouse may require extra steps.
Step #1: Plugging in your Mouse
To connect your wired or wireless mouse, connect it with your Xbox using the USB port. Once your mouse is connected to your Xbox, you would think you will be able to navigate through the Xbox home screen with the help of it.
Sorry to burst your bubble; Xbox doesn't allow its users to navigate with the help of a mouse. However, you can only check whether your mouse is working while you are in-game. Even then, your mouse functionality will entirely depend on whether the game supports input from a mouse or not.
Sometimes after plugging in the mouse, Xbox needs a Soft Reset to be able to recognize your mouse.
Step #2: Setting up your Mouse Sensitivity
Once your mouse is connected to your Xbox, you can change your mouse sensitivity to your liking. To change your mouse sensitivity, you need to follow these instructions: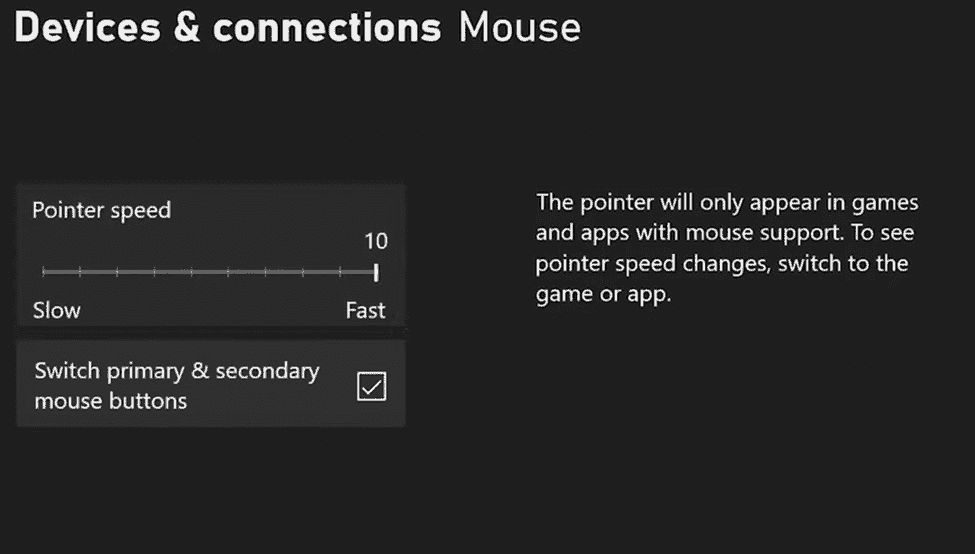 Click on your Xbox Home button.
Click on Settings > Device Connections > Mouse.
In the Mouse Settings, set the mouse speed using the Pointer Speed slider.
You can also switch your Primary and Secondary mouse buttons by ticking the option.
As most games don't have any mouse sensitivity option on Xbox, adjusting your pointer speed is the best option.
Troubleshooting your Keyboard and Mouse Connection
If you cannot connect your keyboard and mouse, there is no need to worry. Sometimes Xbox has compatibility issues with certain keyboards and mice. To solve the issue on hand, you can try using a different keyboard or a mouse as it might be able to solve the problem you are facing.
If changing your peripherals isn't an option you have, you can try:
Unplugging your Keyboard and Mouse and Plug them back into a different Port.
Disconnect your Controller when you are in-game while the keyboard and mouse and plugged in.
Restarting your Xbox a few times might work, as sometimes Xbox can't recognize some devices due to software bugs.
If none of the mentioned methods work for you, try resetting your Xbox. You can reset your Xbox by going to Settings > System > Console info. Once inside Console info, scroll down until you find a Reset option.
Unlike PlayStation, which uses Bluetooth Wireless Technology, Xbox uses Xbox Wireless. Xbox Wireless is an Xbox exclusive technology that allows Xbox peripherals to connect directly with an Xbox without using any dongles.
The Best Keyboard and Mouse for Xbox
As of right now, the Razer Turret is the best Keyboard and Mouse pair out there for your Xbox. The feedback and precision provided by the Turret for Xbox is unmatched by any other device as of right now.
However, the Razer Turret isn't a cheap choice to begin with. Therefore, only go for it if you are looking for the best of the best, and your budget isn't a factor.
Summary
At the end of the day, the smallest leverage over your opponent can change a game's outcome in a competitive gaming environment. Therefore, this guide will help you connect your Xbox with a keyboard and mouse so that you can play games to your full potential.
Frequently Asked Questions
How to connect wireless keyboard and mouse to Xbox?
Due to the absence of a Bluetooth receiver in Xbox One, it cannot connect to third-party wireless keyboards and mice. However, if you have a wireless peripheral that comes with a dongle, you can connect it with your Xbox by simply plugging it in.
How to use headphones with Xbox?
There are two ways you can use your headphones with an Xbox. The first way is to just plug in your headset using a USB port. While the second way requires you to use the AUX input present on your controller. However, be vary as the second method can end up sucking your controller battery.
How can I connect my mobile with Xbox?
You can connect an Xbox with your mobile by downloading the Xbox mobile app. After downloading the app, go to Settings > Devices & connections > Remote features on your Xbox. Now connect your mobile with your Xbox and choose any game you want to play from your Xbox library.