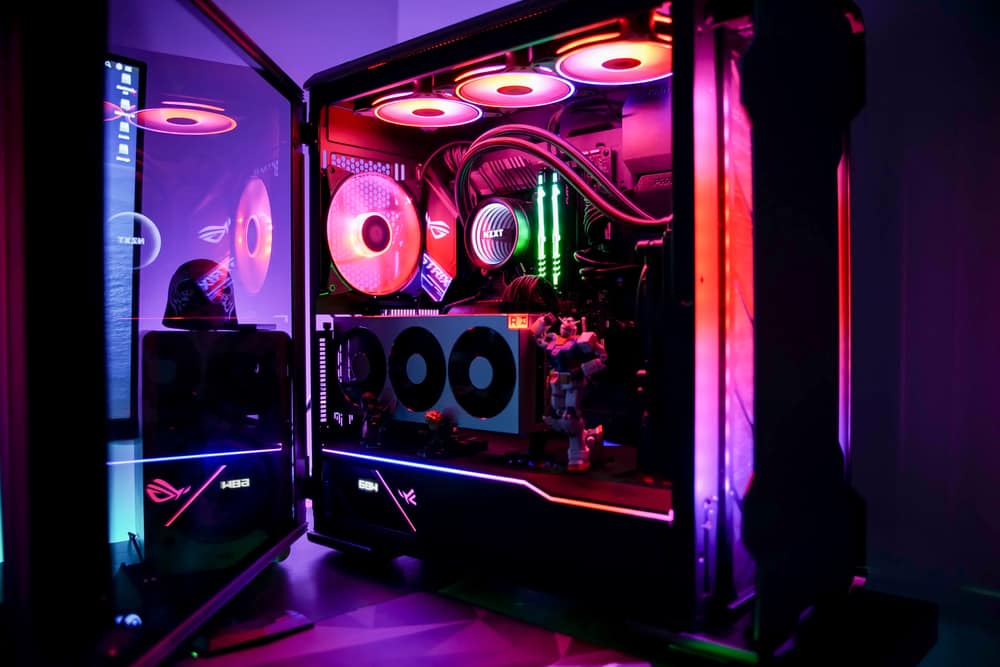 While many GPUs are mounted horizontally, you shouldn't necessarily take this route. This is especially true if you want to best showcase the RG lighting underneath to your friends. You'll be glad to hear that vertically mounting the GPU will help you achieve this goal to realize this dream, thereby achieving improved aesthetic appeal.
But how can you go about mounting your GPU vertically? Many people ask themselves this question and eventually give up on this because it needs some expertise and technical knowledge. Luckily, you shouldn't lose hope just yet, as this guide has step-by-step instructions on how to mount your GPU vertically.
In addition, this article will detail helpful tips to observe when vertically mounting a GPU. We'll also take you through the benefits of vertically mounting a GPU. Let's get started.
Steps To Follow During Vertical GPU Mounting
For a successful vertical mounting of your PC's GPU, there are specific steps you need to follow. Take a look.
Step #1: Unboxing
Although this might sound like a generic step, it's still quite important when planning to mount a GPU vertically. After all, you must first familiarize yourself with the items you're getting before vertically mounting the GPU.
The first item you'll see when unboxing is the riser card and PCIe express cable, which connects the motherboard to your graphics. After that, you'll get a 90-degree display port that'll come in handy for accessibility purposes because of how the GPU slightly recesses in the case. In some instances, you might get an issue with two 90-degree port cables.
The other component you'll see is an actual adapter plate with a couple of screws. It's important to remember to get a case with seven slots because many aftermarket adapters require approximately that number.
Step #2: Connect the Adapter Plate
Once you have all the components, your next step should be connecting the adapter plate. When doing this, ensure that the plate notches face the motherboard side, which will help fasten to your case.
After confirming the attachment is perfectly done, use standard screws to screw down the plate. These screws are the same ones you'd use when fixing a PCIe adapter. It's essential to confirm that the adapter plate and bottom piece have appropriately been fastened together. This is advised because it's from this point where you will mount the riser card.
You should then proceed to screw holes using the issued screws to connect these plates. This is very straightforward and isn't something that'll take up much of your time or effort.
Step #3: Attack the Riser Card
Now that the bottom piece has properly been attached, the next step should be lining up holes in the riser card to the base components. Once you confirm the riser card is perfectly aligned, fasten it into place using the screws.
Step #4: Connect the Graphics Card
This step involves joining the riser to your graphics card. After that, get screws to fasten up this connection to ensure it's firm and rigid. When connecting the graphics card, the steps are identical to those observed when creating a horizontal GPU connection.
With the graphics card now in place, you can now proceed to install the vertical mount onto your case.
Step #5: Connect the Ribbon
This is the final step to follow when vertically mounting a GPU, and it requires you to attach the motherboard to the riser cable's ribbon. After that, attach the mounting bracket to the case and fasten it into position using screws. As a result, your PC will now boast a modern design thanks to the vertically mounted GPU.
Tips To Follow When Mounting GPU Vertically
To have an easier time mounting your GPU vertically, you can take note of these helpful tips that can ease this entire process. Check them out.
Make Sure the Graphics Card Width Doesn't Exceed 2.5 to 2.7 Inches
The width of your graphics card is an essential consideration to have in mind when looking to mount the GPU vertically. If it exceeds 2.5 to 2.7 inches, it might cause airflow blockage issues.
If the GPU blocks a lot of spaces, the fan will run at a greater voltage and frequency because of congestion. When this happens, the graphics card won't run as smoothly because it'll be affected by higher temperatures. Luckily, you can avoid this issue altogether by getting a larger graphics card that features a vertical mounting bracket.
Install an Exhaust Fan
Another tip that can help prevent any issue when vertically mounting a GPU is to install two intake fans on the front side of the PC case. You'll also need to install an exhaust fan on the back of the case, and doing this will help address the issue of the vertically mounted graphics card blocking the flow of air within the PC case.
What Are the Benefits of Mounting Your GPU Vertically?
Now that you understand the steps to follow when mounting your GPU vertically, we can look at why you need to do this in the first place. Here are the benefits you'll get by mounting your GPU vertically.
Proper Use of RGB
Many of the premium aftermarket graphics cards feature fantastic RGB effects. If you're an RGB lover, you don't want to miss out on this feature because you've mounted your GPU horizontally. Vertically mounting the GPU is recommended to ensure you enjoy the maximum potential of the exciting RGB lighting.
Great Aesthetic Appeal
It would be best to mount your GPU vertically to give your PC a fantastic and appealing look. If you're into gaming, this is especially ideal because it boosts your overall gaming experience, making you enjoy the games more.
Provide Physical Support
Another reason to mount your GPU vertically is to ensure it doesn't sag, which is a common issue when the graphic cards are positioned horizontally. This usually happens due to a lack of support and an inability to withstand the card's weight.
Summary
While vertically mounting a GPU doesn't enhance your PC's performance, it does help improve its aesthetic appeal. And if you're into gaming, this also helps boost your gaming experience, especially if your graphics card incorporates RGB lighting.
If you didn't know how you can go about achieving this goal, this article has enlightened you on the steps you need to follow. The best thing is this entire process isn't that expensive, further making it an exciting idea.