Emergency Alerts are notifications sent by the state and local authorities to deliver important emergency information (i.e., weather and AMBER alerts) to affected individuals. You can quickly get these notifications on your iPhone or Android devices. However, some users might face difficulty in viewing these cautions.
To get the Emergency Alerts on your iPhone, enable "Government Alerts" from Settings > "Notification" and view them from your phone's Notification Center. 
We have taken the time to come up with a guide for you to explore what comes under the emergency alerts, how to view emergency alerts on your iPhone, and ways to mute them when not needed. 
What Comes Under Emergency Alerts?
Usually, five types of alerts come under emergency notifications.
AMBER alerts.
Public safety alerts.
Weather notifications.
Threats to safety or life.
Important message issued by a country or regional government.
Viewing Emergency Alerts on iPhone
If you are wondering how to view emergency alerts on your iPhone, our 4 step-by-step methods will help you perform this task without difficulty.
Method #1: Enabling and Viewing Notifications From Settings
You need to do the following to enable and view the emergency alerts on your iPhone.
First, go to Settings and choose the "Notifications" option.
Scroll down to the bottom of the screen. Under the "Government Alert" section, turn on the notifications.
You can now hear the alarm sound whenever an alert is received and can view it easily.
Method #2: Viewing Emergency Alerts on iPhone 15.3 or Earlier
Follow the steps below to turn on "Test Alerts" on an iPhone with iOS 15.3 or earlier.
Open the Phone app and go to dialer or keypad.
Dial *5005*25371# and tap the Call button.
A message saying "Test Alerts Enabled" will appear on your device. You can now view the alerts successfully on the device.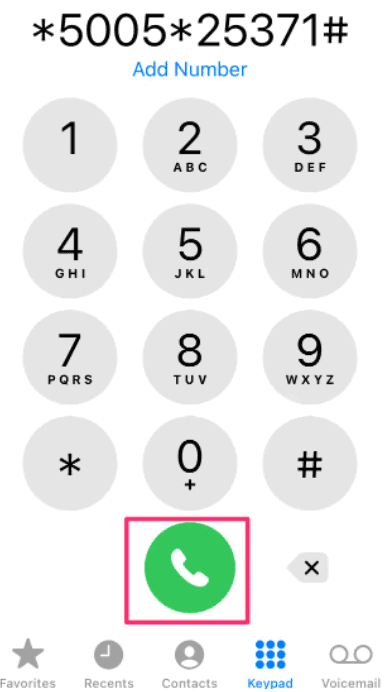 To turn the notifications off, dial *5005*25370#, and the cautions will be disabled after receiving the message "Test Alerts Disabled".
Method #3: Viewing Emergency Alerts on iPhone 15.4 or Later
If you own an iPhone with iOS 15.4 or later, here is how you can enable and see alerts.
Step #1: Download Test Alerts Profile on iPhone
First, download the Test Alerts profile on your device. Once it is downloaded, choose to allow it. You will now have to select a device between Apple Watch and iPhone; go for iPhone.
Step #2: Finish Installation
Go to the Settings app and choose the profile downloaded option. Select "Install", follow all the instructions and wait till the installation completes.
Step #3: Enable and View Test Alerts
Navigate to Settings > "Notifications" and choose "Test Alerts". Turn the test alerts on. You can now view emergency notifications on your device after receiving the message test alerts enabled without any hassle.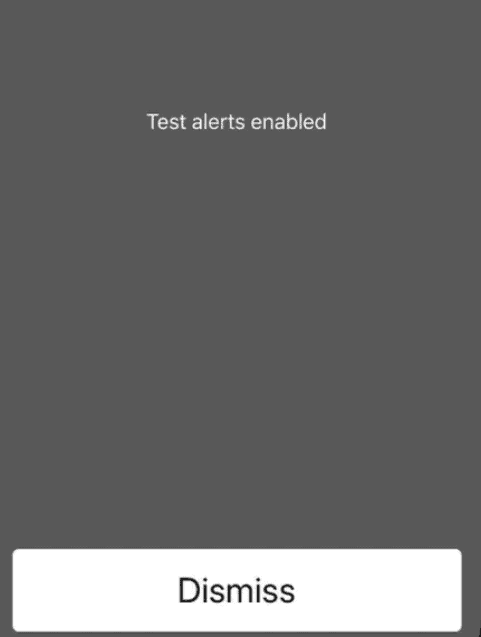 You can also see Missed Alerts by swiping up from the middle of the screen from the lock screen or by swiping down from the top center on other screens. To get rid of the notifications history, choose the close button from the missed alerts history and tap "Clear".
Muting Emergency Alerts on iPhone
We have a solution for you if you don't want to miss out on any emergency notifications but hate the loud noise. You can quickly mute these cautions on your device following these steps.
Open Settings on your iPhone.
Go to "Notifications".
Scroll down till you find the "Government Alerts" section.
Choose "Emergency Alerts" and toggle off the always deliver option.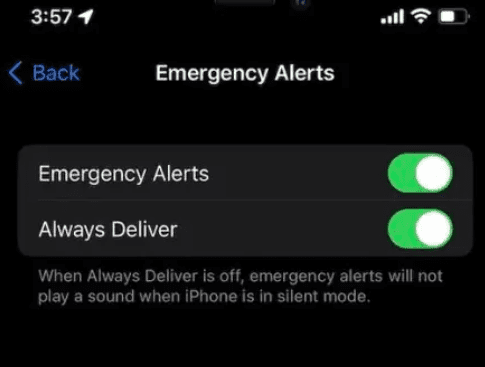 Summary
In this guide on viewing emergency alerts on iPhone, we have explored different types of emergency notifications usually received on mobile devices. We have also looked into multiple methods of seeing these notifications on your iPhone and how you can mute them on your device if not needed.
Hopefully, one of these methods has worked for you, and now you can easily view the emergency cautions on your iPhone without much trouble and plan your day accordingly.
Frequently Asked Questions
Where are Emergency Alerts stored on iPhone?
Emergency alerts are stored in the same place on your iOS device where other cautions reside. For viewing them on your mobile phone, access the notification drawer by swiping down from the top of your screen. Now, choose the bell-shaped icon at the top-right corner and see the alerts.
How can I reread Emergency Alerts?
There are multiple ways of revisiting the cautions notifications on your device. You can either scroll through all the alerts you have received on your device and reread them or go to the emergency alert application on your iPhone and find the notifications there. 
Alternatively, navigate to Settings > "Notifications" and open the "Emergency Alerts" section.