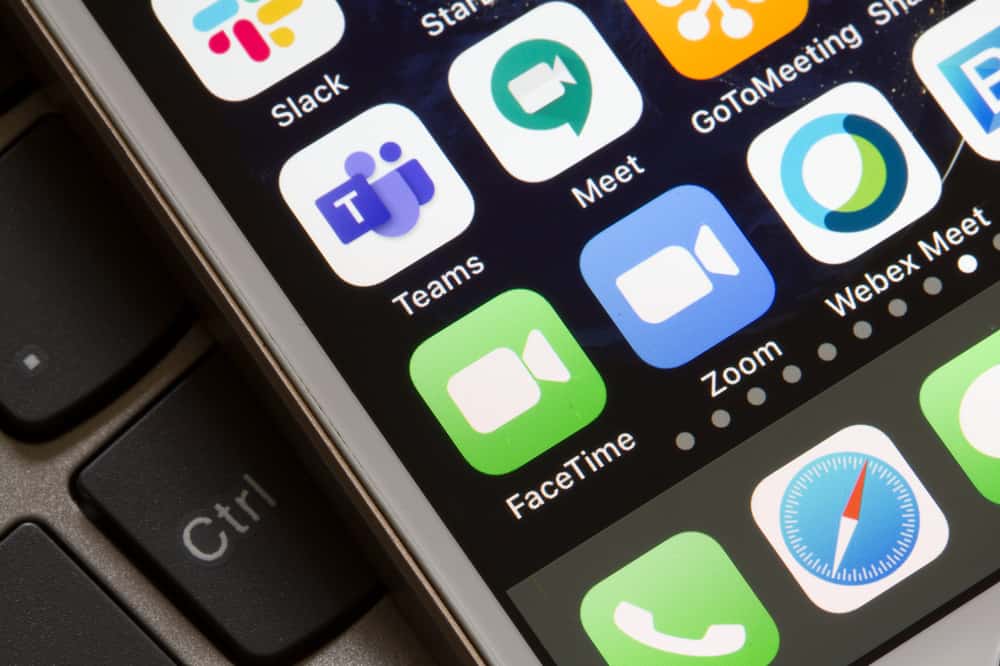 Netflix is huge. It has been like that for quite some time, and the network is only getting more popular. Currently, Netflix has roughly 214 million subscribers around the globe, 40 million of those coming in 2020.
It's a safe assumption that you, the reader, are one of those 214 million. We can also assume that you like watching Netflix with friends. Who doesn't? However, there's an issue; meeting up with friends isn't possible for one reason or another.
What is a movie-lover to do?
Today, we will explain how to watch a movie on FaceTime, what apps and hardware you need, and how to set it all up. So without further ado, let's dive in.
What is Apple's SharePlay?
In iOS 15.1, FaceTime has received some significant enhancements. One of them is the ability to share your screen with other callers during a video call. While screen-sharing was mainly designed for business purposes, it can help folks looking to have some fun.
You can use the feature to either watch content already on your phone – photos, videos, and things of that nature – or stream content. You can watch your favorite movie or TV show with loved ones, directly within a FaceTime call, without using 3rd-party apps.
But that's not all. Some exciting features come with SharePlay:
Anyone in the call can use playback controls.
You can watch content with one or multiple people.
All of the callers can pause content any time they want.
You can use the feature on your iPhone, iPad, or Apple TV.
What Do You Need to Watch a Movie on FaceTime?
To be able to watch a movie on FaceTime, there are a couple of things you need to have. Before watching a movie with friends on FaceTime, make sure that you have the following:
All of the participants need either an iPhone, iPad, or an Apple TV.
System updated to at least iOS 15.1 or tvOS 15.1.
Everyone needs to have their FaceTime apps signed in with their Apple ID accounts.
Active subscriptions on all devices of the app/service you want to watch content from.
To make sure that we're clear, all of the requirements apply to all call participants, not only the person who initiates SharePlay. If only one person has a Netflix account, they can't initiate a call and let all of the other participants watch content for free.
How to Watch Movies on FaceTime
Now that you know what SHarePlay is and what you need to use, we can start talking about how to watch a movie on FaceTime. We've made a short guide below to walk you through the entire process.
Don't worry. You don't need any technical know-how for it. It's so simple that your grandparents could follow along.
Before we move on, one last note: the first two steps are for the host who will initiate the FaceTime call, and the third one is for the people joining in on the call.
Step #1: Start FaceTime Call With Friends
The first step needs to be taken by the host who will be streaming the movie. First, get in touch with your friends and ensure they have everything they need to watch the movie.
Then, start a FaceTime call by selecting the green "FaceTime" app on your iPhone or iPad or by clicking on the "Facetime" button on your Mac. If you're using an Apple TV, open the "Photos, Videos and More" menu and select "FaceTime".
Once you're in the app/program, add your friends to the call by selecting their contact info or typing in their phone number/email address. If you want to add multiple people to the call, click on the "+" button and repeat the process.
Step #2: Select the Movie You Want to Watch
As mentioned before, the step is also meant for the host of the call.
You don't need to start SharePlay before picking a movie or TV show. Instead, you need to minimize your FaceTime call and head over to the app you want to use for streaming. Once you pick the content, you need to start playing it.
To stream a movie or TV show, we recommend using one of the following apps:
Netflix
Disney+
HBO Max
Amazon Prime Video
Hulu
When you launch one of the apps supported by SharePlay, you'll see a message that says, "Choose Content to Use SharePlay" pop up on the top of your screen. Tap on it, and you'll see two different options:
SharePlay Automatically – Tapping on this will trigger SharePlay every time you open the app you're currently using during a FaceTime call.
Ask Next Time – The second option allows you to pick if you want to use SharePlay the next time you use the app again.
Select the content you want, and a message will come up asking if you wish to watch it on SharePlay with your friends on FaceTime. Naturally, tap the "SharePlay" option to watch the movie together.
When it starts streaming, you'll see a message on the top of the call that will notify you that the movie is playing for everyone.
Step #3: Join SharePlay
The last step is there for the participants of the FaceTime call that will be watching the movie SharePlay.
As soon as the host starts streaming, everyone will get a notification that they can join in. The invitation to join SharePlay appears at the bottom of the call. By tapping on it, you'll be able to watch whatever content has been selected by the person who initiated the FaceTime call. And that's all there is to it!
You're now able to watch a movie on FaceTime without leaving the comfort of your living room.
Conclusion
If you want to take advantage of SharePlay and watch a movie on FaceTime with your friends, follow the steps from our guide. It's easy, and you don't need any prior technical knowledge. So, what are you waiting for? Pick a movie or TV show and get started!