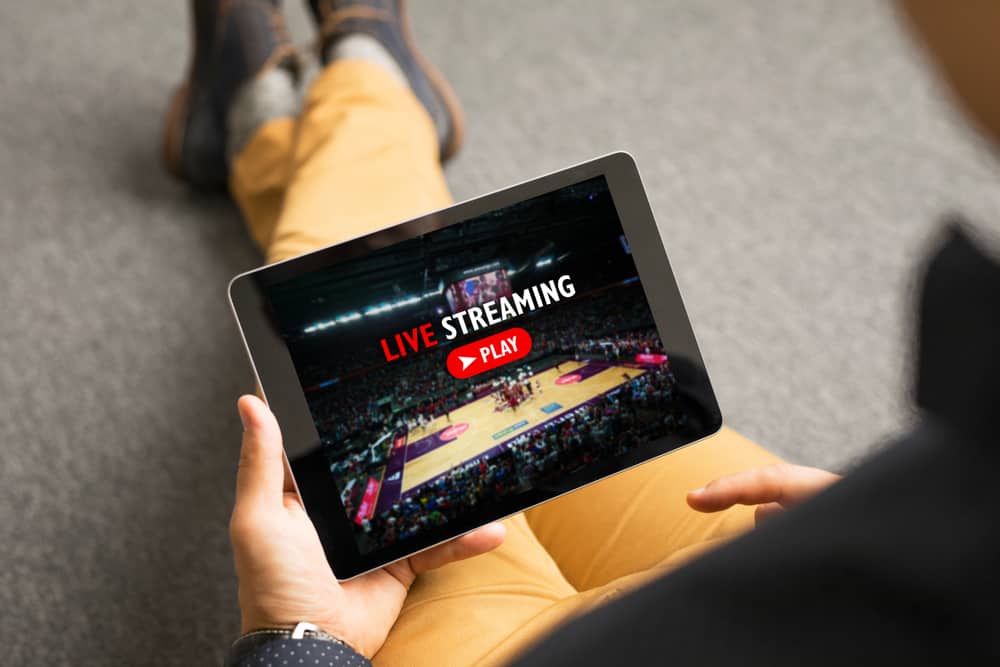 You probably have all the NBA games you wish to watch if you have a cable. However, cable plans aren't equal, meaning you might miss the right channel for the important playoff matches. Similarly, you might be away from home during the classic playoffs. In this case, mobile streaming is the best way to ensure you don't miss out. So, how can you watch NBA TV on an iPad?
There are several ways you can watch NBA on an iPad. WatchESPN and NBA League Pass are two handy ways to watch NBA TV. Alternatively, you can use streaming services like FuboTV, Hulu Live, DirecTV, etc. 
So, when it's the NBA season, you must know what streaming services are worth your money. Not all streaming services offer you the juicy stations to get live NBA events. So as long as you know the streaming service to use and the time the game would be on, it's just a matter of pulling out your iPad anywhere.
This article elaborates more on the streaming services you can use to watch NBA TV. 
Platforms To Stream NBA TV on an iPad 
There are so many ways you can watch NBA TV on your iPad. In this section of this article, we will be discussing seven of the most popular ways you can watch your favorite NBA team throughout the entire season, whether it is aired on a regional sports channel, ABC, or broadcast nationwide on ESPN and TNT. 
WatchESPN should be your first choice as it offers free streaming from ESPN and other channels under the ESPN umbrella. If you're a cable subscriber, you should use the WatchESPN, as you can AirPlay it from your Apple TV for free. 
Note that you must be a subscriber on a streaming platform to be able to use WatchESPN, as WatchESPN will send an authentication code to your streaming device for verification. Also, your iPad must be running on iPadOS 14 or later, or you'd run into trouble using the WatchESPN. 
Another way to catch on to some of the NBA action is with the NBA League Pass. Sadly, the NBA League Pass does not air all, or even some of the major NBA playoffs live. However, you can use the NBA League Pass audio broadcasting to listen to every game live. So, if you're not too hung up watching live playoffs, you should use the NBA League Pass. 
Note that this streaming service would cost you $14.99 monthly with a seven-day free trial. 
Platform #3: FuboTV 
FuboTV is another streaming service primarily focusing on live sports, including NBA playoffs. With the FuboTV basic Premier package, you can get more than 250 channels, including ESPN and ABC but not TNT meaning you wouldn't be able to catch every playoff with it. A subscription to FuboTV costs $69.99 per month with a one-day free trial. 
Hulu Live is that streaming service that offers you all the NBA action you'd want to watch as a cable-cutter. One advantage of the Hulu Live streaming service is that it provides one package to get all the ESPN networks, including TNT, and several other regional sports channels. You can ask to get the ABC, depending on your location. And even if you don't get the ABC, you can always catch up on those games with the WatchESPN app on ESPN3. 
DirecTV is one of the most popular streaming services because of the sheer number of channels they offer. You can get up to 125 channels, including ESPN, ESPN2, ESPNews, NBA TV, ABC, TNT, etc. So, as an NBA fan, you can watch every NBA playoff game with one streaming service. The DirecTV subscription costs $59.99 per month for the first three months, after which it would cost $69.99 per month. 
SlingTV is also an excellent streaming platform that allows users to choose the subscription plan that best suits them. Its package starts from $35 per month for its blue or orange plan or $50 for both, and if you live in the right area, you can get channels like ESPN, ESPN2, ESPNews, TNT, etc. 
Finally, you can also use YouTube TV to watch your favorite NBA team. YouTube TV is an official presenting partner for the NBA. So, if you live in the right area, you can catch all the NBA games for as little as $54.99 per month for the first three months and $64.99 per month. Also, with YouTube TV, you get access to unlimited storage for cloud DVR. 
Remember that if you can't catch every live game, the beauty of streaming services is that you can record it to the cloud and watch it whenever you have the time.
Conclusion
With any of the listed streaming services above, you should be able to stream your favorite NBA team on your iPad. So, download the app from the App Store and subscribe to a package. Take note that the channels that will be available to you might differ from others depending on the area you live. So, ensure you read the platform's terms of service or contact their customer support to confirm the channels that would be available in your area.