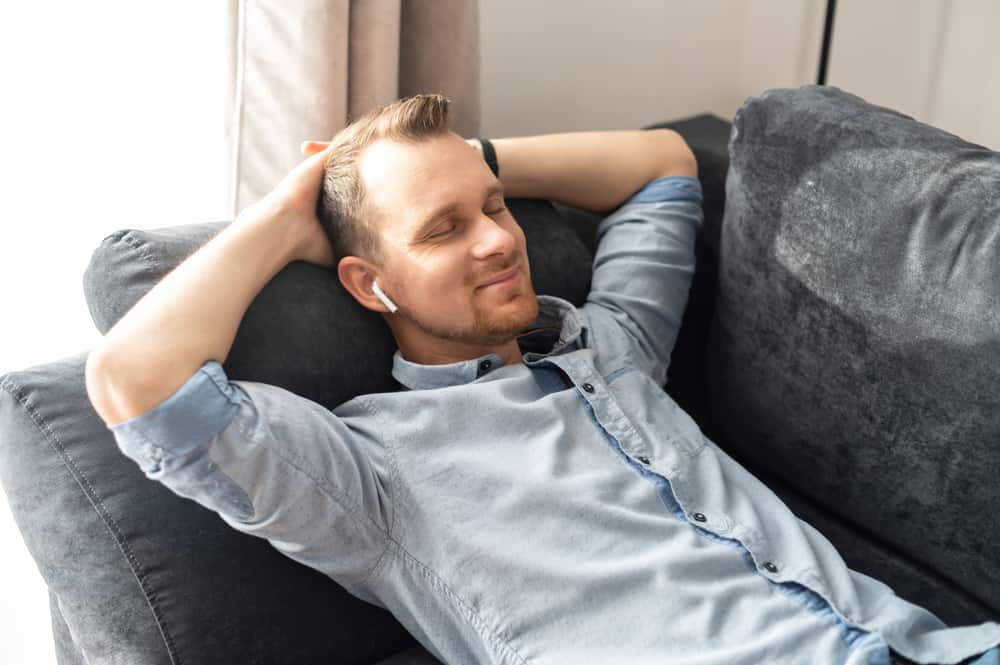 AirPods are great options if you seek wireless earphones in the world of technology that can serve you well. They are perfect for different settings and events, particularly in this digital age. Apart from the fact that they are ideal for sharing music, you can use them while commuting, on a road trip, or even sleeping. Several people could see them as a great way to ensure convenience, but sometimes they pop out accidentally when worn or hurt your ears. So, how can you wear AirPods comfortably?
There are different ways you can wear your AirPods comfortably. You can use the upside-down or sideways method, different ear tips, waterproof tape, ear hooks, and an AirPods cover. 
AirPods are patented by Apple and designed to connect to your iPhone through Bluetooth. This is a unique way offered by Apple to promote convenience when you're engaged in interactive activities such as painting, cooking, and exercising.
Are you uncomfortable with how you wear your AirPods and wondering if there is a better way to wear them? It will be best if you continue reading to get helpful tips.
Why Do AirPods Often Hurt Your Ears?
If you check your AirPods, you will notice that they have a circular shape, usually buffered by foam or silicone. Every earbud type maintains this basic design; nonetheless, each features a slight difference. Depending on how your ears are shaped, the circular shape of the AirPods may be great for you. On the other hand, it may make you feel uncomfortable by hurting your ears.
Several factors may be responsible for AirPods hurting your ears. The first factor is how you place the earbuds. There is a higher tendency that AirPods will hurt your ears if you put them too deep inside your ears. When used, AirPods are to create a friendly seal between the headphone's surface and the entrance of the ear canal. You are not expected to place earbud and earbud tips inside the ear canal. If you do, you will overexpose your eardrum to the vibrations from the headphones, which can result in headaches and earaches and add to ear infections.
The second factor is how the AirPods fit. You may feel uncomfortable wearing these earbuds if their tips are not the correct size for your ears. If the AirPods are not sitting correctly in your ears, you may want to get another size that can contribute to your comfort.
The third factor is how long you are wearing it. If you like your AirPods to the extent of using them for too long before taking them out, it can make you feel uncomfortable. For instance, using earbuds for more than 90 minutes can lead to pain. This is because your ears' cartilage is not meant to hold anything nestled inside for up to that time.
Comfortable Ways To Wear Your Airpods
Now that you know why AirPods usually hurt your ears, you may be wondering about the comfortable ways to wear them. Below are ideal ways you may want to wear your AirPods.
There is no standardized way of wearing AirPods. Every individual has unique methods. So, you need to take your time to experiment and find your groove.
Method #1: Wear the AirPods Upside-Down or Sideways
Twisting your AirPods in your ears is one of the ideal ways to keep them from falling out. You can turn the AirPods upside-down or sideways instead of placing them in your ears with the stems facing down. This may be an uncanny method of donning your AirPods, but it's a great way to wedge them more tightly in your ears and stop their tips from snagging onto your clothes.
The microphones will not be pointing to your mouth when you use this method, making it more challenging to have FaceTime, Zoom, or phone conversations using your AirPods.
Method #2: Use Different Ear Tips
If you're using AirPods Pro, three different silicone tip sizes are available. You can experiment with each tip type to know the best one for your ears. At times, these tip sizes may fail to work as expected. So, you may opt for third-party products such as the COMPLY Foam Apple AirPods Pro Earbud Tips. These products are made of foam and not silicone – an ideal option for you if you're silicone-sensitive. Besides, they can make the seal more fitting in your ears.
Method #3: Use AirPods Covers
This is another method that can contribute to comfort when you wear AirPods. You can look into AirPods covers for both AirPods 1 and 2. When used, AirPods covers will slip over the head of the AirPods, ensuring a more secure and comfortable fit.
Method #4: Use Ear Hooks
Are you an athlete? This is an excellent option for you as ear hooks will offer the needed grips that contribute to the security of the AirPods during your activities. The third-party accessories are used by looping them over your ears to prevent the AirPods from falling out of your ears.
Method #5: Use Waterproof Tape
This is a simple method that is recommended as a last resort. To do this, cut out pieces of waterproof tape and affix them to the AirPods to contribute to the grip and keep them from slipping out of your ears.
Conclusion
You should now feel relaxed, knowing there are several methods you can adopt to make yourself comfortable when you wear your AirPods. But not only for comfort but also to make your AirPods or AirPods Pro tightly fit your ears and stop them from falling out.
After ensuring that your AirPods stay comfortably on your ears, you may now proceed to learn how you can connect two pairs of earbuds to an iPad or iPhone for you to share your audio with anyone around.